What better way to make up your mind than comparing providers? We have decided to do the hard work for you and visited the top pay-per-head (PPH) sportsbook providers out there and compared each other in, what we think, are some of the most important factors when choosing a home for you and your players:
Sportsbook design and usability (front-end)
Lines mover adjustment tool
Juice/Vigorish Setup
Max moneyline setup
Performance reports
Pricing
All information has been gathered by visiting the provider's website and by using one of their publicly available Demo accounts.
The reader needs to know that since some features may be disabled by default on those demo accounts, it's always better to contact the PPH Sportsbook provider directly and verify the information with them. With that said, we believe this article will be useful as it will compare, head to head, the providers within the same factors. You can then verify the information written here by contacting them directly.
*Note for providers: If you feel we missed something and will like us to update some information, simply send us an email, provide us with a demo username and password (that includes the feature you want us to review), and our writing team will visit your site, verify the information and update this article accordingly.
Sportsbook design and usability (front-end)
Aceperhead.com
Aceperhead features a big board, with plenty of lines for your players to choose from. If you are looking for the most lines available to offer to your players, this is definitely a great option to go for.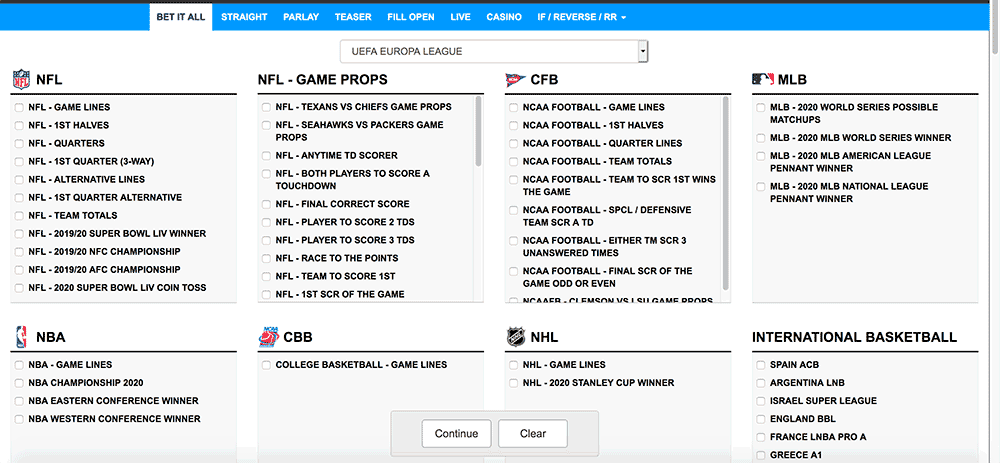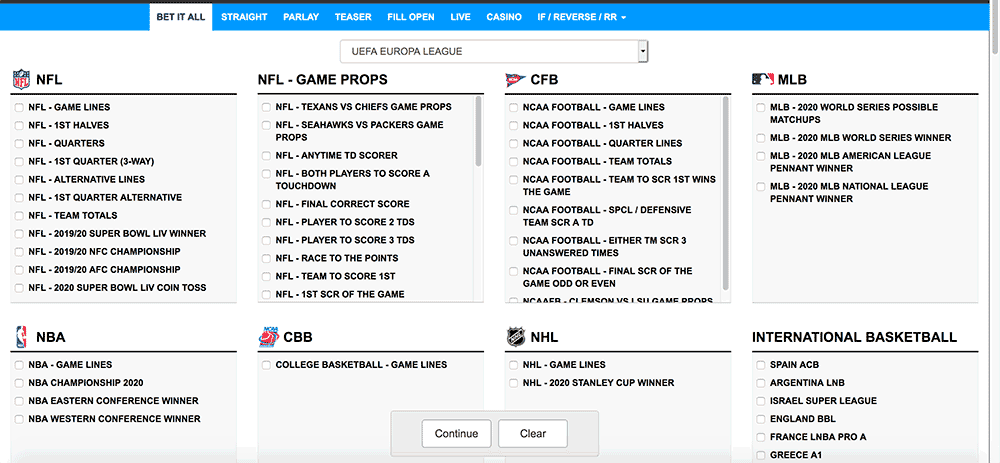 It also features a convenient search tool that allows players to easily type the name of the team they are looking for and will filter games that include such names.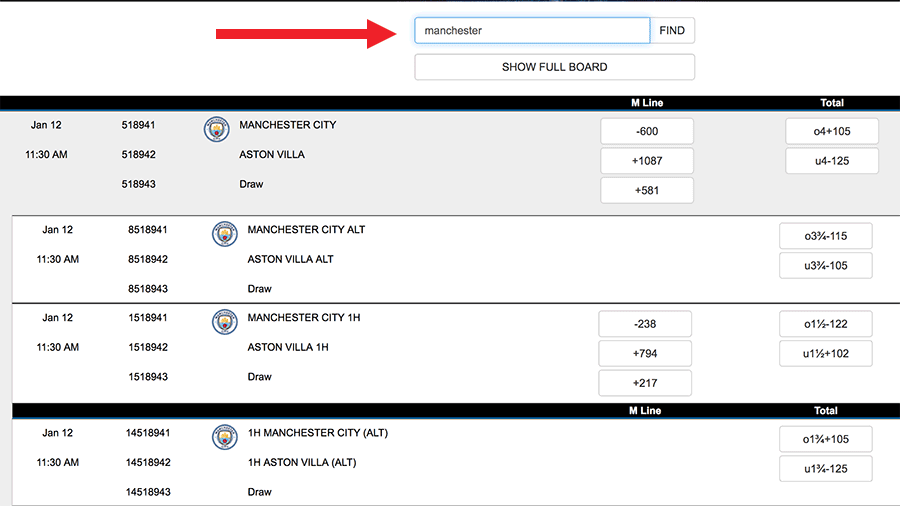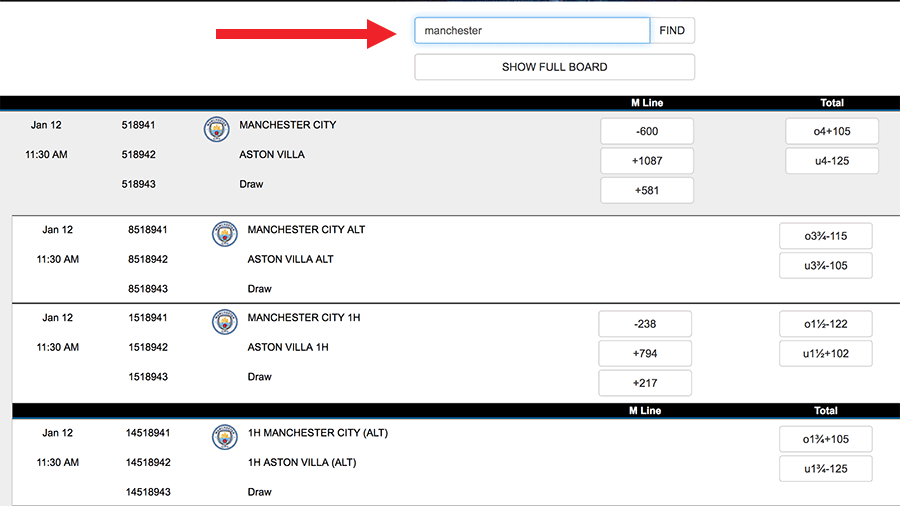 As mentioned, Aceperhead is worthy of commendation for the number of lines they have. In terms of lines quantity, it is only rivaled by BookiePPH.com and Idsca.com. One downside is that their sportsbook design and the interface look outdated when compared to other PPH Sportsbooks that have implemented more modern interfaces that make the process of entering a ticket faster, easier, and more enjoyable for your players. In these cases, the whole process is completed within the same screen, without having the player go through multiple screens to enter a simple ticket.


PPHSportsbook.net
PPHSportsbook.net offers to you and your players, one of the most modern sportsbook interface. With a one-page experience and modern bet-slip functionality, your players will feel right at home.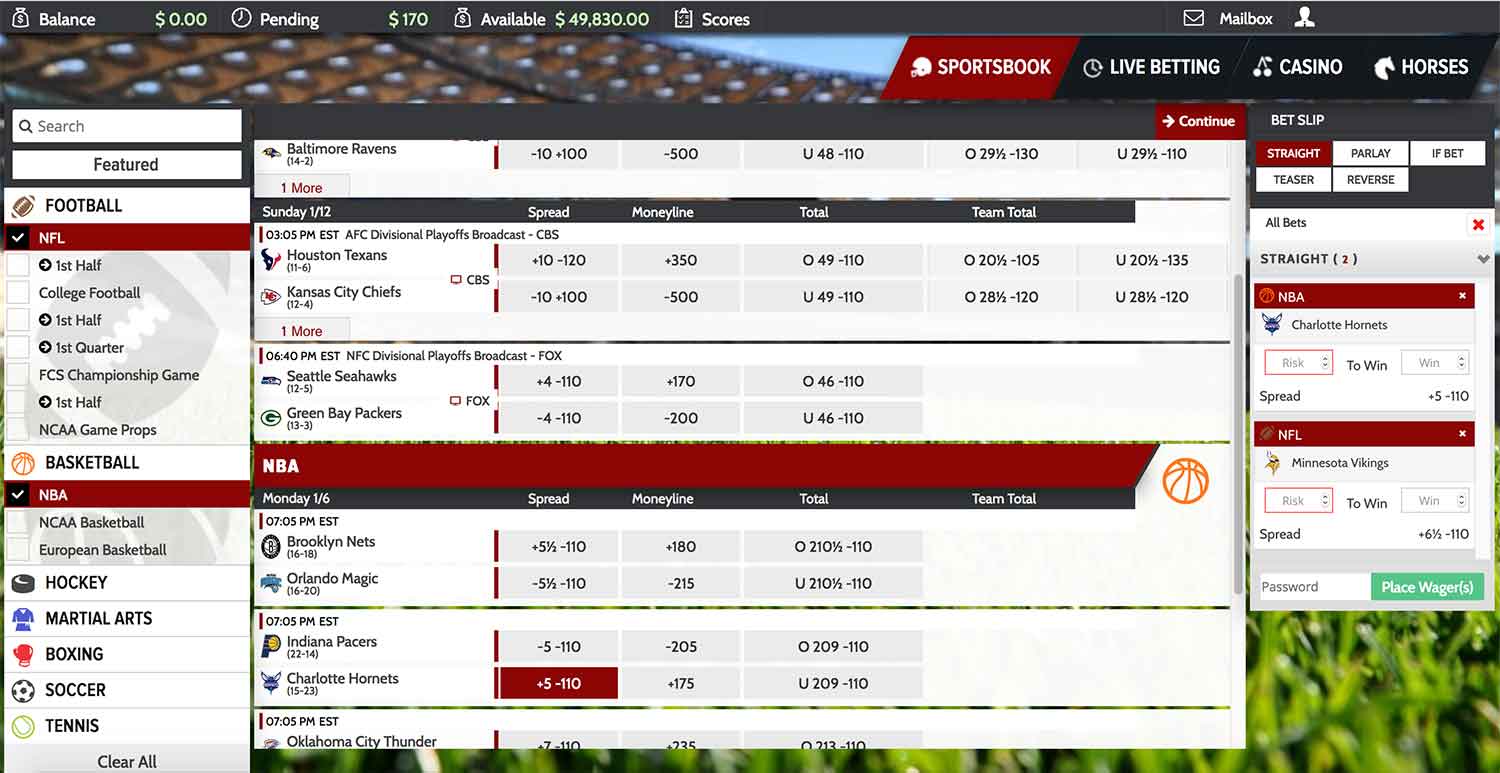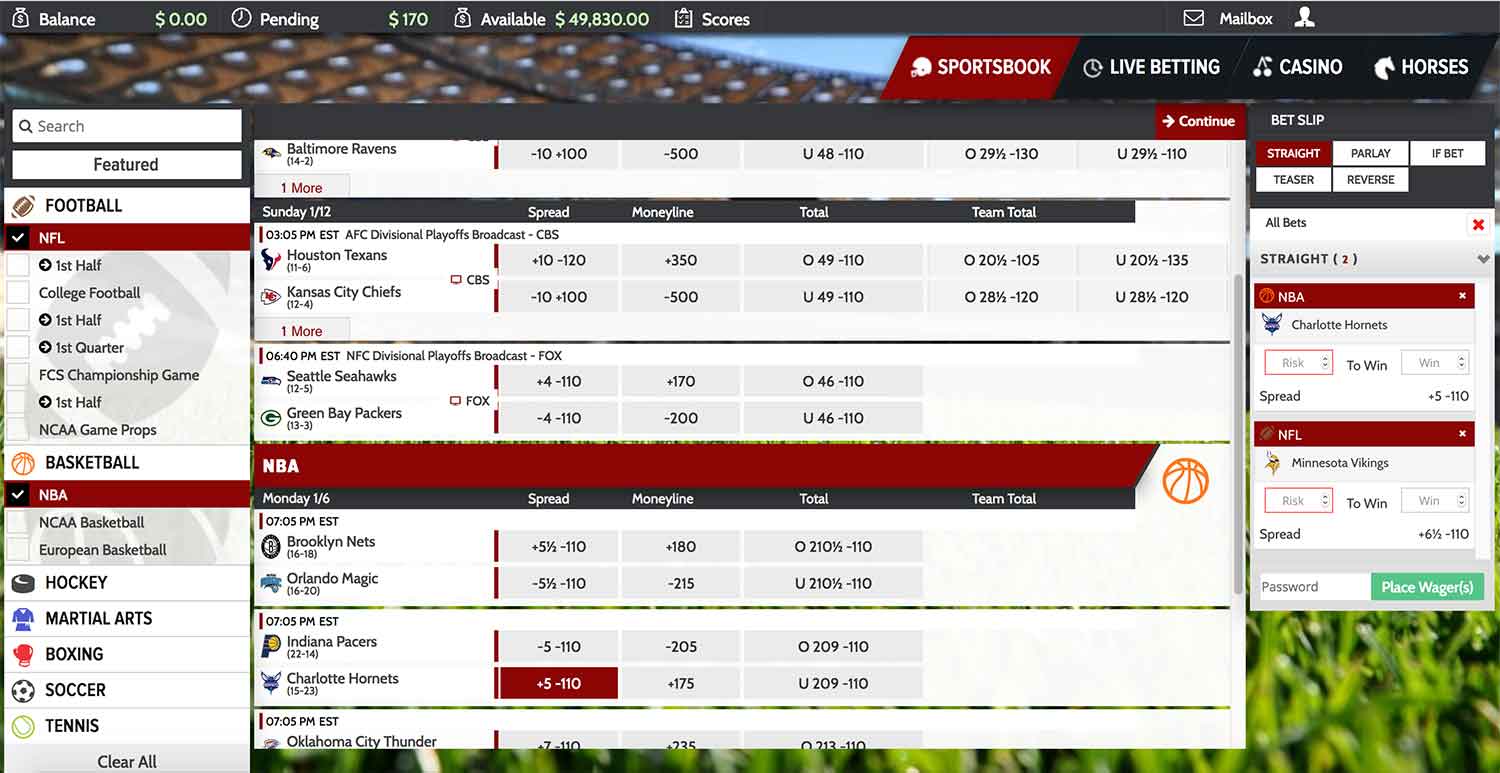 There may be hundreds of games available on the board at any time. Instead of your players having to browse to the sport, then to the league, and then look for the specific game; the filter functionality allows them to simply type part of the team's name, hit enter, and the board will update to show only the games that include the characters typed.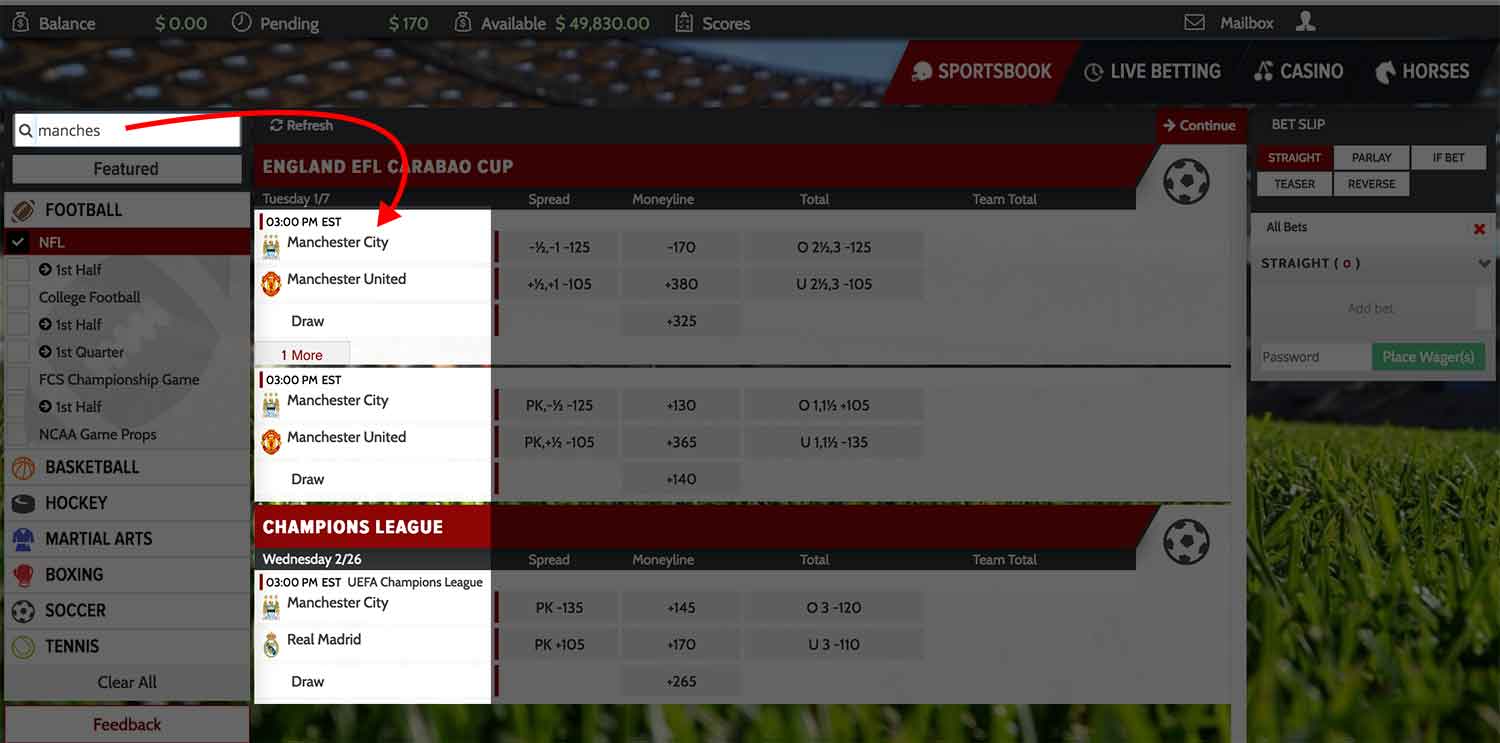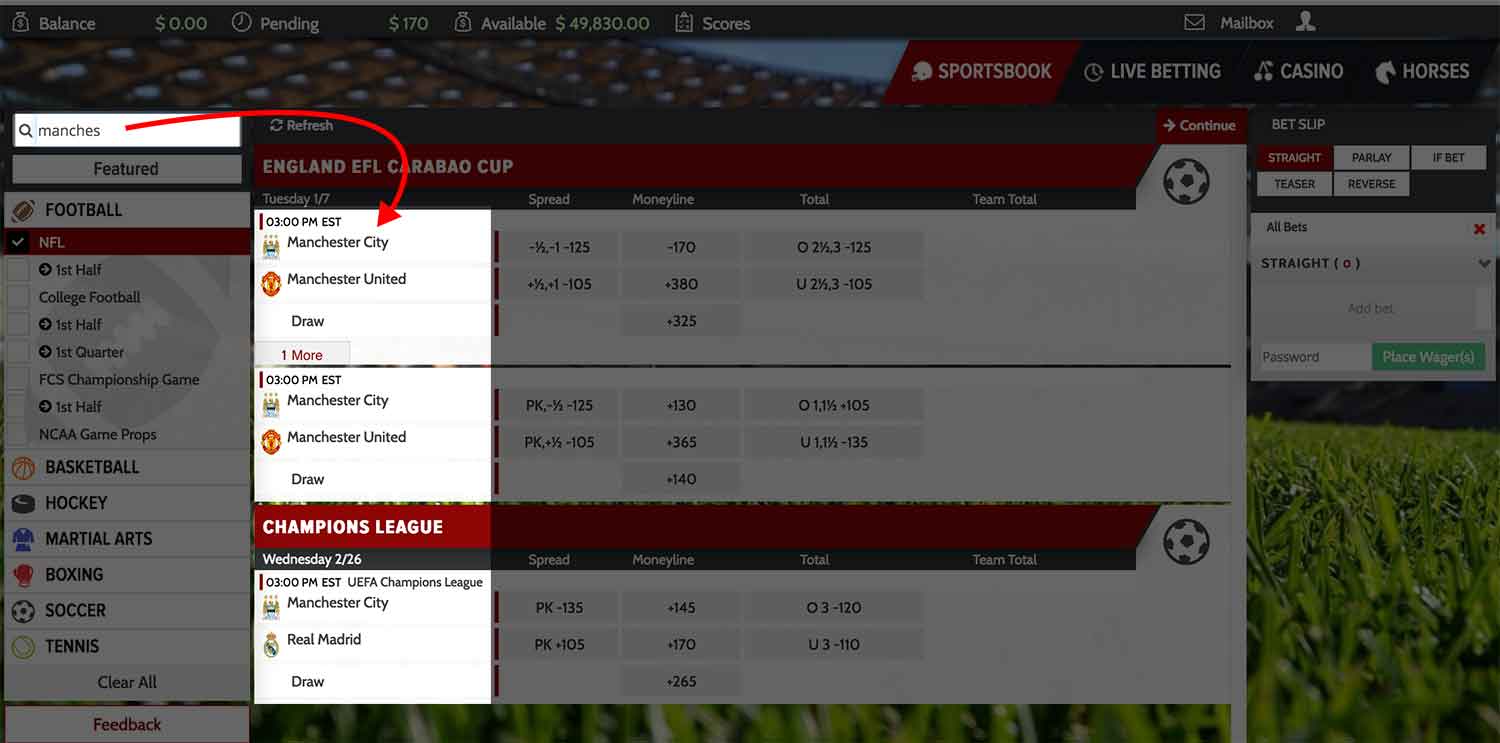 Similar to other providers, PPHSportsbook.net has a daily figures screen (also called "weekly figures"), which allow players to keep a note of their performance per day of the week.
By clicking on each day's number, all tickets placed that day to make up for that figure will be displayed below, along with their corresponding timestamp, wager type, description, and results. This helps your players filter the tickets placed by day.

Besides the Weekly figures screen, which breaks down the action per day of the week, players can also easily track their balance using the "transaction" screen.
The "transaction" screen shows the date, the type of transaction (wager won/loss, balance adjustment, etc.), the corresponding balance on that date, and the updated balance after that amount.


At any moment, players can look up final scores by simply clicking the corresponding option on the top sportsbook menu.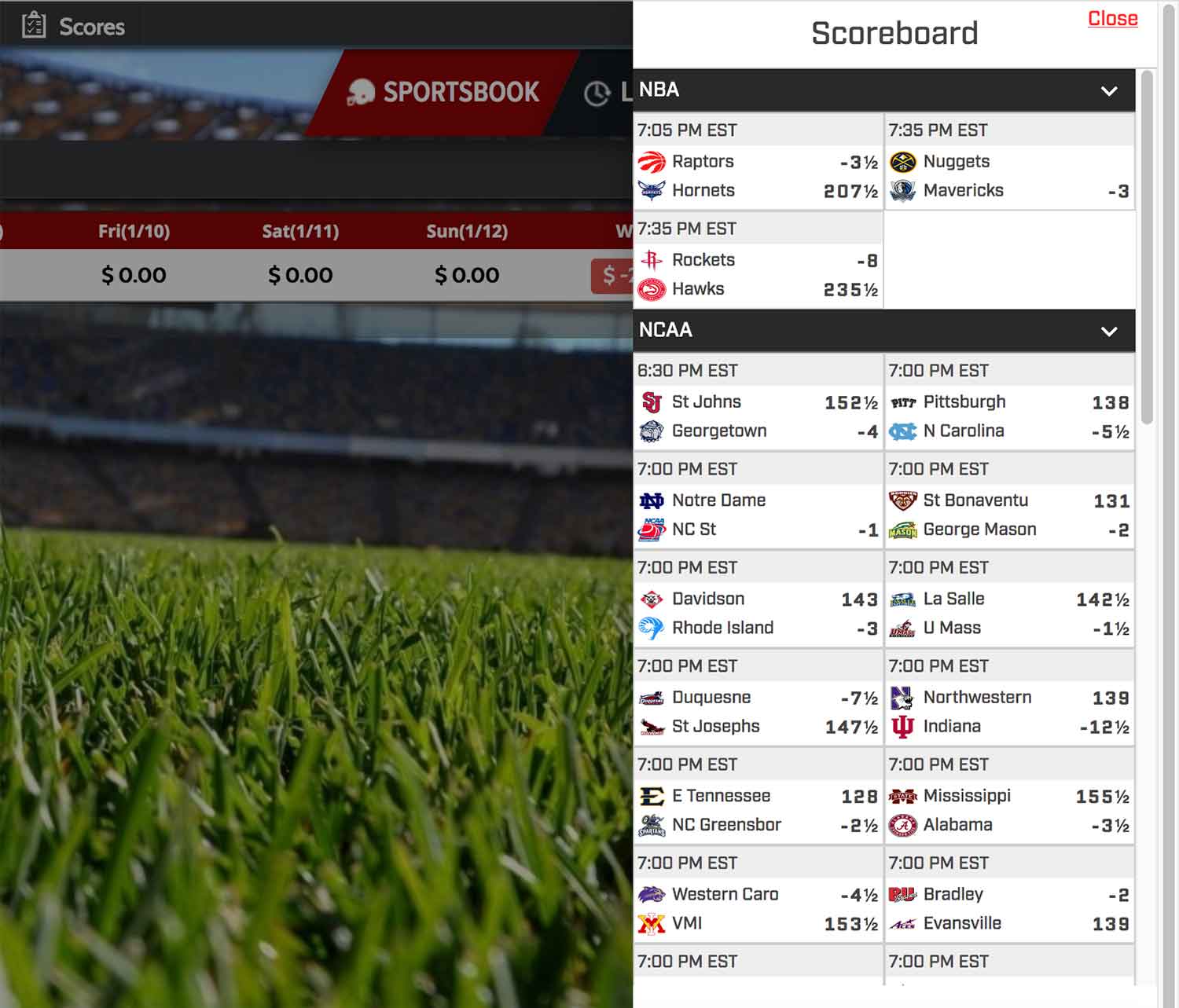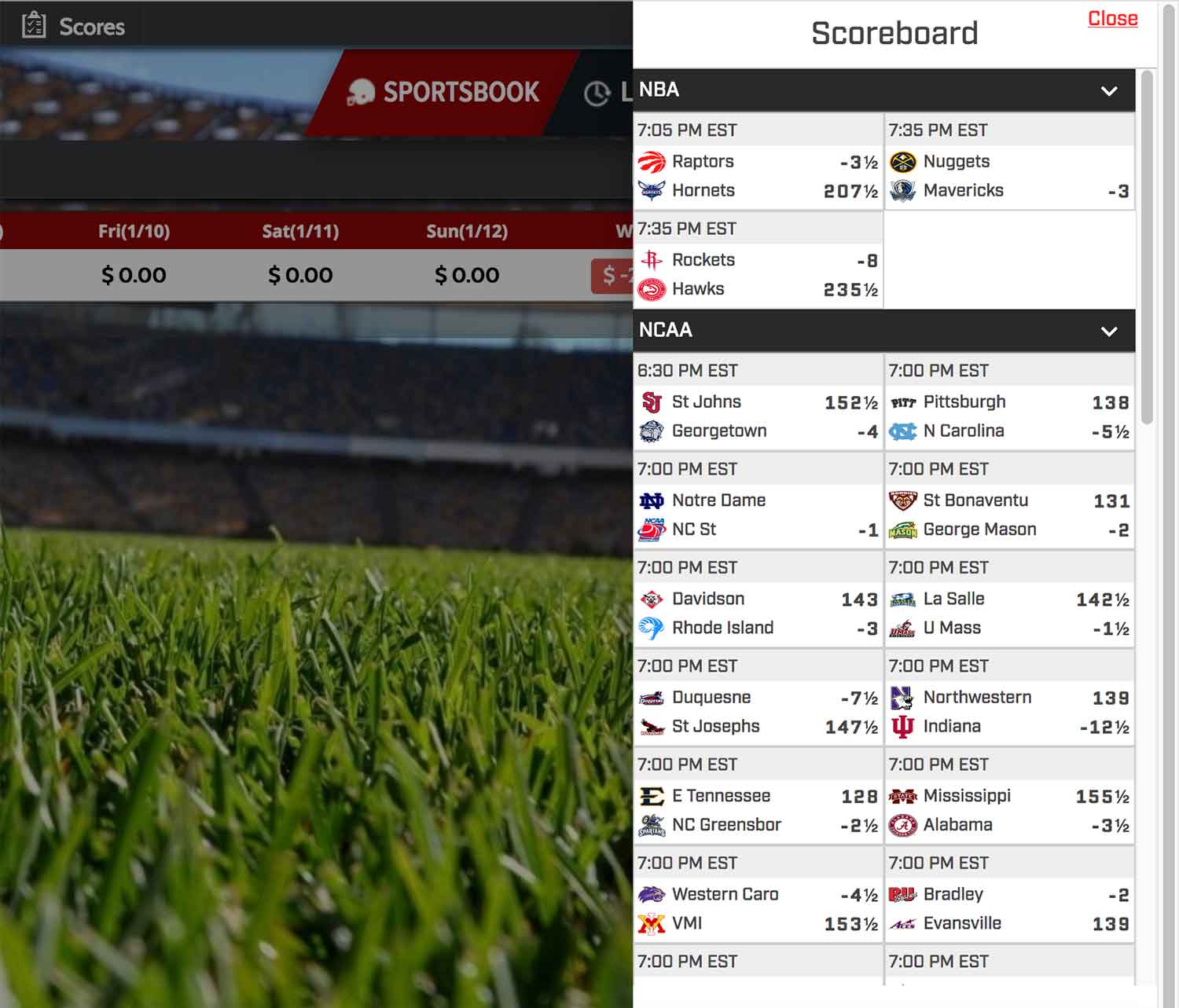 PPHSportsbook.net provides two types of customization available to your players:
Skins
Skins are entirely different sportsbook layouts. These skins change colors, fonts, icons, graphics, and the overall look and feel of the sportsbook, with one click.
Currently PPHSportsbook.net provides 5 different Skins layouts:
New Era
Yellow Flash
Big Sky
Dream Soccer
Full House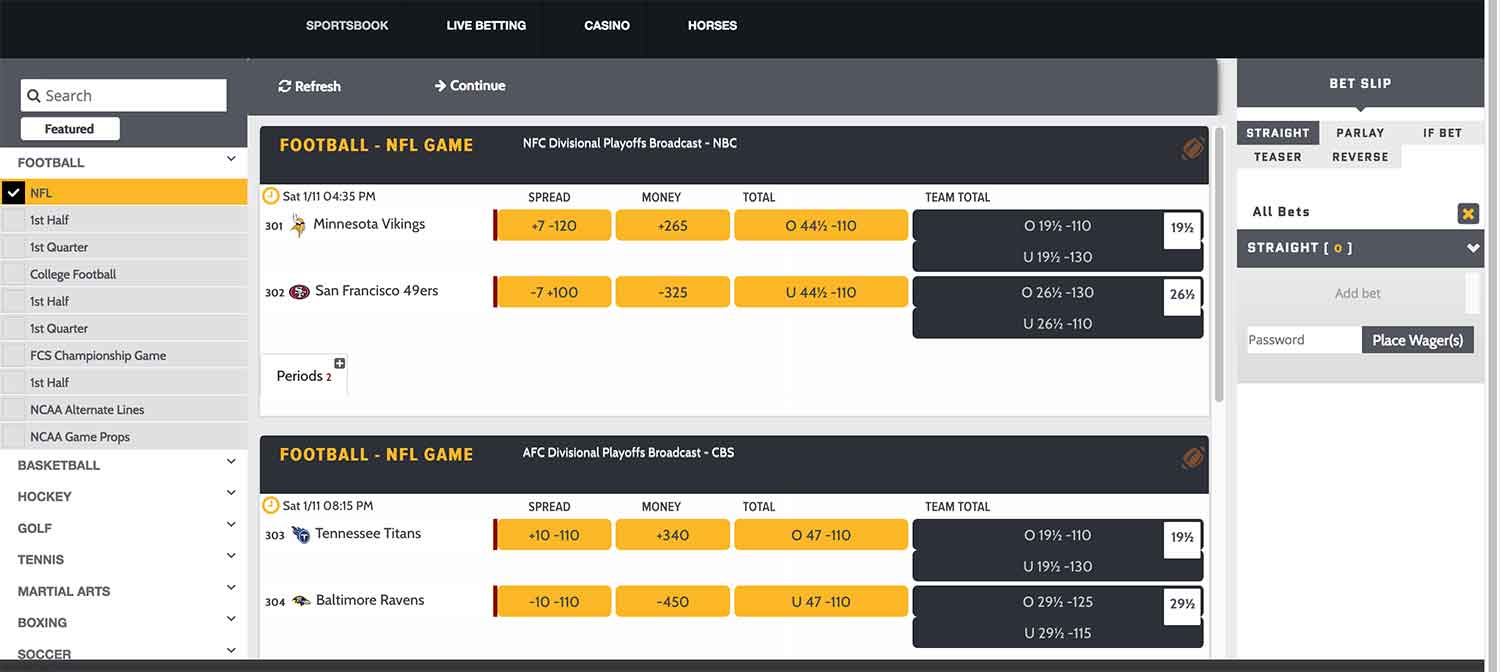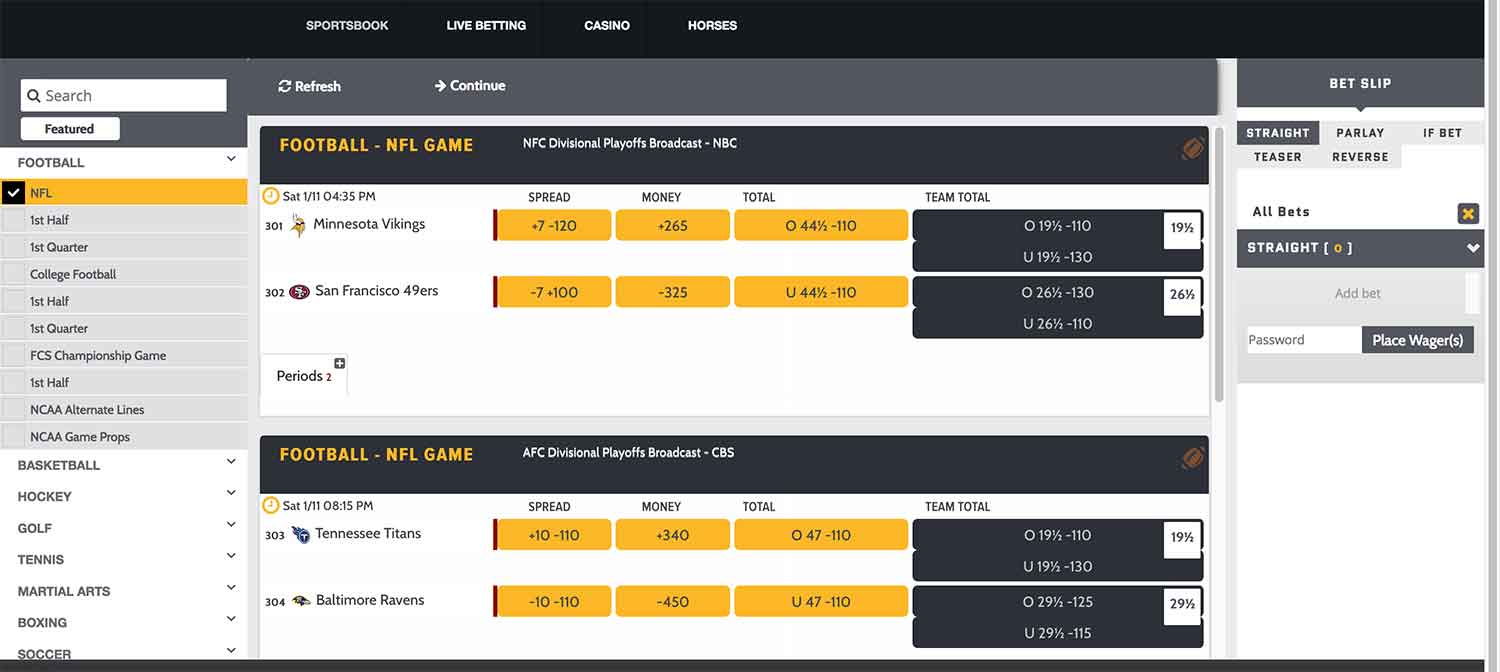 Custom personalization
Players who like the default layout but want to freshen things up by either changing the color palette and background image can choose between generic color combinations or a color and background image based on their favorite team.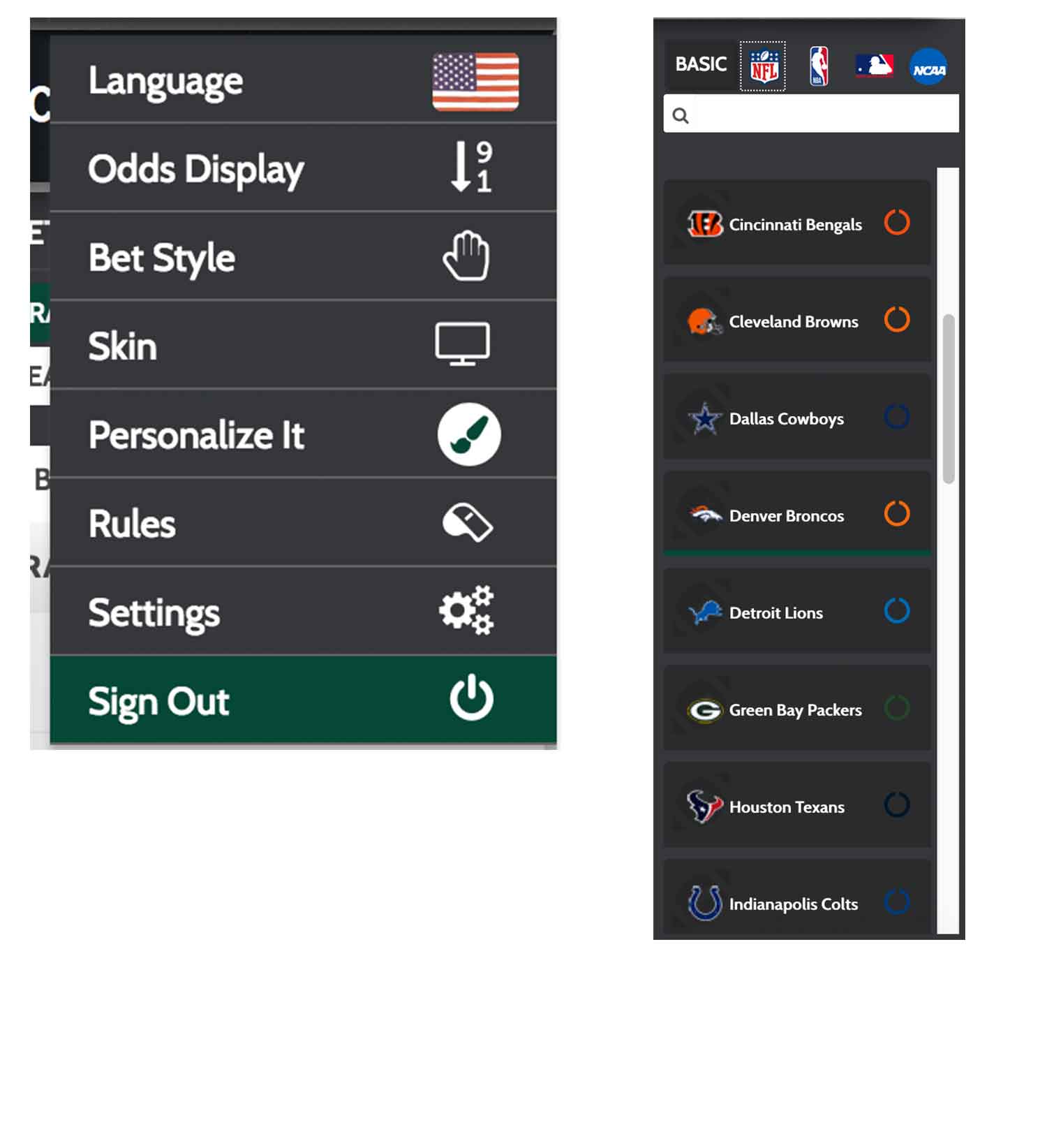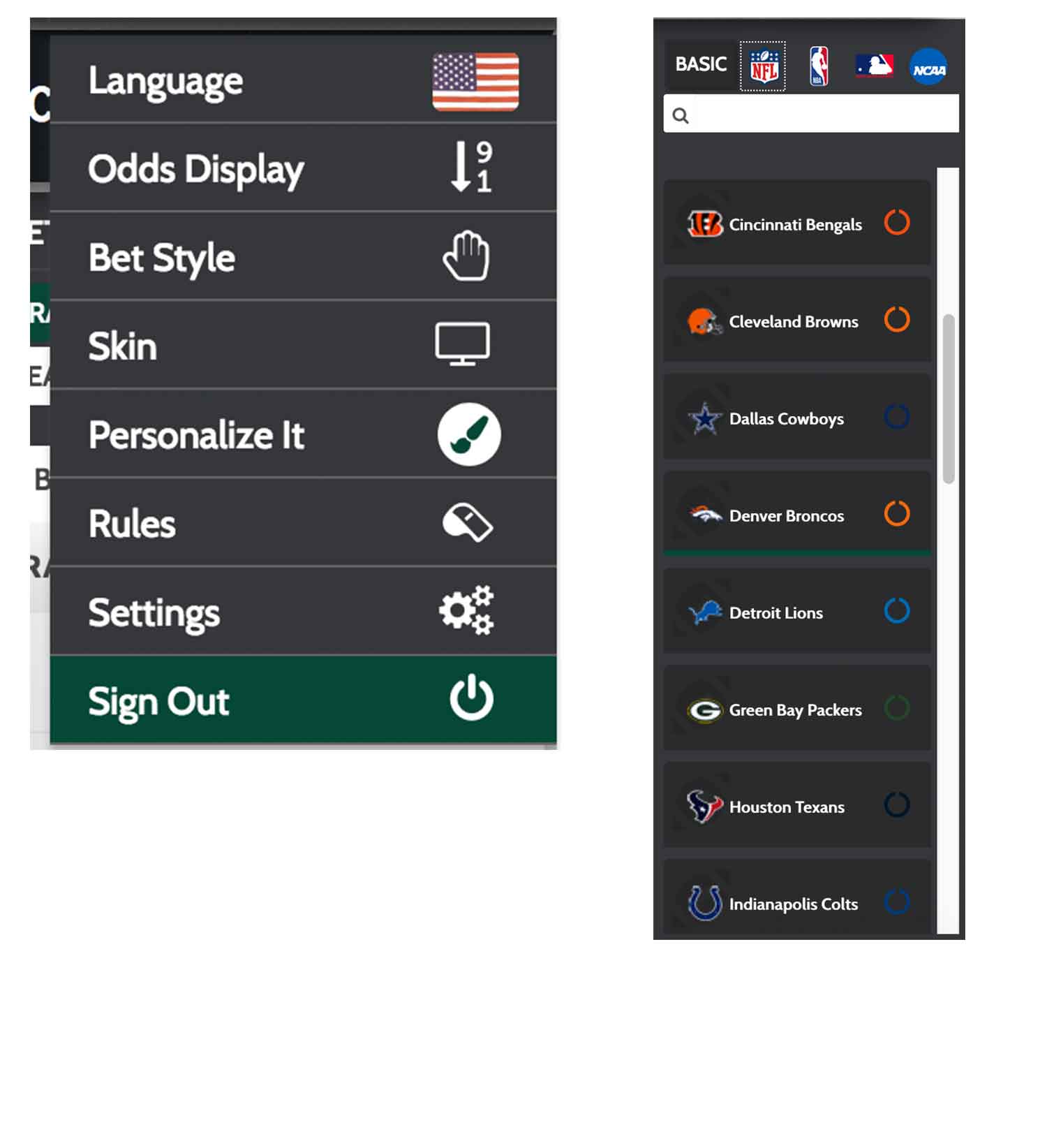 There are customized skins for almost every team part of the major sports leagues.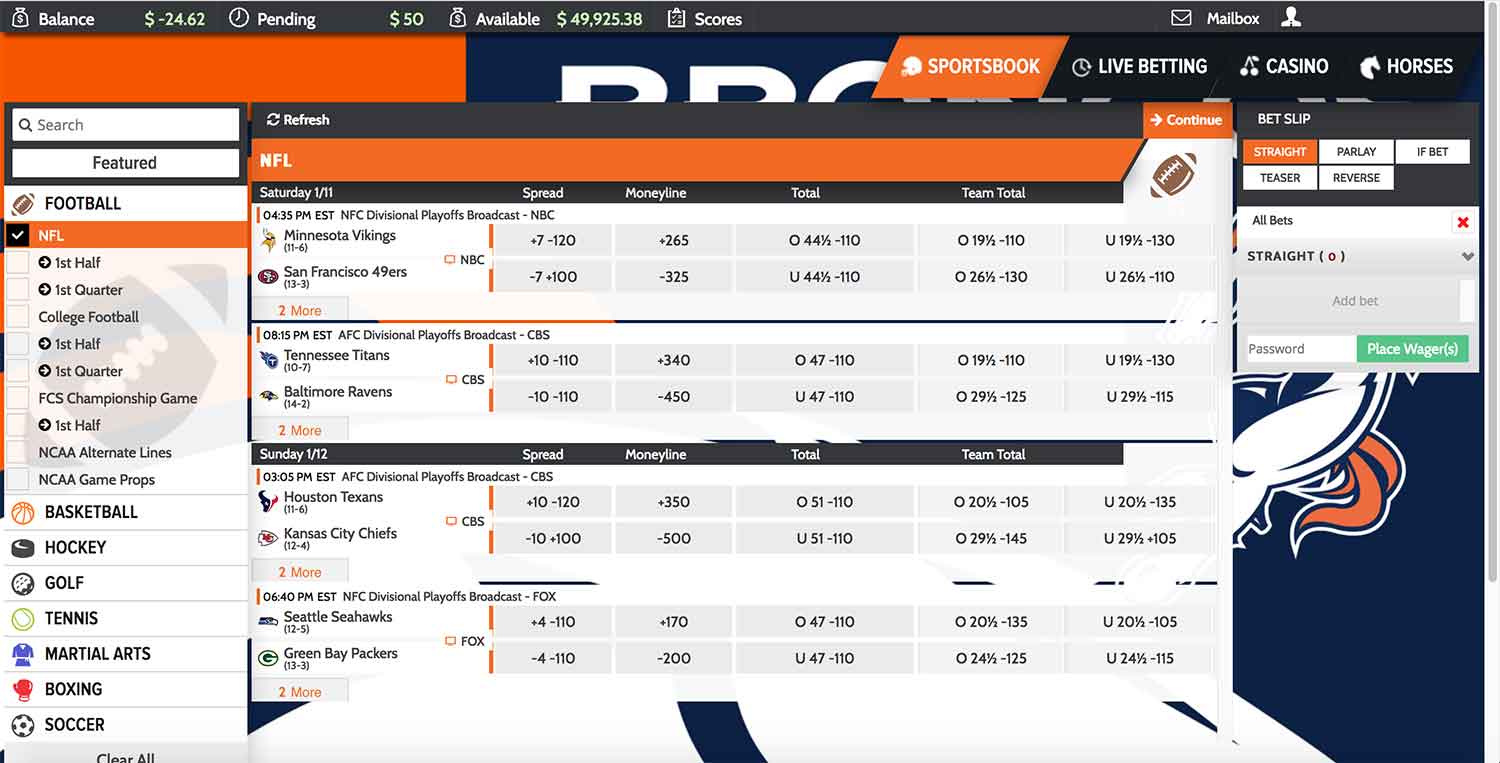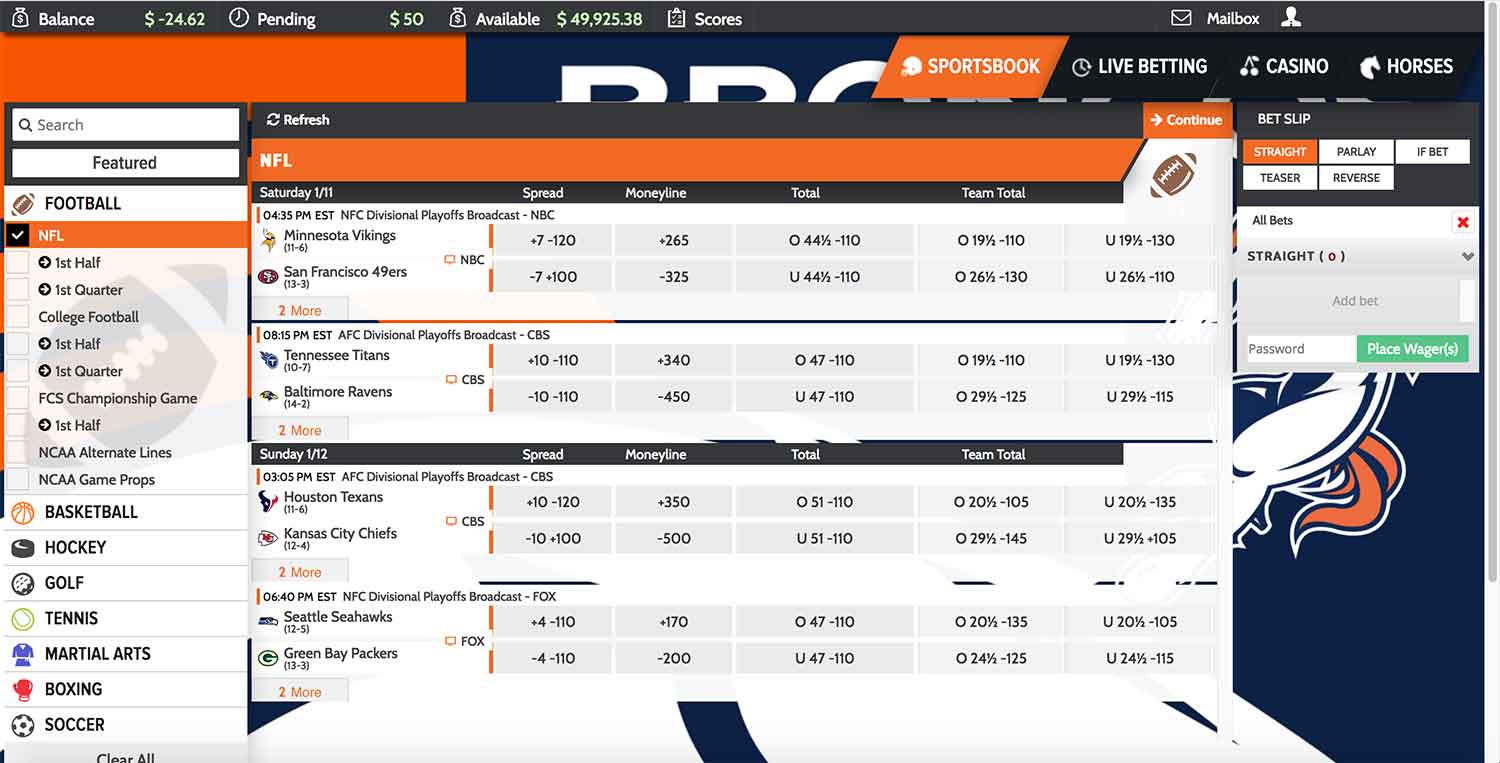 Further customization includes:
Odds display, which the player can use to change between American, Decimal, and Fractional odds display.
Bet style, which can be used to switch from the bet-slip interface to the traditional (multi-screen) betting experience.
*if the bet-slip tool is still displayed after changing to "standard," the player must contact his agent since this option can be set and lock by the agent from his backend.
The "Time" settings allow players to switch between time zones.
Rotation / Logo display controls whether the rotation number or the team logos are displays on the mainboard.
Language switches the sportsbook language to any other language available:
English
Spanish
Chinese
French
Greek
Japanese
Korean
Vietnamese
As you can see, we pay special attention to make sure the sportsbook is fully customizable to your players. And that allows them to make it their own and feel right at home.
Realbookies.com
Realbookie.com comes with plenty of lines for your players to choose from. It also has a clean look along with a multi-page classic layout and attention to detail.
The layout, though, may look outdated for some players. Nowadays, almost every major post-up sportsbooks use a bet-slip functionality, which allows players to enter multiple tickets and combinations without having to browse through multiple screens and without leaving the main sportsbook board, so there is no reason for you to lack behind and offer a lesser experience.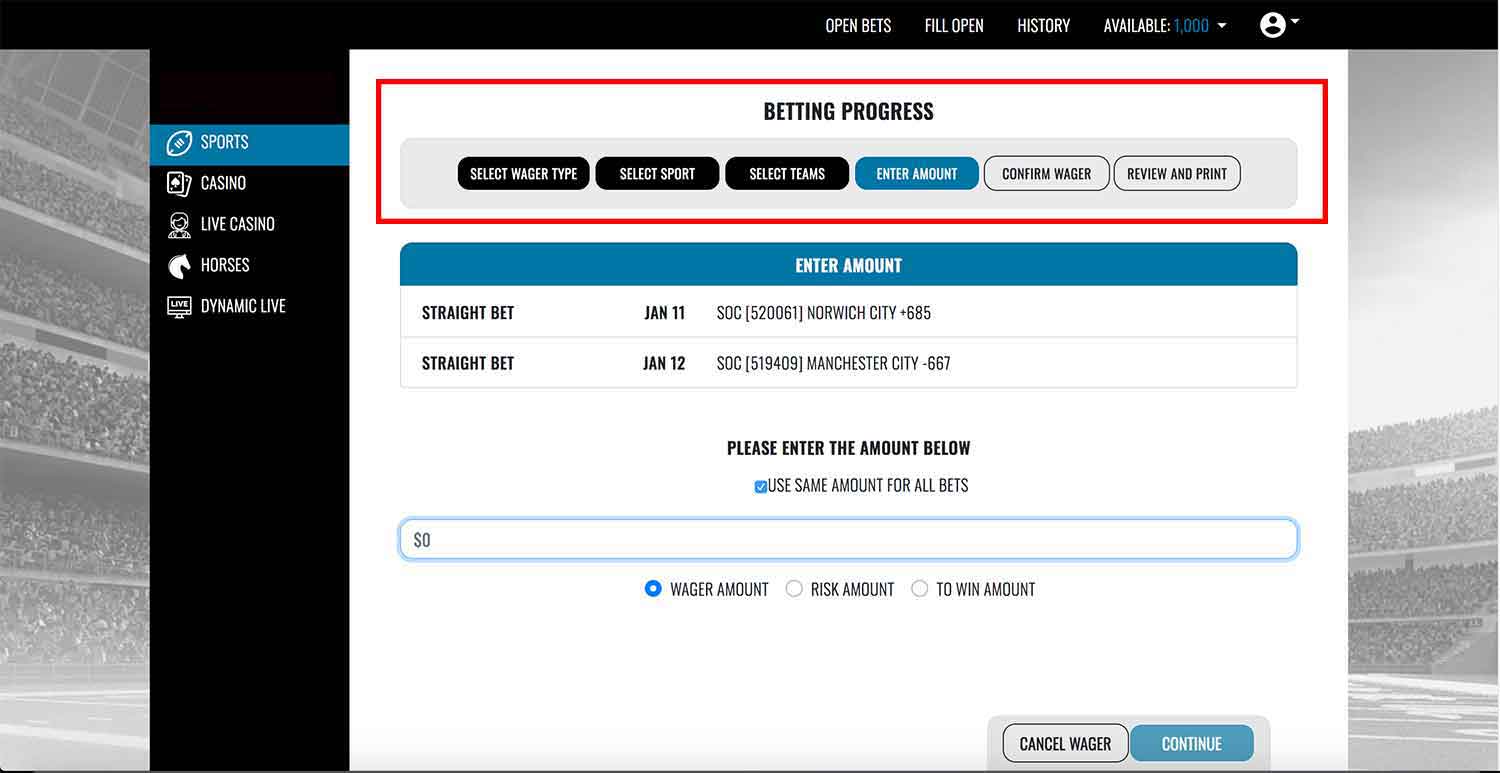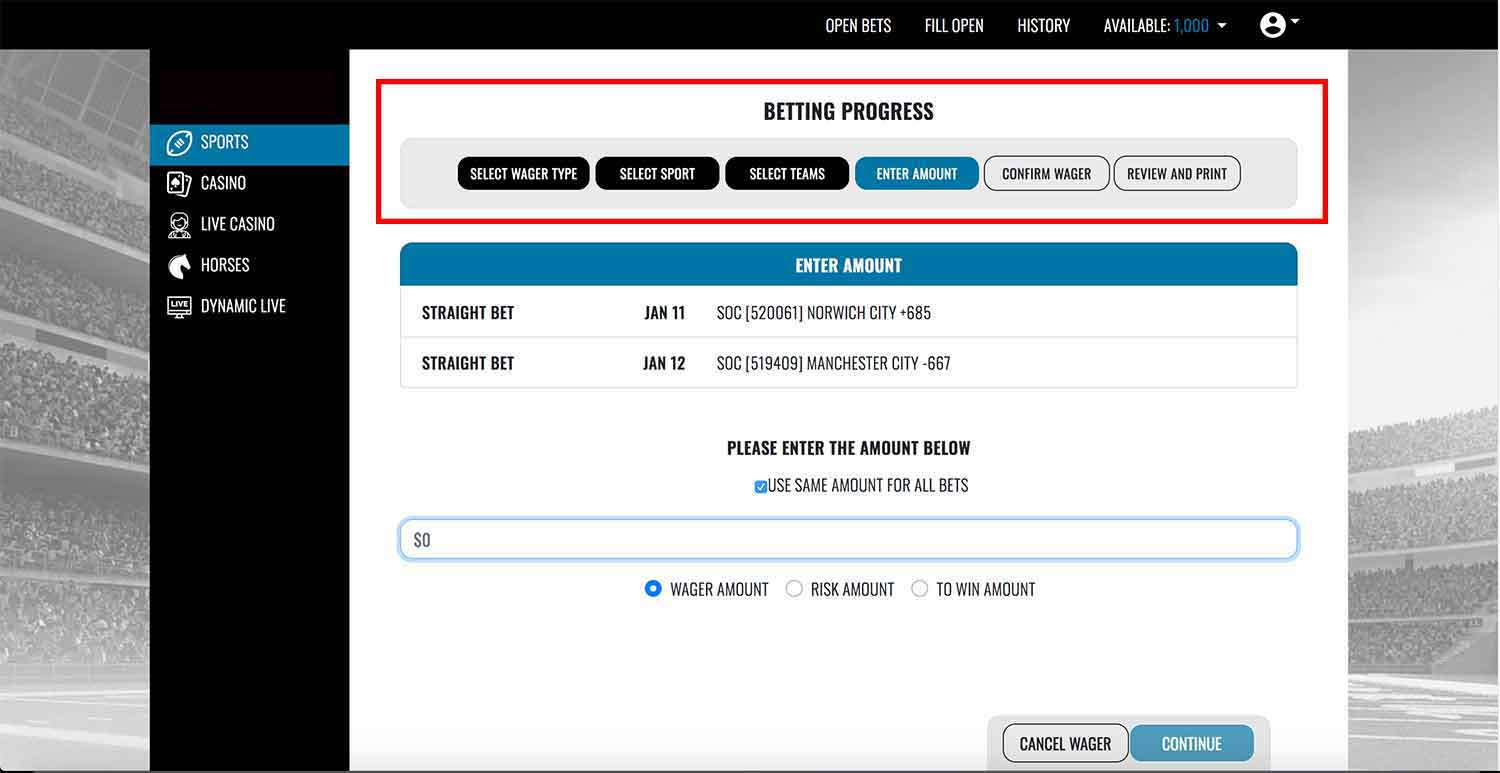 Realbookies also has useful search functionality that allows players to search, first by the league (e.g., "English premier league") and later by the team itself (e.g., "Manchester united"). This should be a welcomed addition by players, especially when making their way through the various betting lines offered by Realbookies.com.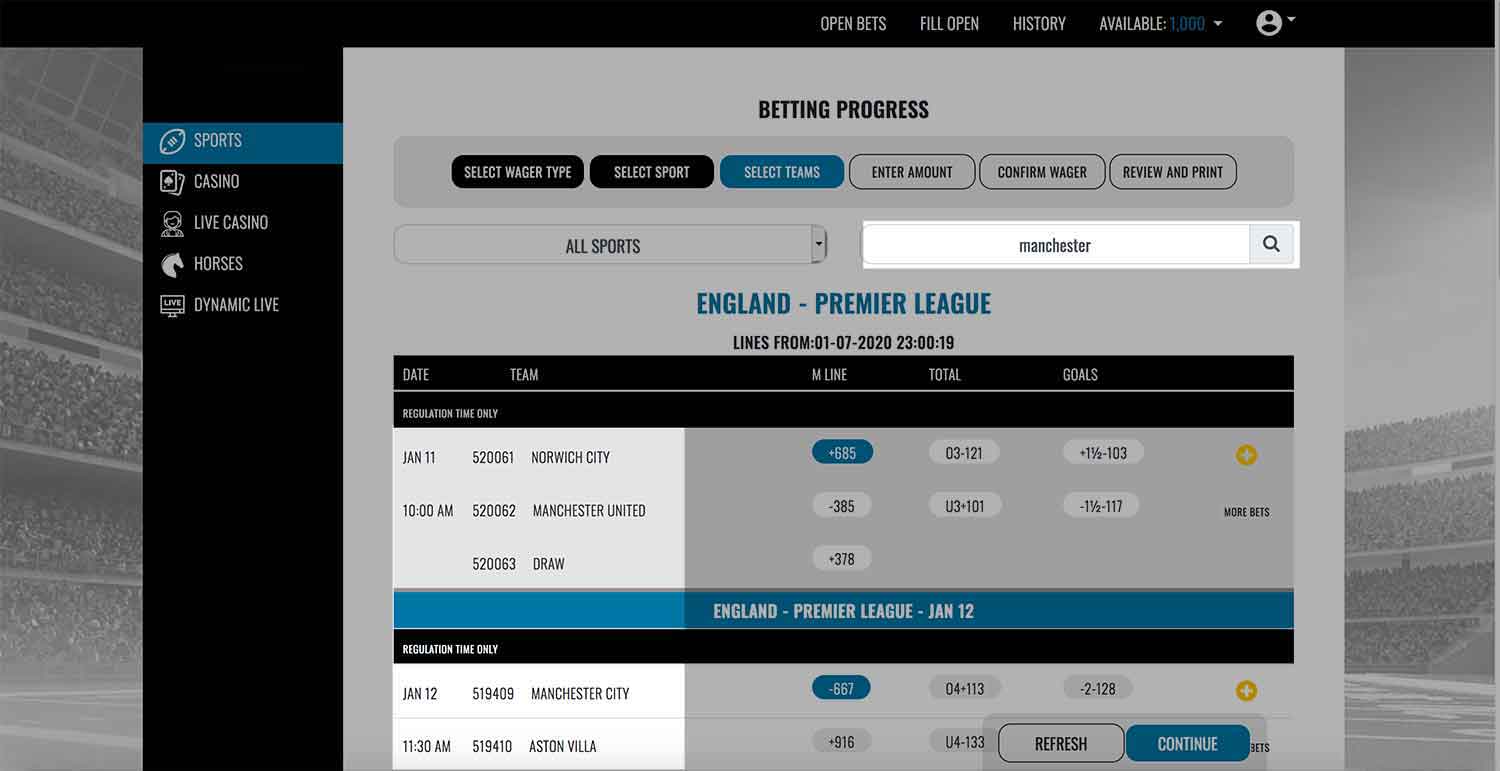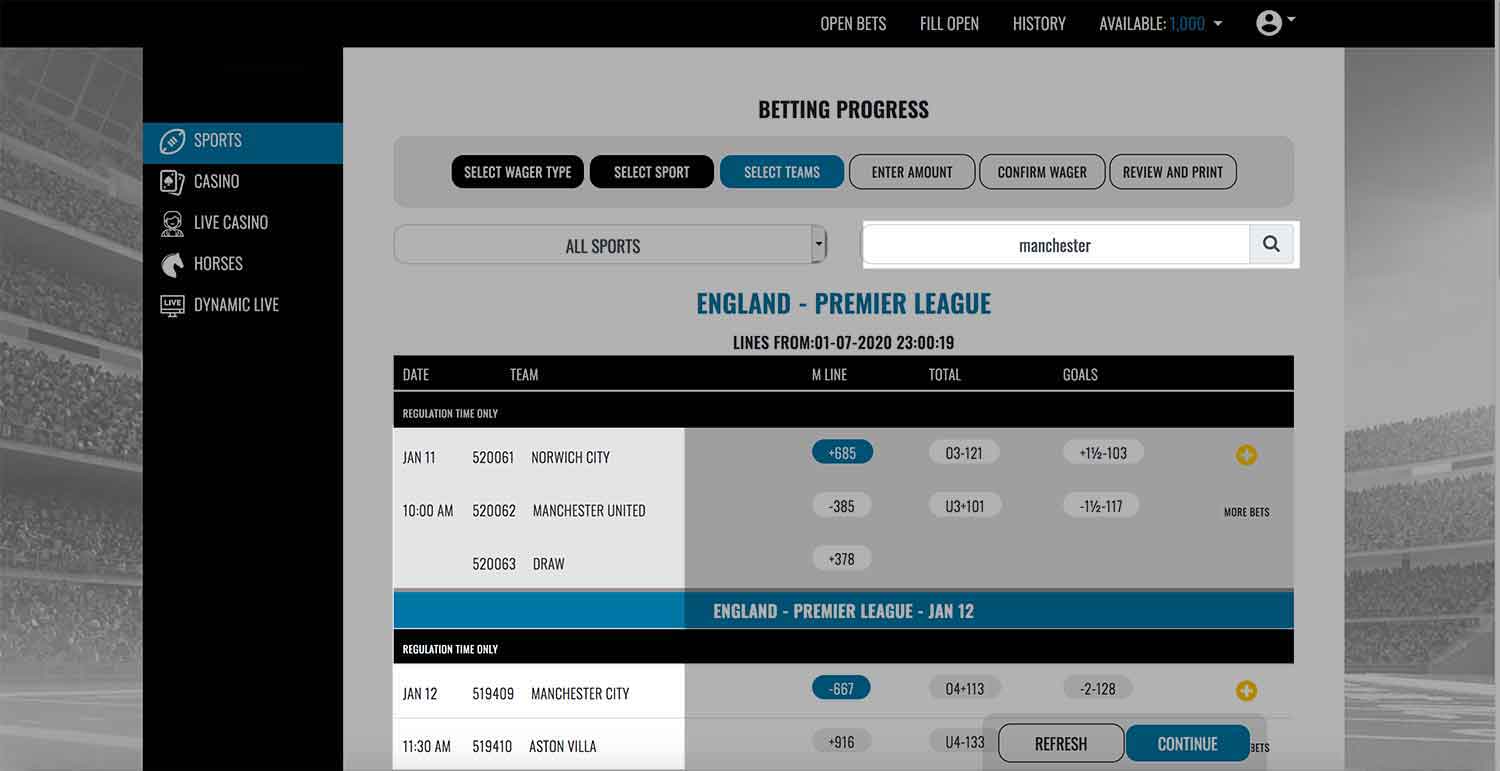 In regards to the reports and options available to the player, Realbookies comes with the standard weekly balances report, which allows players to see their performance per week.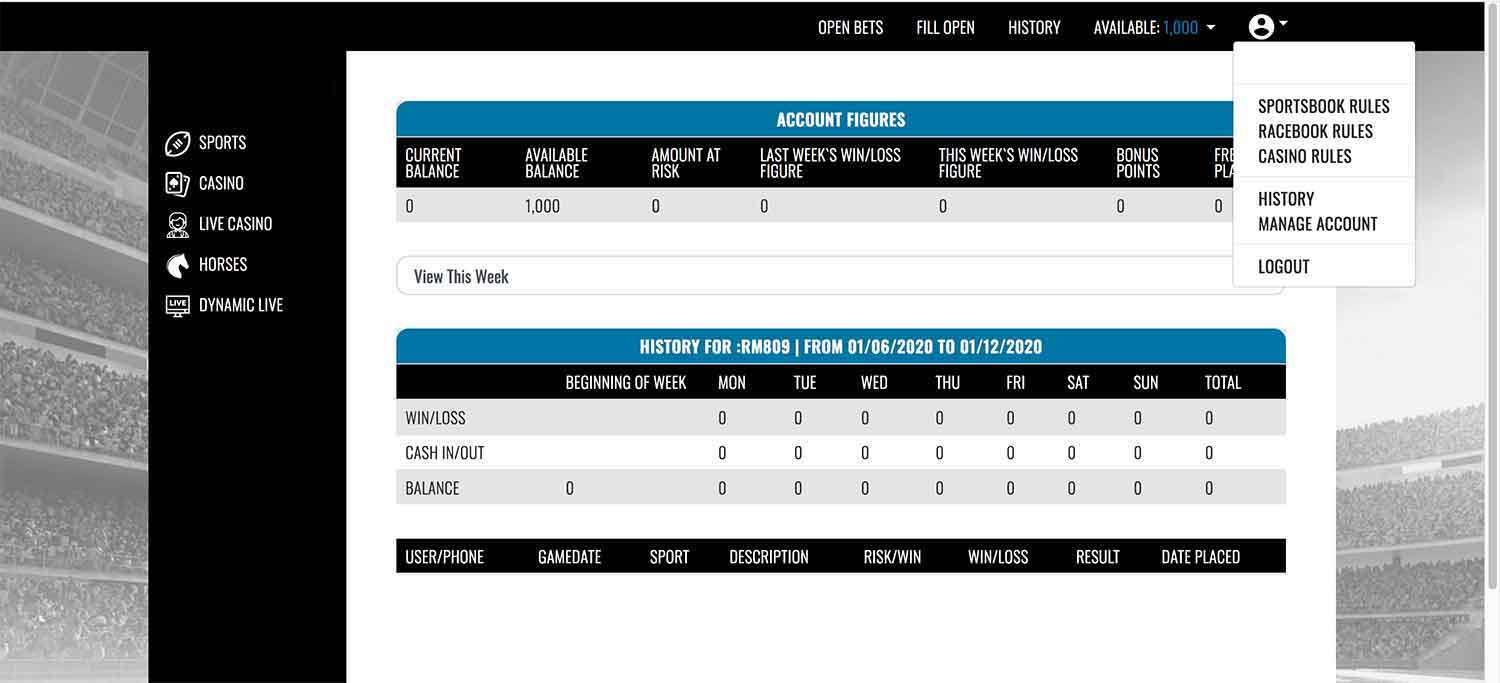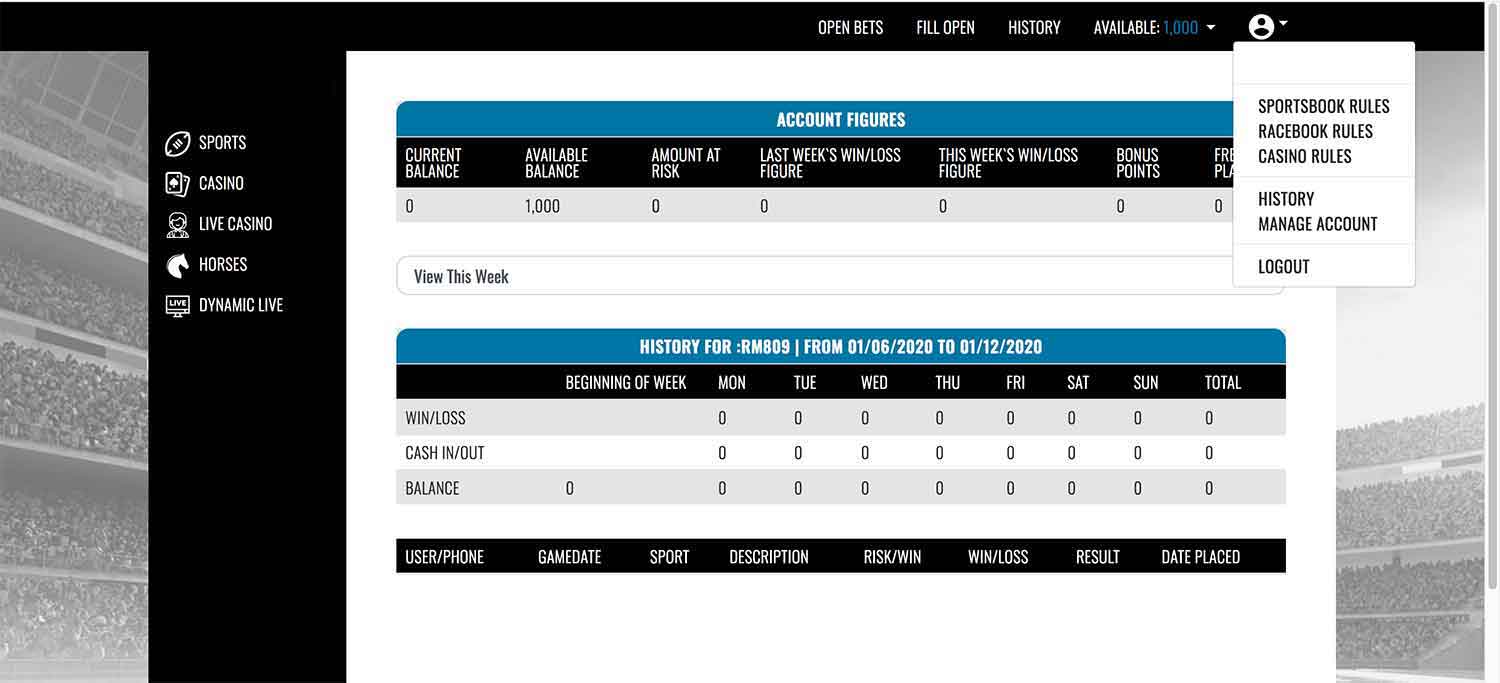 In regards to customization options from the player side, they will be able to choose the sportsbook language from English to Spanish; select one of many time zones options; decide between American, decimal, or fractional odds styles; and finally, font size.
We believe there is also an option to change the sportsbook color palette. However, that is likely done either from the bookie back-end or by requesting it to the PPH sportsbook's customer service department, since there was no setting for this from the player side.

Realpriceperhead.com
Realpriceperhead.com white-label sportsbook has a nice layout that is easy on the eye and mobile responsive. All sports are shown throughout the board. Unfortunately, similarly to Aceperhead and Realbookies, the sports are displayed all over the board, without some proper navigation structure with some dropdown menu that could make it easier for players to find the sport they are looking for.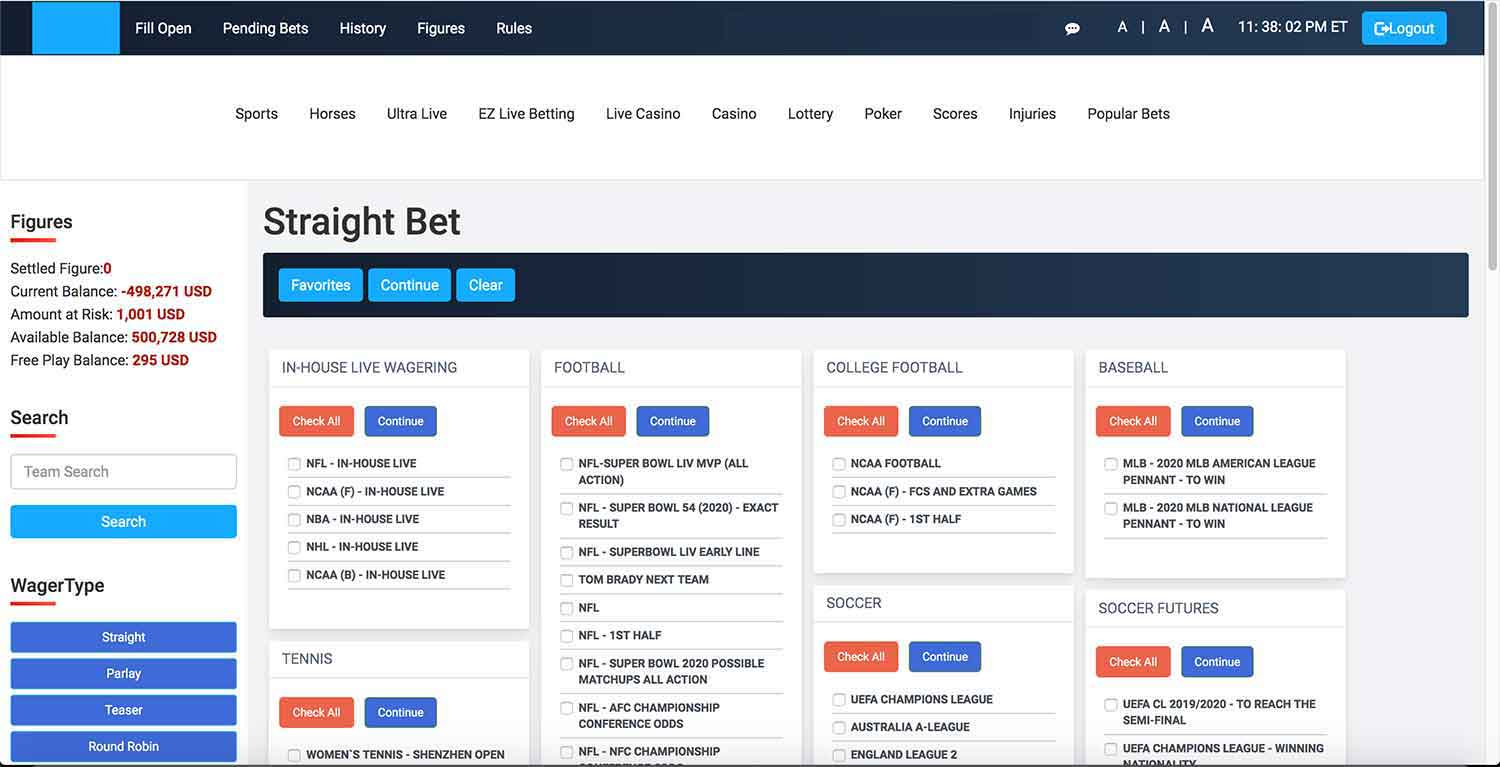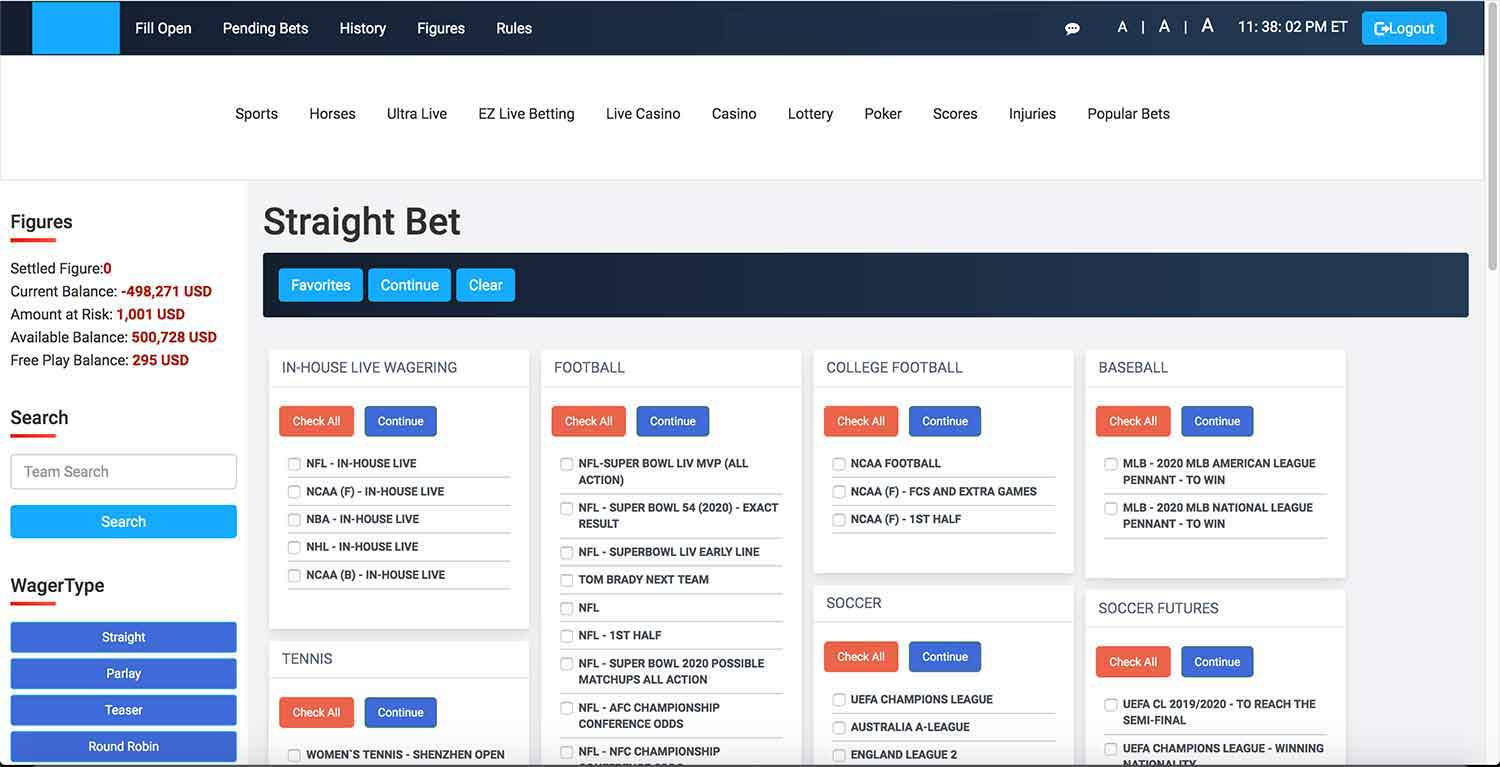 Additionally, this provider's sportsbook layout has a more modern look and feel. Still, it requires players to go through a tedious multi-page process to enter their tickets.


Realpriceperhead also has a search tool for quick filtering. Unfortunately, it seems to filter by league instead of by the team. So, for instance, search for "Manchester" will return all leagues where a team name includes the word "Manchester." This means, this search also returns all other teams that do not include such word, but that play within the same league as the name of the team entered.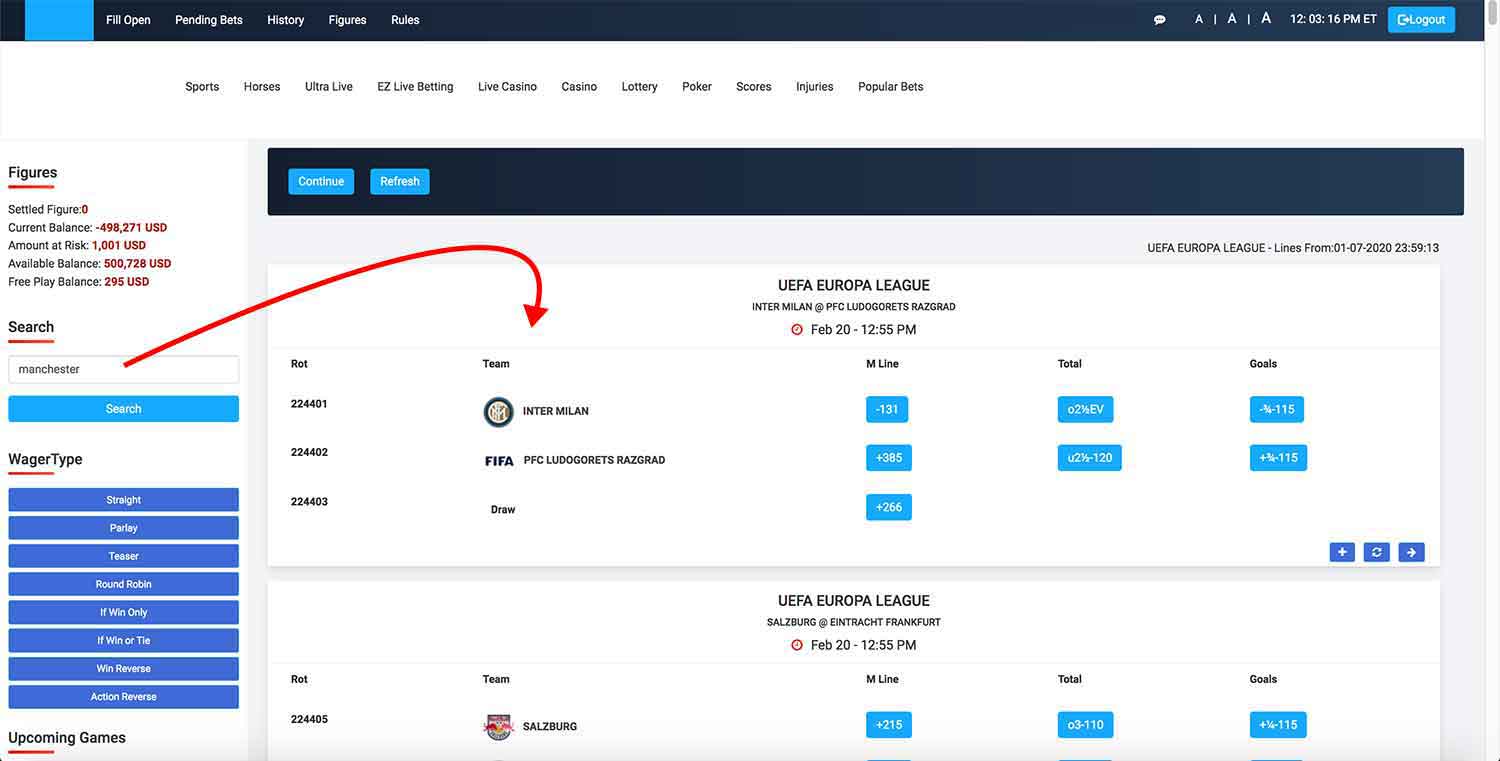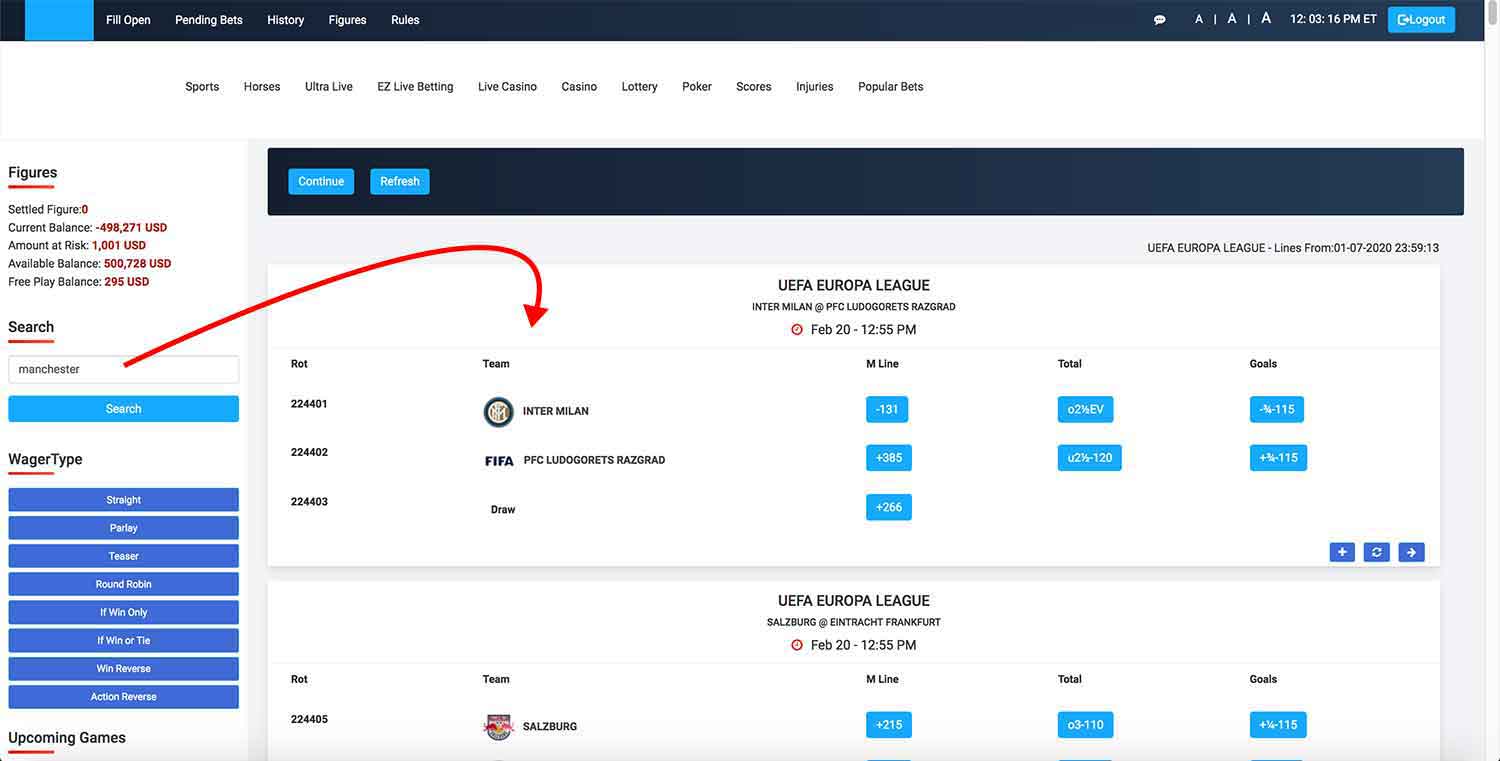 The standard player weekly figures and wagers history reports are also available to the player. Even though there is no cash flow or balance tracker for the players, they will still be able to check past and open tickets from the sportsbook reports.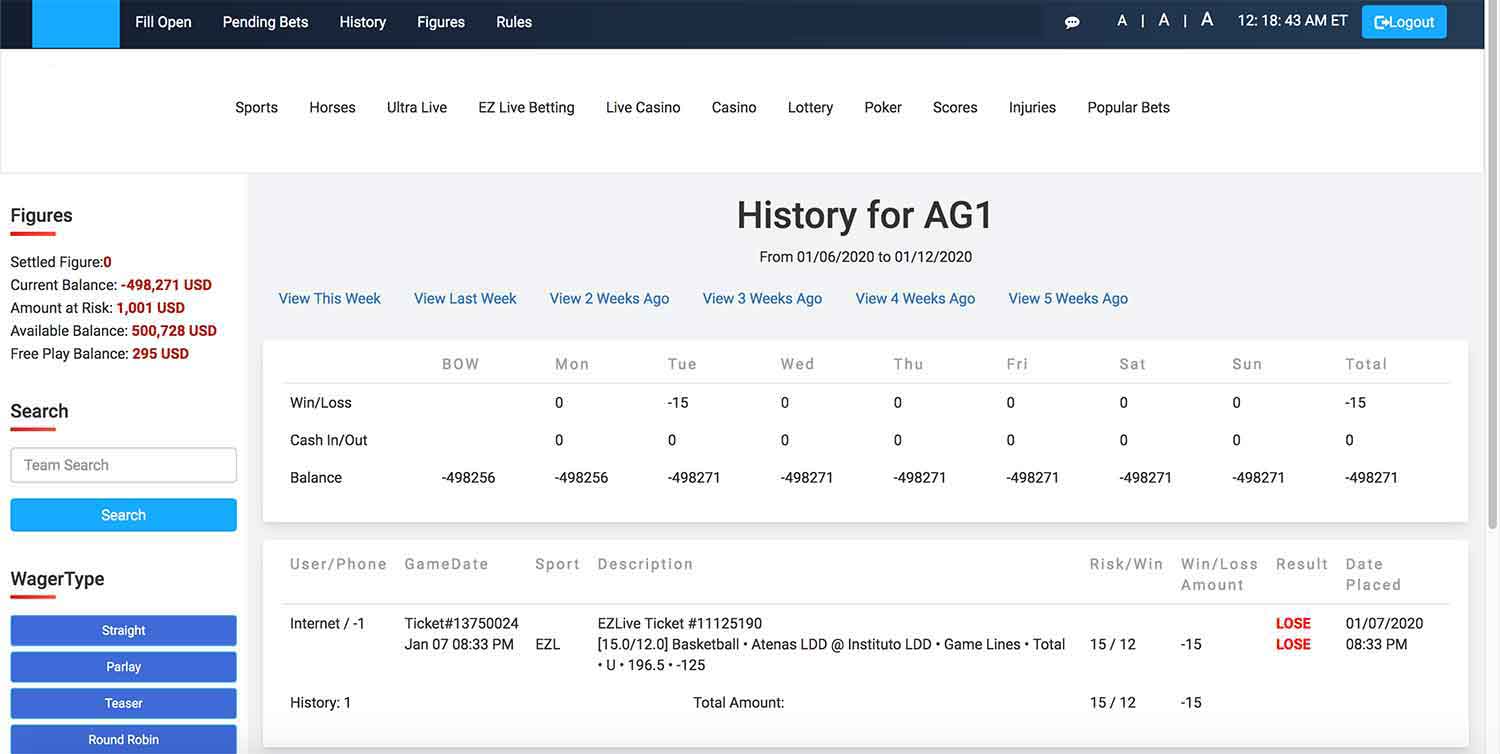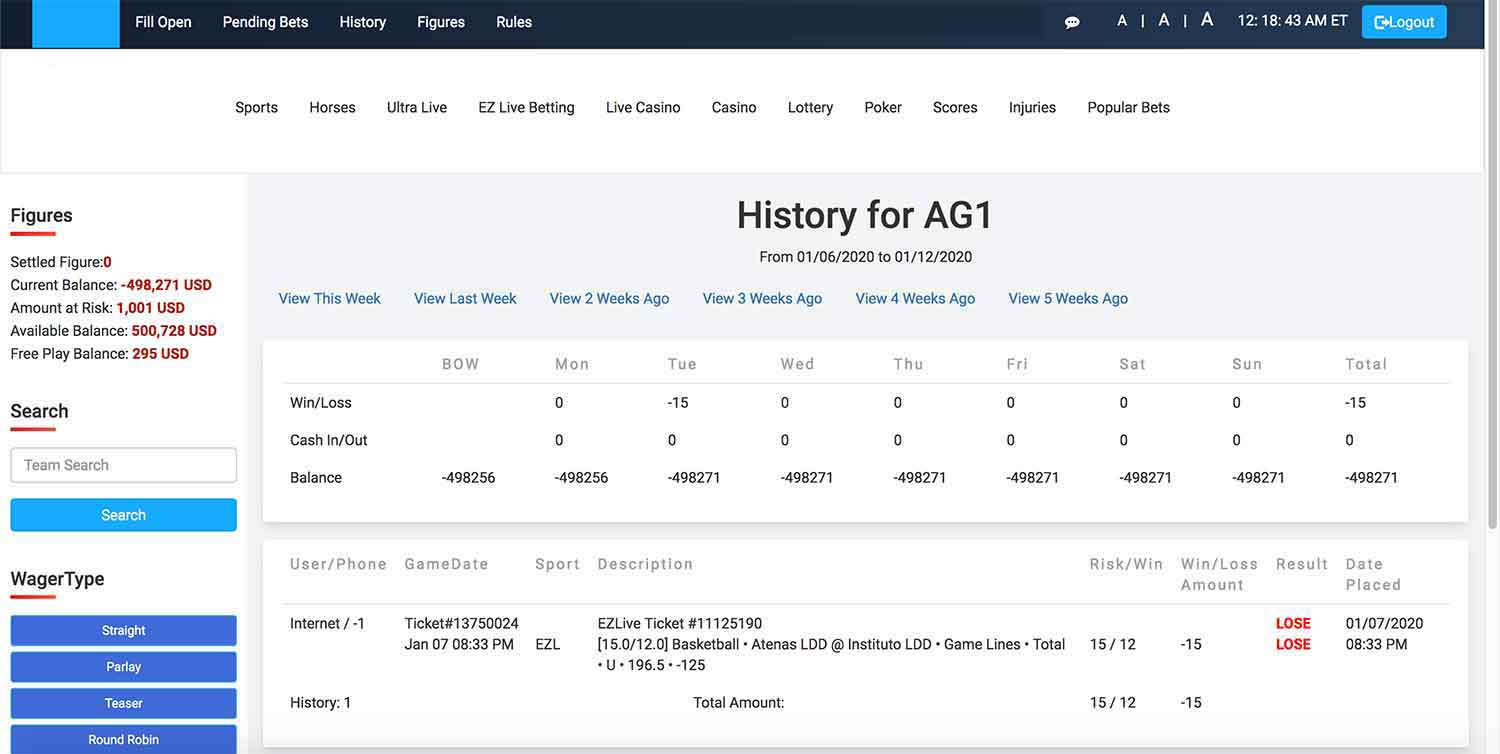 In regards to sportsbook customization, players can change their password, time zone, and odds display (American, Decimal, and Fractional).


IDSca.com
Idsca offers a modern and nice looking sportsbook interface. Plenty of lines and a smooth experience will keep your players coming back for more.
All the process of entering the tickets is done within a single screen, thanks to a handy bet-slip functionality.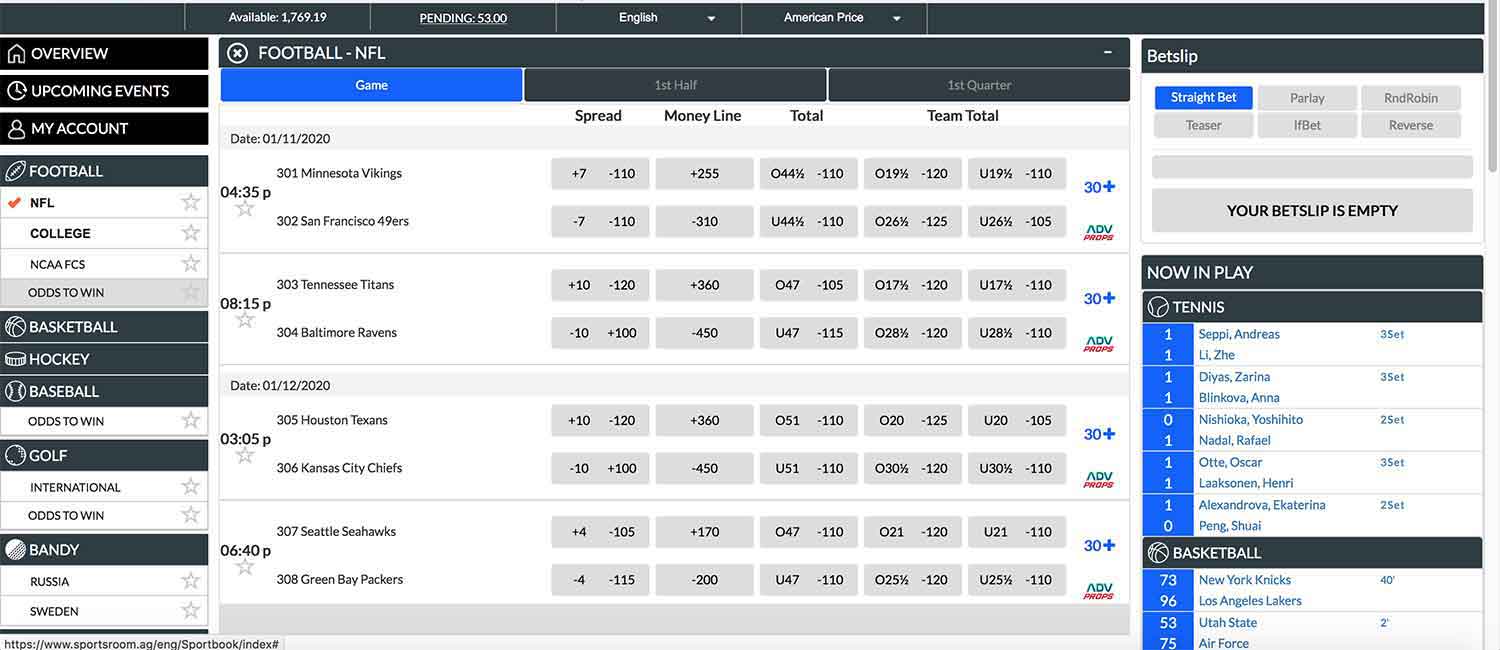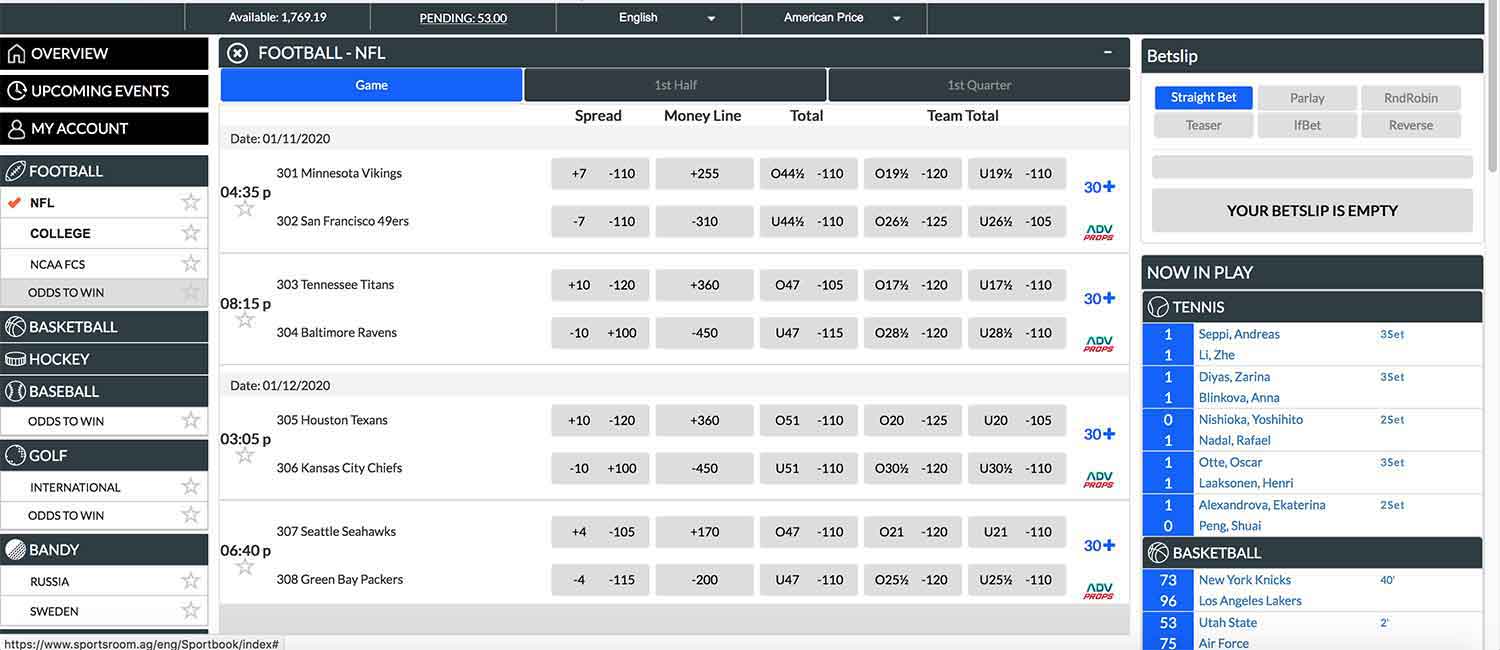 Currently, there is no search tool available for players to quickly find the games they are looking for. That would be a welcomed addition considering that IDSca offers action on plenty of markets, and this makes it difficult for the player to quickly find the game they want to place an action on.
Pending wagers, Daily or weekly figures, and Transactions – which show a cash flow of the player balance after each transaction (wagers, credits, etc.) – are available to the player.


Other than changing the line format from American to Decimal, and changing the language to English or Spanish, there are no further customizations available for players. Nothing against the default layout and colors used by the Idsca sportsbook, but a little bit more options allowing players to make it their own would've been a welcomed addition.
Lines mover adjustment tool
One key component of having your own sportsbook is having the option to move and adjust your lines and odds.
The way this feature works is similar on almost every PPH sportsbook:
Login to your agent backend panel
Access the Lines mover / Odds adjustment tool
Look for the game which line and odds you want to adjust
Enter the new line and/or juice
Choose between to continue following the provider's main line changes (this is often called "soft shade") or make the newly adjusted line fixed to your newly set values, meaning, even if the main line changes, yours will not ("hard shade").
*Because of the nature of the business, the odds can change at any moment due to several factors, such as injuries, market perception, etc. Hence, it is recommended to always set your lines to "soft shade," so it follows future changes.
| | Your line | Main line |
| --- | --- | --- |
| Default line | Cowboys -5.5 | Cowboys -5.5 |
| You adjust your book's line by half a point. | Cowboys -6 | Cowboys -5.5 |
| The main lines moves by half a point. Your sportsbook line follows by the same amount. | Cowboys -6.5 | Cowboys -6 |
Aceperhead.com
Aceperhead uses the standard DGS lines mover tool. It does get the job done, even though with some setbacks. To ACE's credit, theirs load faster than what we have seen with other PPH Sportsbooks. So props to their engineering team, which have paid attention to make it load as fast as possible.
That aside, there is no way around the fact that the standard DGS's lines adjustment tool is not easy on the eyes. From the colors, fonts, and overall layout. It leaves a lot to be desired.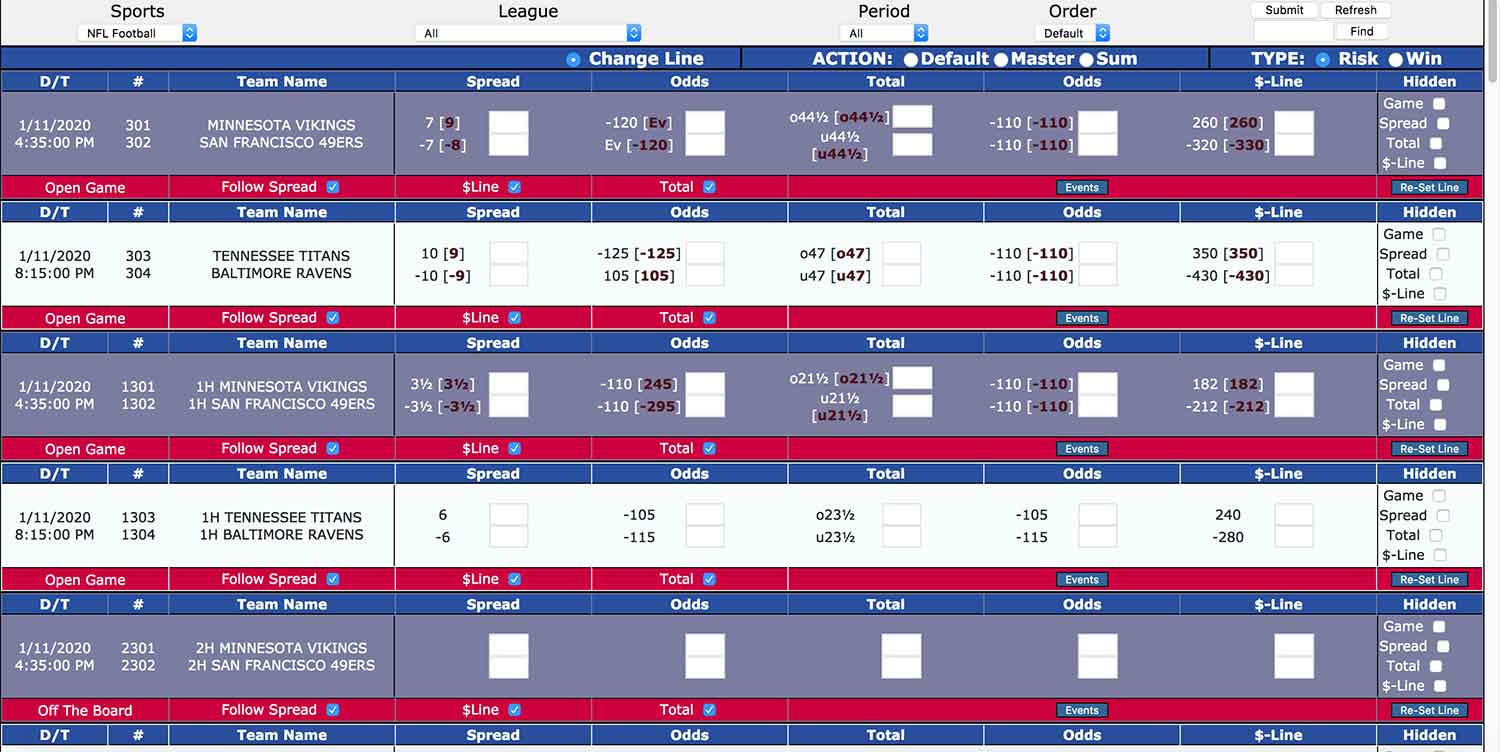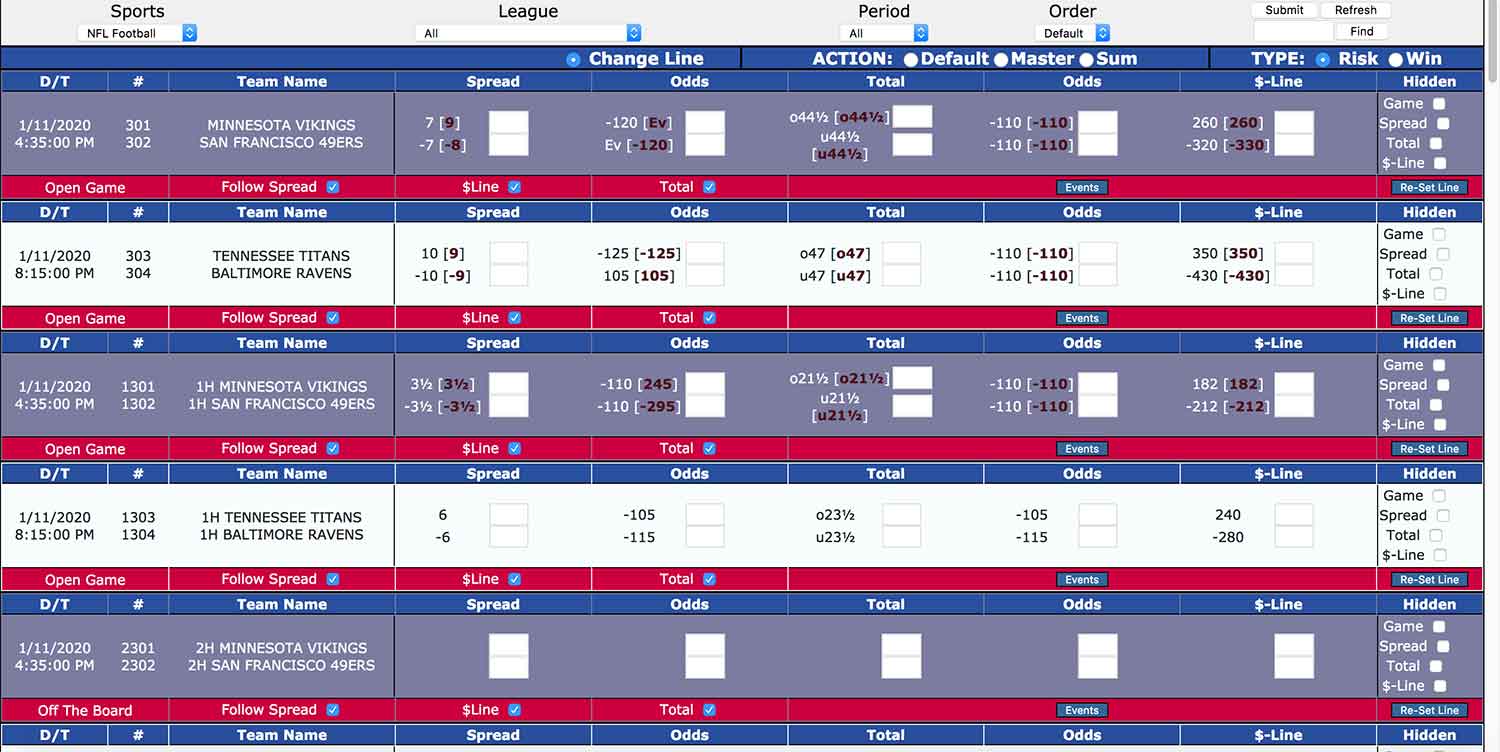 More importantly, the functioning of the tool comes off as very outdated to us. For instance, say you want to adjust your sportsbook lines based on the action you are receiving (as is usually the case, of course). With the current setup in most providers, you will need to have open multiple reports to first understand the action your book is receiving, and then go back to this tool and make the actual line adjustment. This only complicate things.
Open the "Exposure" report on one browser tab. This report shows you the risk amount on each game, broken down by wager type (straight, parlay, etc.) and bet type (spread, moneyline, total).


There are a couple of issues with this report:
It doesn't show the "to win" amount, which is sometimes more important than the risk amount because it is what you will have to pay out in case the player wins.
It doesn't show the quantity of bets received on each game displayed. Sometimes you may want to move the line only when you are receiving a certain amount of action, based on the number of bets a given side is receiving, not only by risk amount. In other words, one player may have a single bet risking $500, and other times you may have 10 players betting $50 each. You will want to know the difference to be able to make an informed decision of when and for how much to move the game's line.
Payperhead.com
Payperhead.com uses the same, previously mentioned default DGS lines mover tool. Same cons and pros. You can read about this version of the tool here.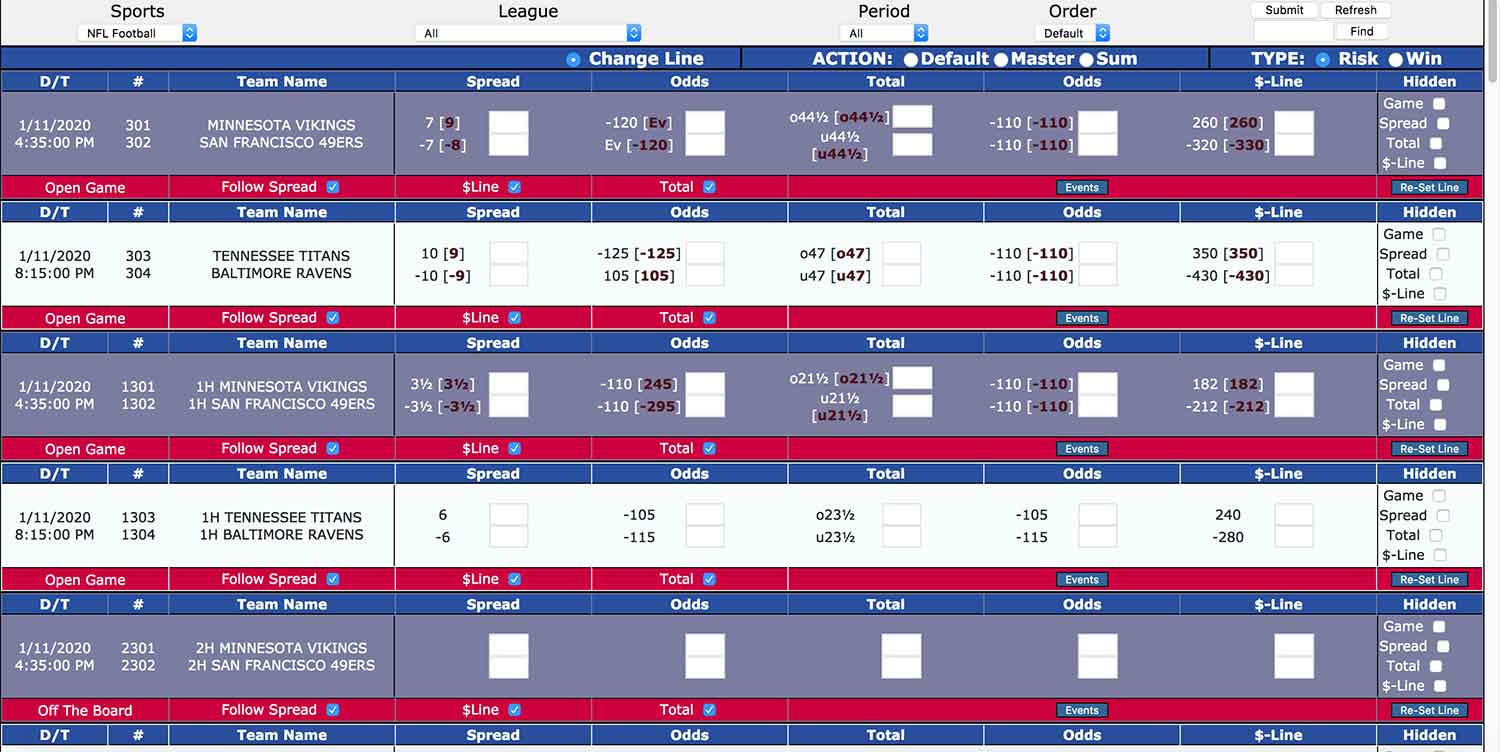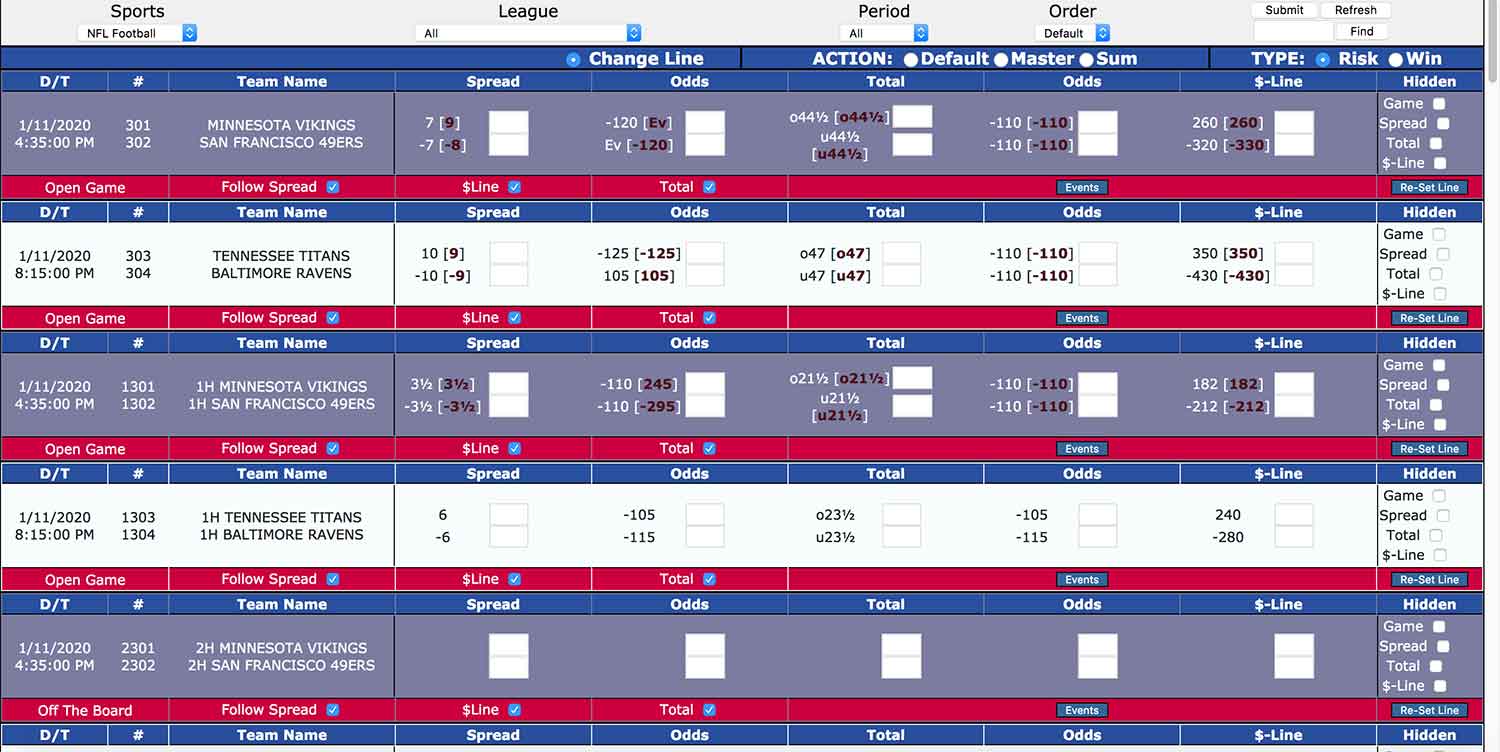 Realpriceperhead.com
Realpriceperhead.com uses the same, previously mentioned default DGS lines mover tool. Same cons and pros. You can read about this version of the tool here.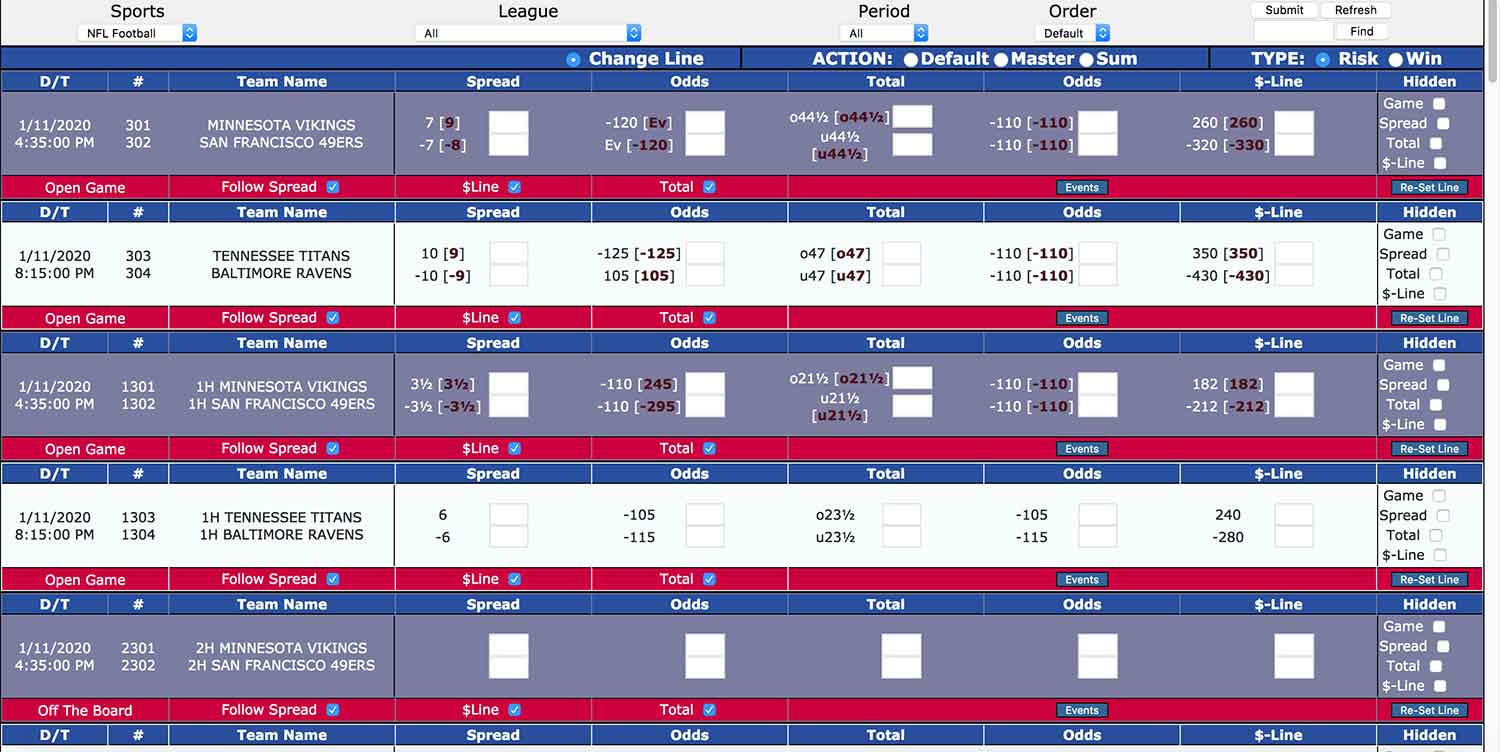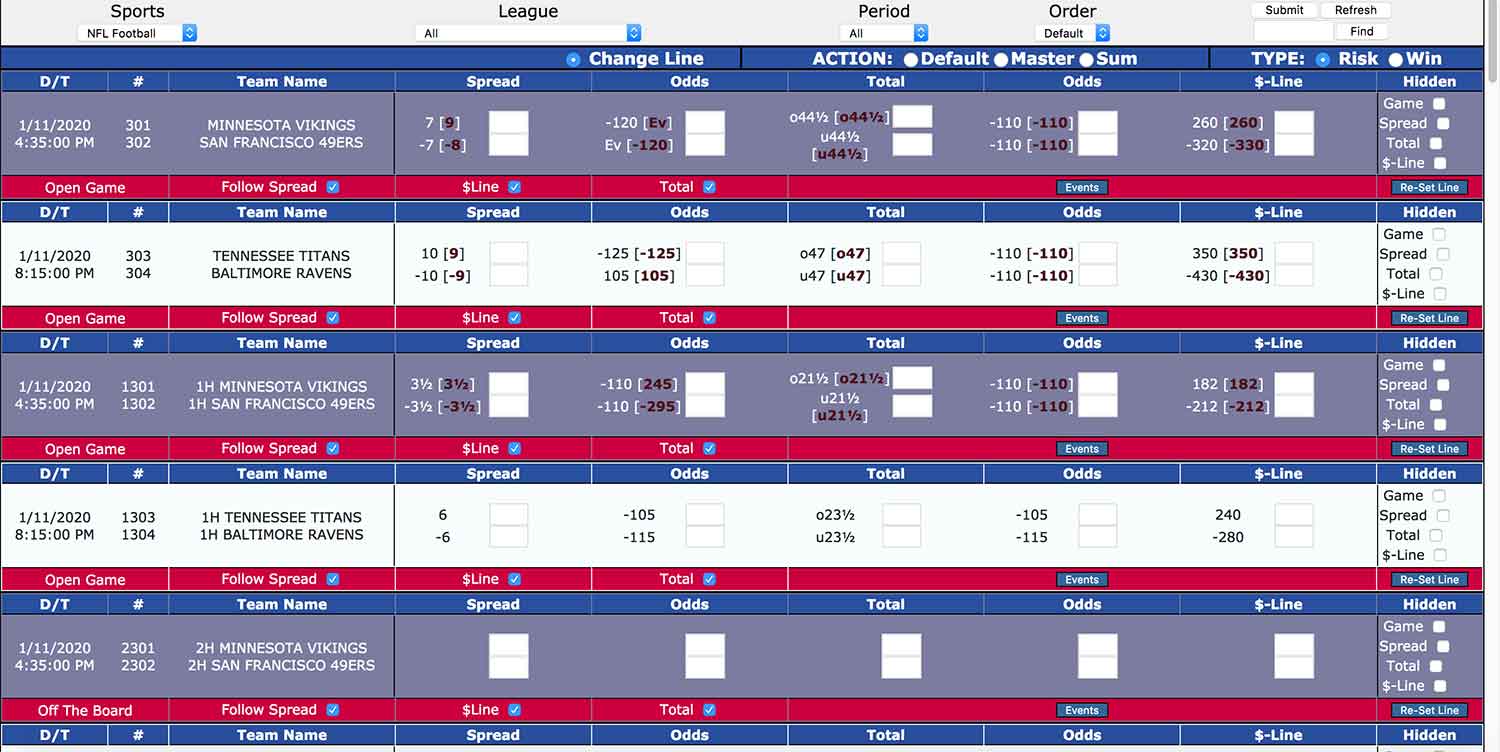 PPHSportsbook
PPHSportsbook.net's lines mover (named "game admin"), just as the name implies, is much more than a simple line adjustment tool. It is the perfect tool for bookmakers to monitor their sportsbook exposure and as well adjust the odds offered.
From the same screen, they will be able to see:
How much volume (quantity of bets) is the book receiving for a game
How much risk (exposure) is the book getting for a game
How much to-win (exposure) is the book receiving for a particular game


(Y, T, F): Switch between Yesterday games, Today games, or entire board (Full board)
"Games to Show:" Enable/Disable "Active games," "Games off the board," and "graded" games.
Switch between Sports and leagues
The options "$," "R," and "#" will switch the exposure amount between "To win," "Risk," and the number of bets (Volume) currently at hand on the selected game.
Hide ("X") or unhide ("+") all spreads, moneylines, totals

or

team totals across all games shown.
Apply stricter wager limits ("Circle Game") per game.
Explore the wagers that make up for that exposure amount
Click the line you want to adjust
Clicking on the exposure number will reveal all wagers that make up for the exposure amount:


When you click on the player row, a new window will appear showing all open tickets for the given player. This can give clear insights into the player betting patterns. Clicking on each of the bets will reveal more details about it.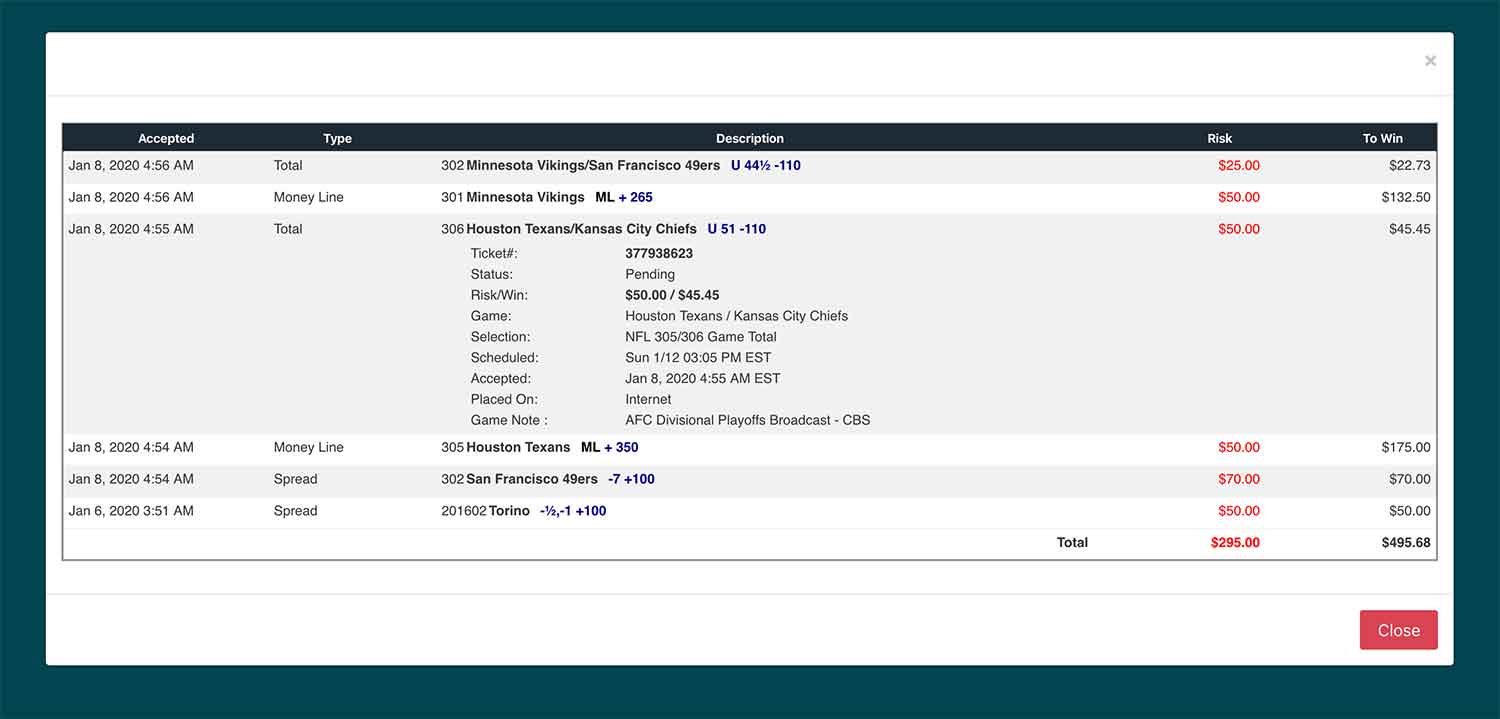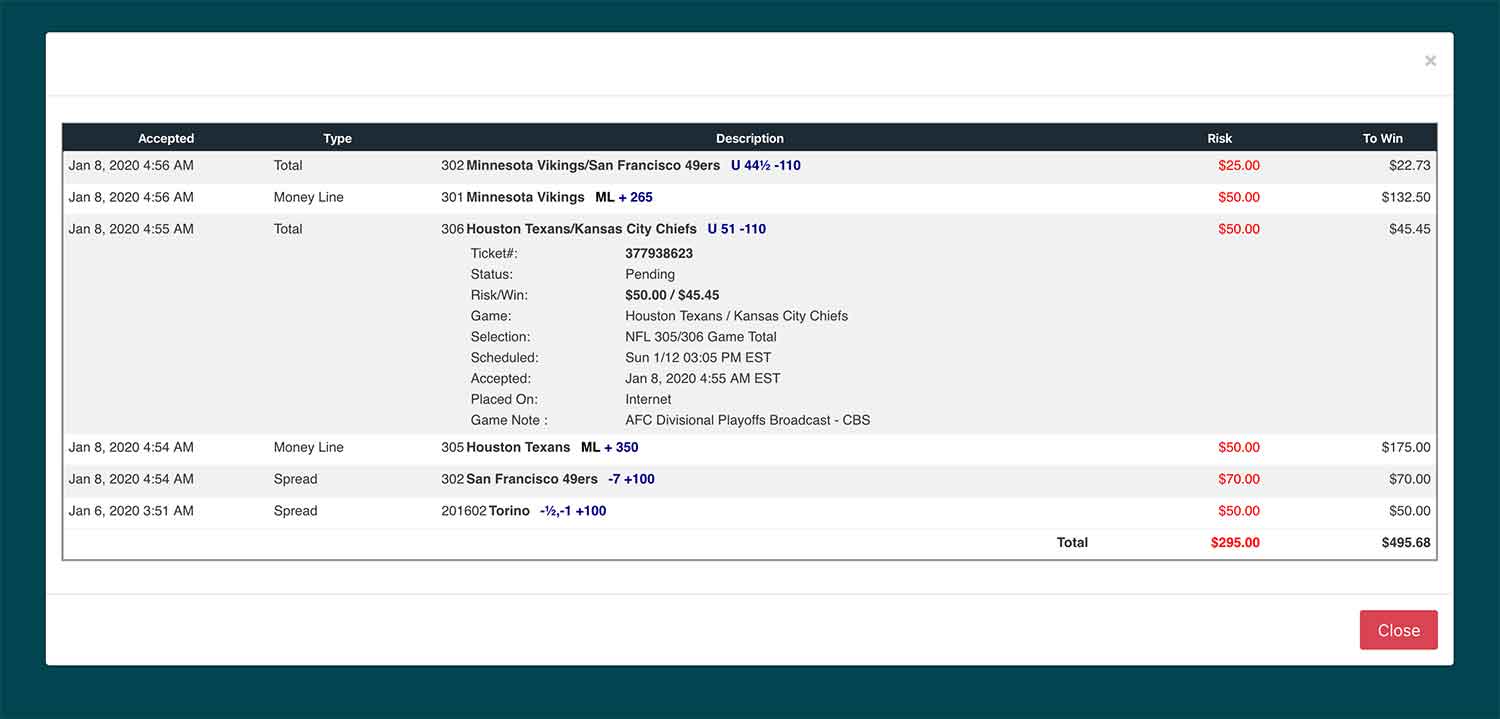 If the bookie notices massive action on a given game, he may choose to apply stricter wager limits on such games. This is called the "circle game." Imposing stricter limits is the quickest way to limit the book's exposure without affecting other games. From this window, it's also possible to disallow parlays, which include the selected game.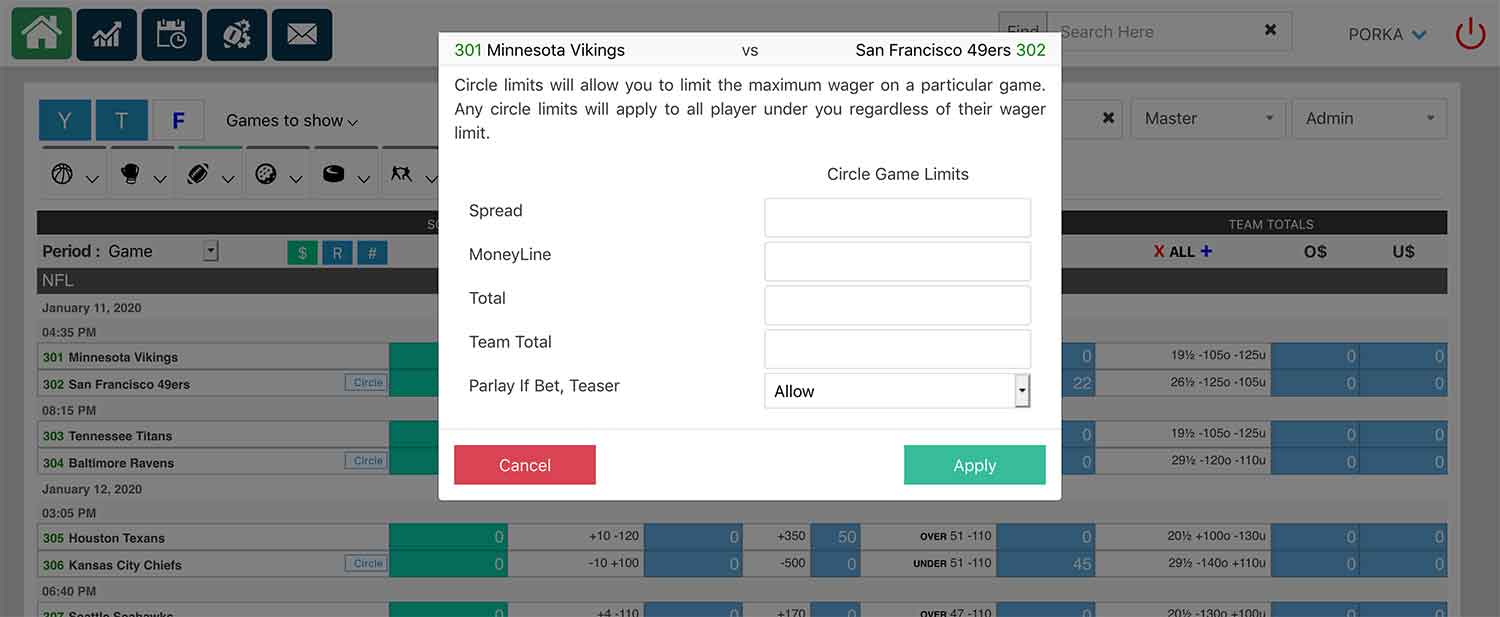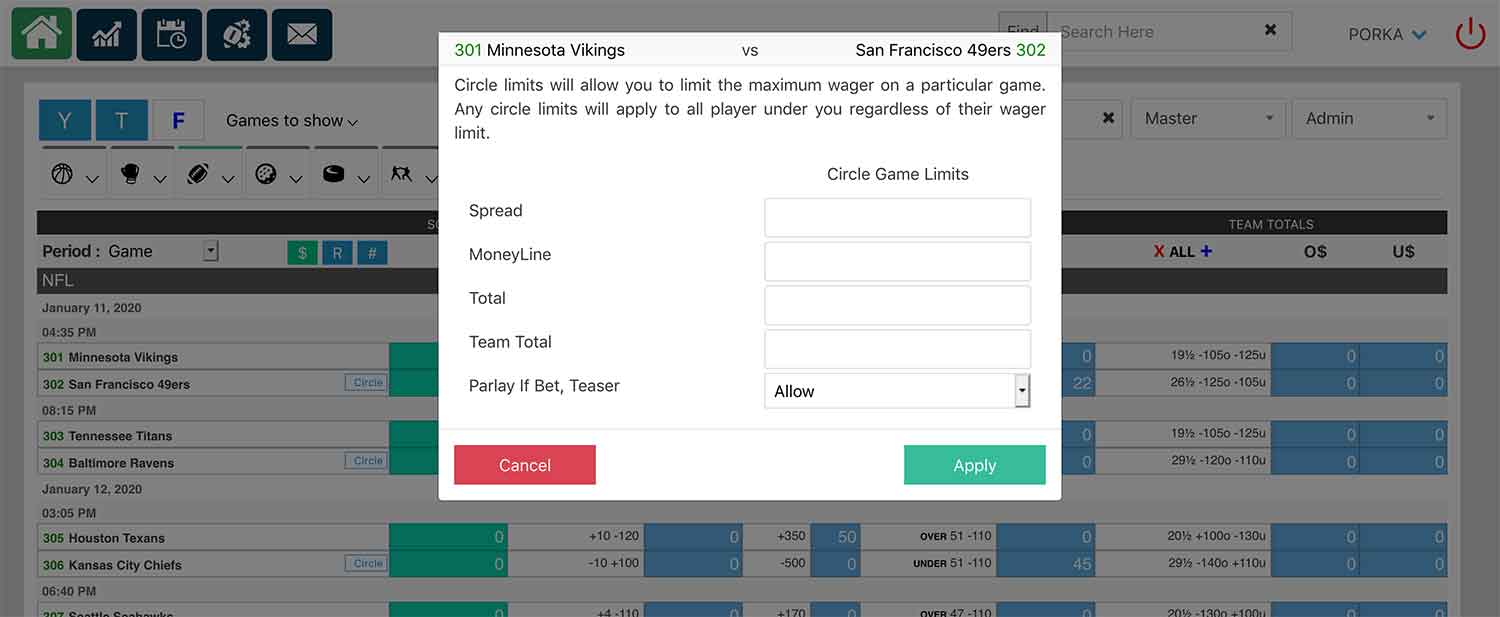 And of course, you will also be able to adjust the line. You can choose either to "hard shade" the line (move the line and don't accept main line movements), or "soft shade" (move the line and follow main line changes).
From this screen you can also remove the previous shade setting or remove the line altogether:


You can also switch the game admin screen into the dedicated "position" (exposure) mode. This mode focuses on breaking down the betting volume by wager type (straights, parlays, teasers, reverses/if-bets), and bet types (spread, totals, moneylines). It then shows the grand totals at the bottom of the screen.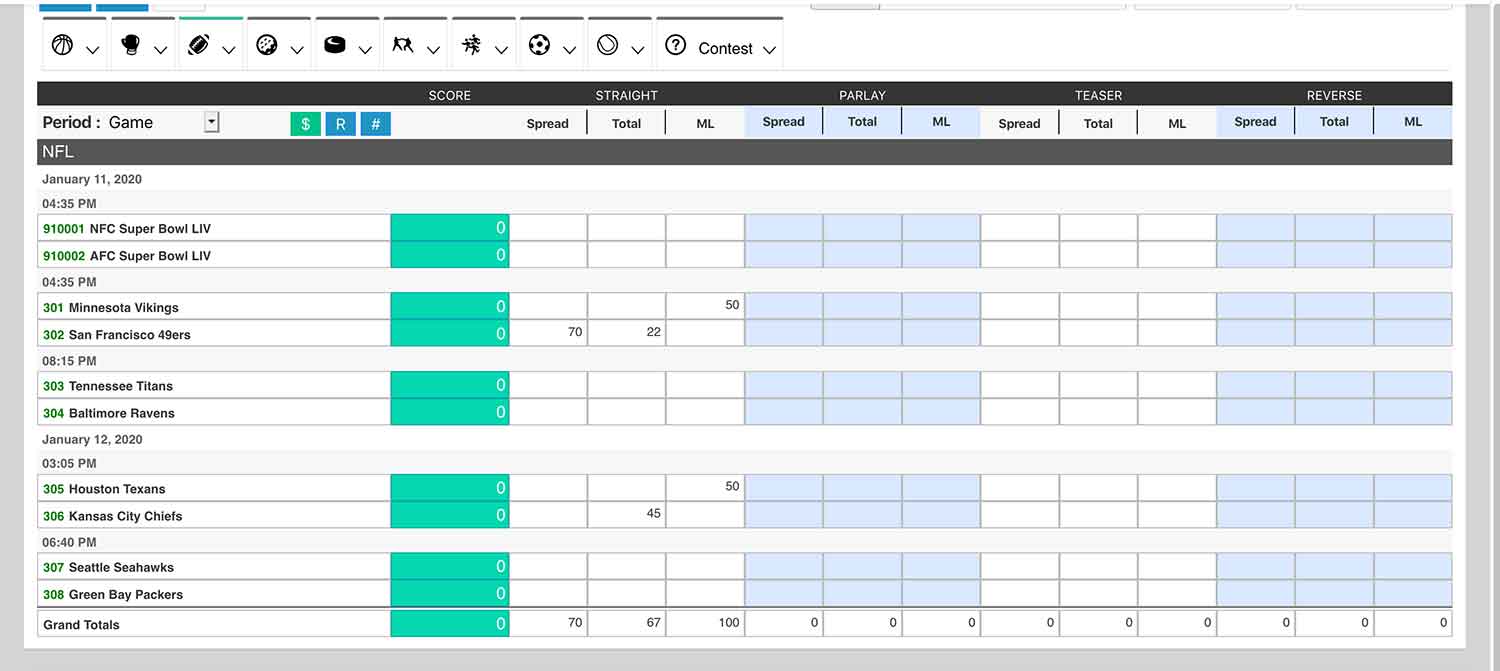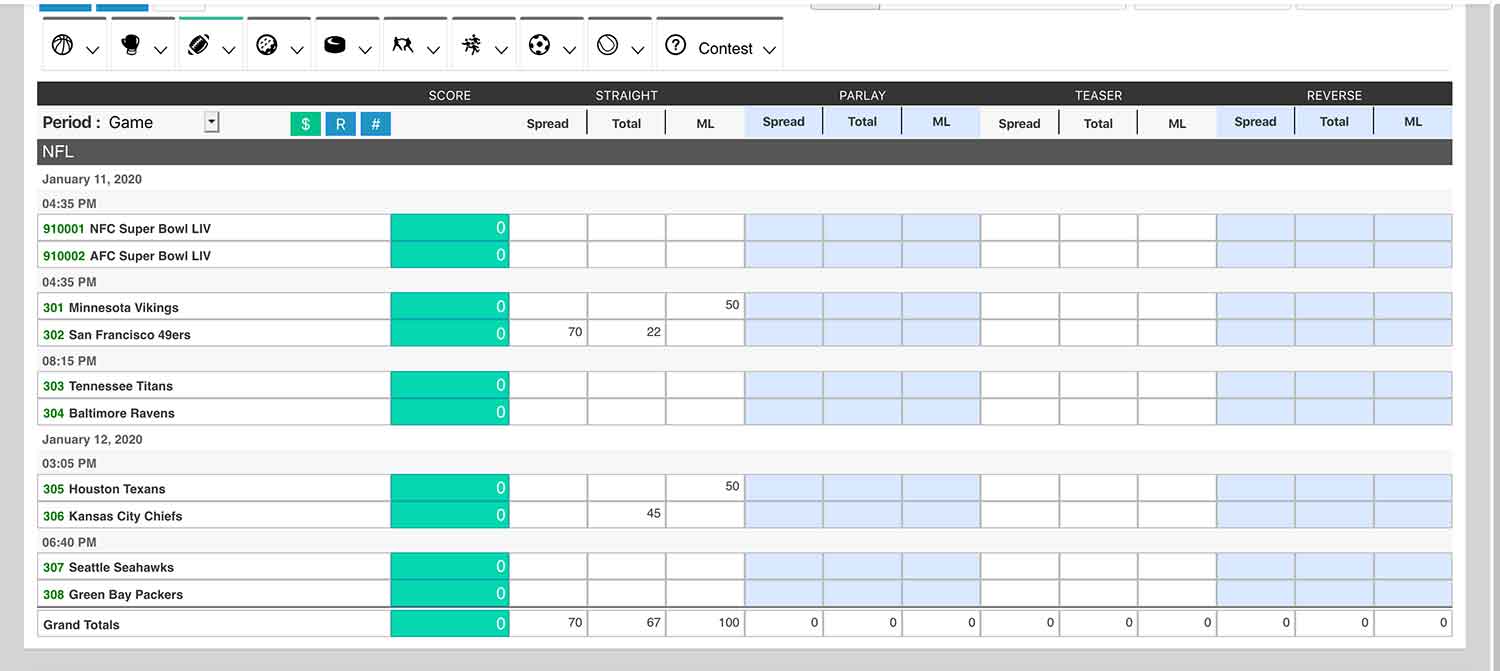 As you can see, PPHSportsbook.net's Game admin screen is more than a simple "lines mover" tool, making it your go-to screen if you like to monitor the exposure of your book and slightly adjust the lines as the action comes in.
Idsca.com
Idsca's lines mover ("Line Entry" screen) is several steps above the majority of PPH Sportsbook providers. It fulfils its purpose rather well, allowing to edit multiple lines at once, soft or hard shading them or removing them completely.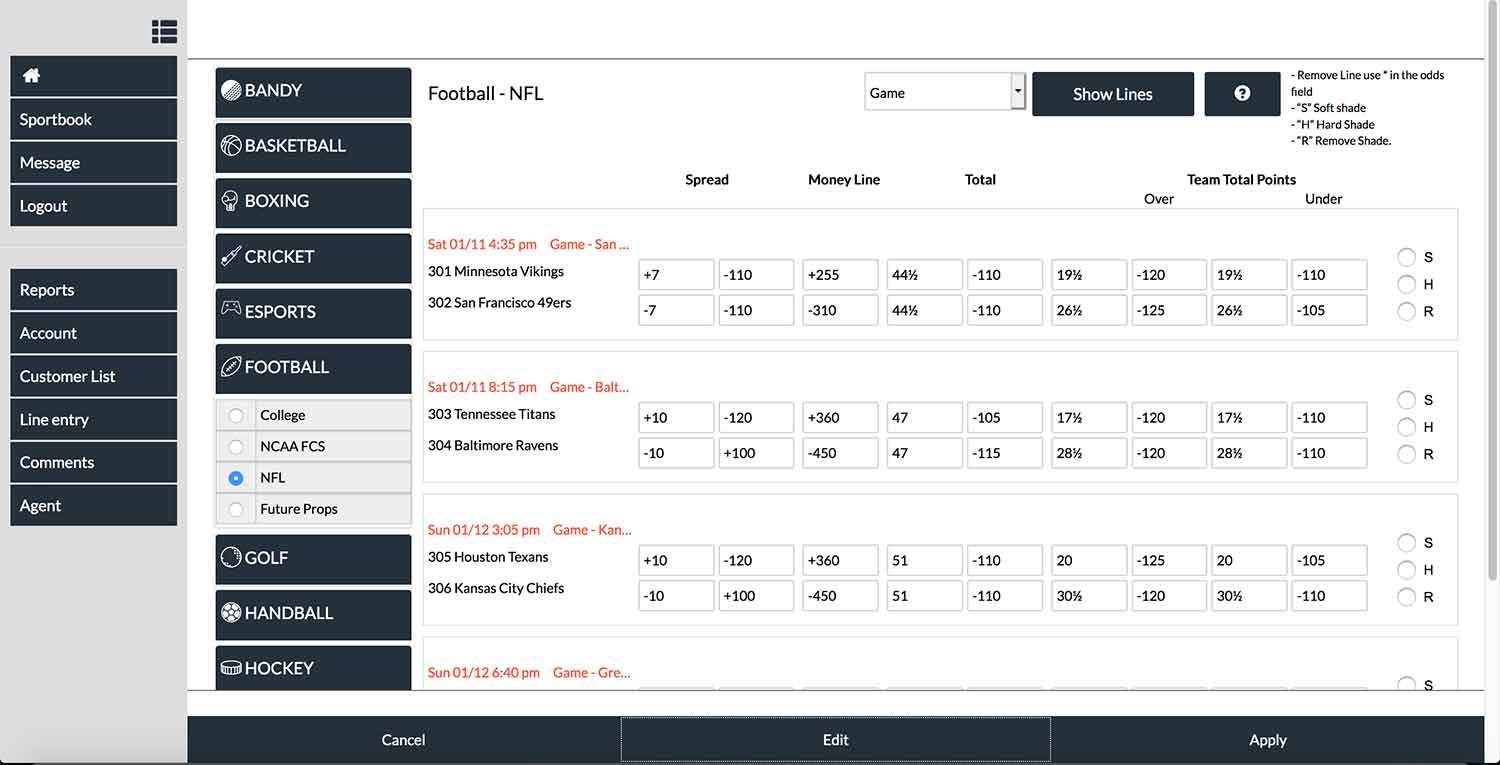 Unfortunately, it suffers from some of the same issues as with the previous versions. It doesn't allow you to see the volume of bets (nor the risk or to-win) received on the particular games shown. For this, you will need to open the "agent position" report (which only indicates risk amount, not to-win or amount of bets), and based on this, edit your lines.
Juice and Max moneyline setup
Say you want to offer odds on quarter periods, but only at 40 cents line (-120). Quarters are usually at a 30 cents line by default (-115). One option would be to call the provider's customer service and have them set it up for you. But what if you want to set it yourself right from within your sportsbook management backend, maybe set it up on a per-player basis, and experiment with your possibilities?
Another thing you may want to do (and it's highly recommended, especially if you are working with a smaller bankroll to cover player's winnings) is to not offer action on games which moneylines include heavy favorites. The reason for this is that players, especially those with a big bankroll, are willing to bet high on these favorites since the outcome it's almost guarantee (think of those NCAA college basketball games). In other words, these players are willing to risk high for less risk.
In these cases, the "max moneyline" option allows you to configure your sportsbook so it automatically hides any moneyline that is higher than the threshold entered.
In this section, we will discuss these two features and compare different providers in their implementation for this setting.
Aceperhead.com
There doesn't seem to be any way to change neither the Juice setup nor the max moneyline allowed from the bookie backend. Aceperhead is running DGS software, so we are 100% sure that both options exist, maybe they haven't implemented the functionality to allow the agent to change it themselves.
In other words, you will need to contact their office and request the juice and max moneyline desired, then specify the players for which you want to apply these changes. There is, at least, from what we saw using their demo account, no way for the agent to make these changes from his end without contacting their office every time.
Payperhead.com
Payperhead.com allows bookies to choose from preset profiles with multiple line variations – from a 10 cent (-105) line and higher.
These preset profiles also allow for max moneylines setups. From 500 to 1000, we are sure you can request any juice and max moneyline combination and then assign it to each player or have the PPH Sportsbook's office assign them to a group of players in bulk.
Unfortunately, it seems there is no option for the bookie to adjust the juice and max moneyline by himself manually. He will have to contact the office to have it done, which is not bad, but takes away the flexibility and control that some bookies like to have on their shop.
Also, we could not identify a dedicated screen that allows bookies to apply different juice and max moneylines to a group of players (instead of the one-by-one basis). Again, you will have to contact their customer service.


Realbookies.com
Similar to payperhead.com, Realbookies allow you to choose from a preset assortment of juice and limits profiles.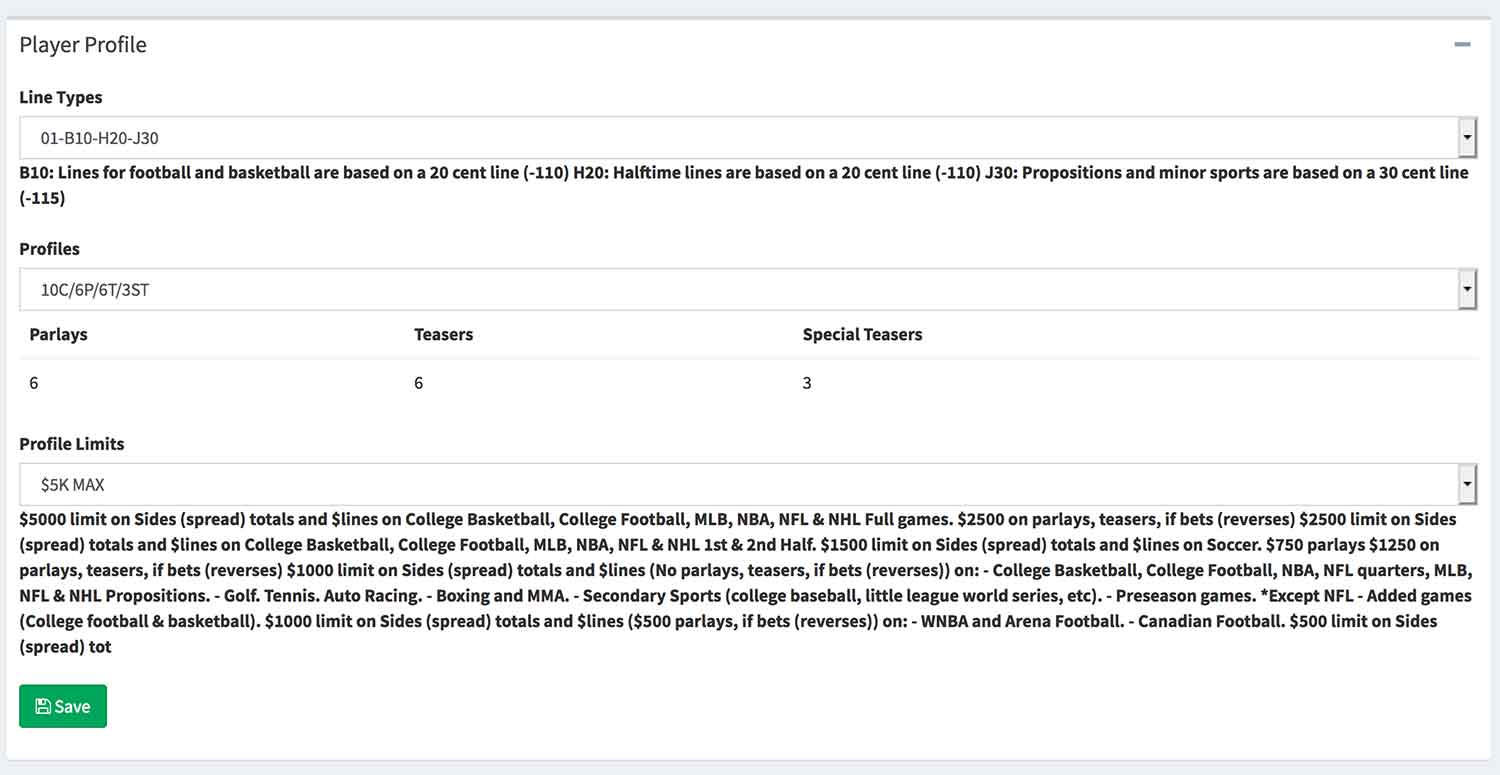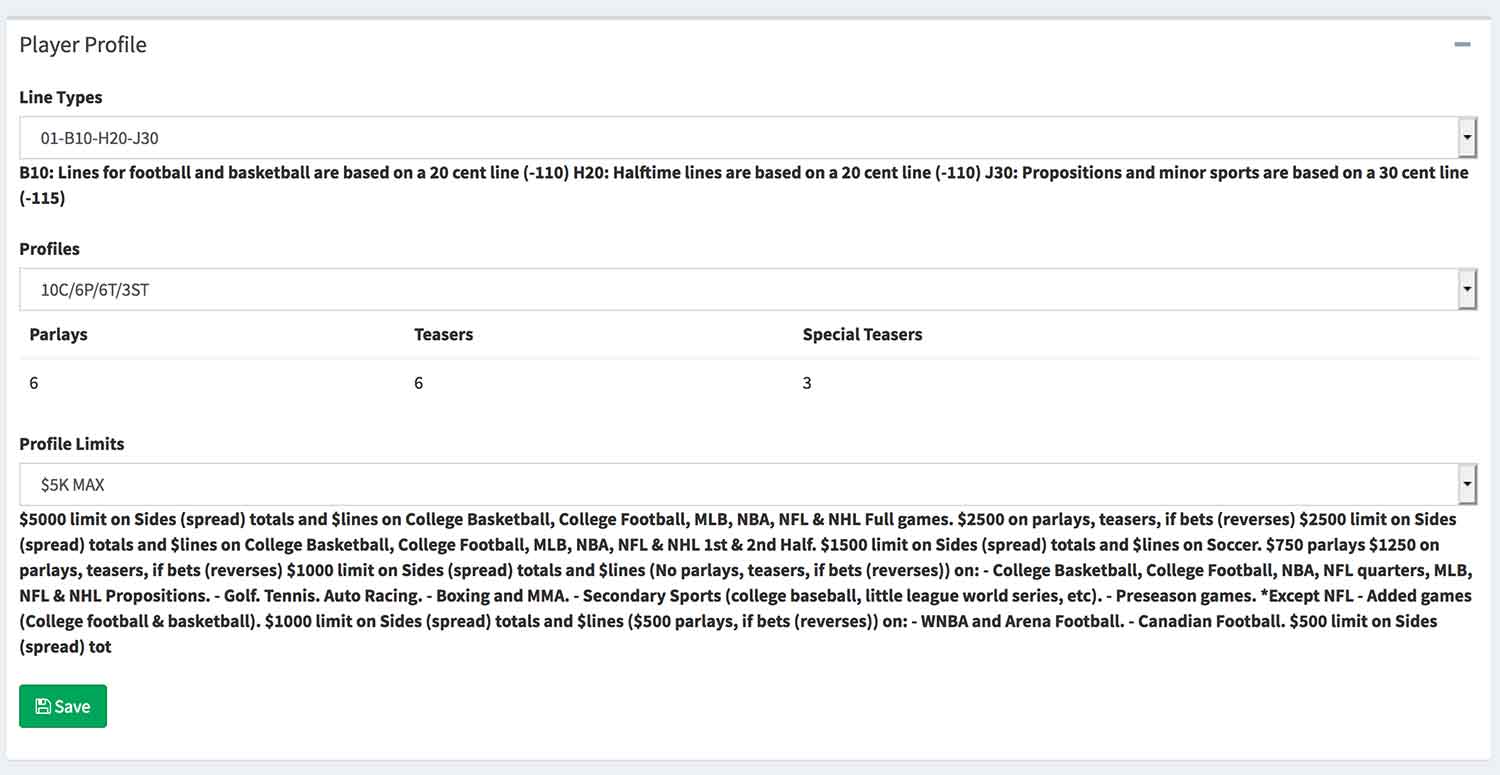 There doesn't seem to be an option for the bookie to create these profiles, line types (juice setup), and max moneylines by himself. So we are guessing these need to be requested from the Realbookies.com customer service.
Moreover, there was no option to change these profiles in bulk, which means selecting a group of players and assigning to all of them a given line or limits profile. Again, you will need to request such a change to their customer support.
Realpriceperhead.com
Other than changing each game juice individually using their lines mover adjustment tool, Realpriceperhead.com doesn't seem to offer an option to adjust the vigorish (juice) per entire sport or league/period.
As regards setting a max moneyline, this provider has a nice little feature that takes care of that – even though there are some limitations to their current implementation.
The "Manage Max Moneylines" screen displays a table showing all sports: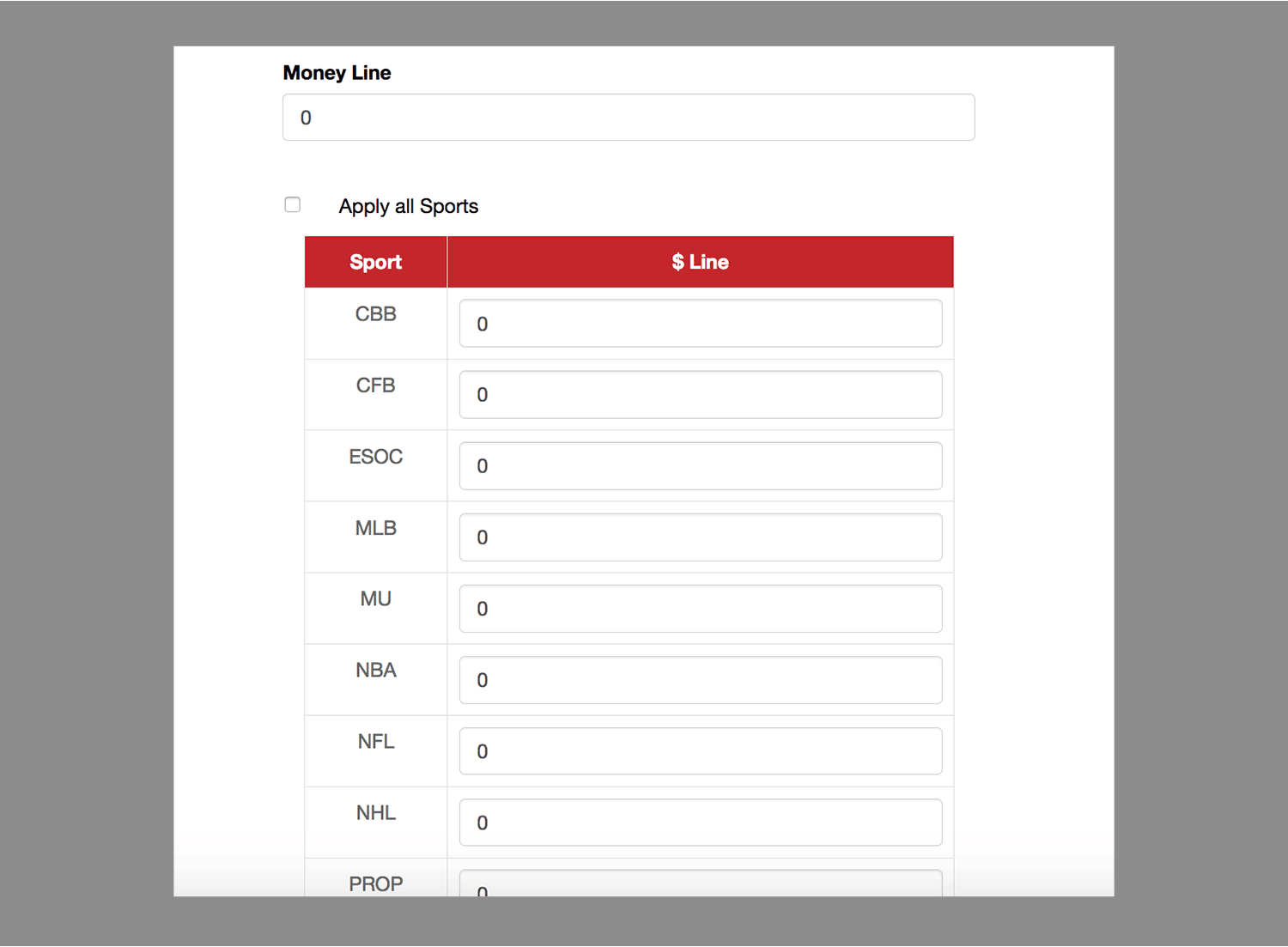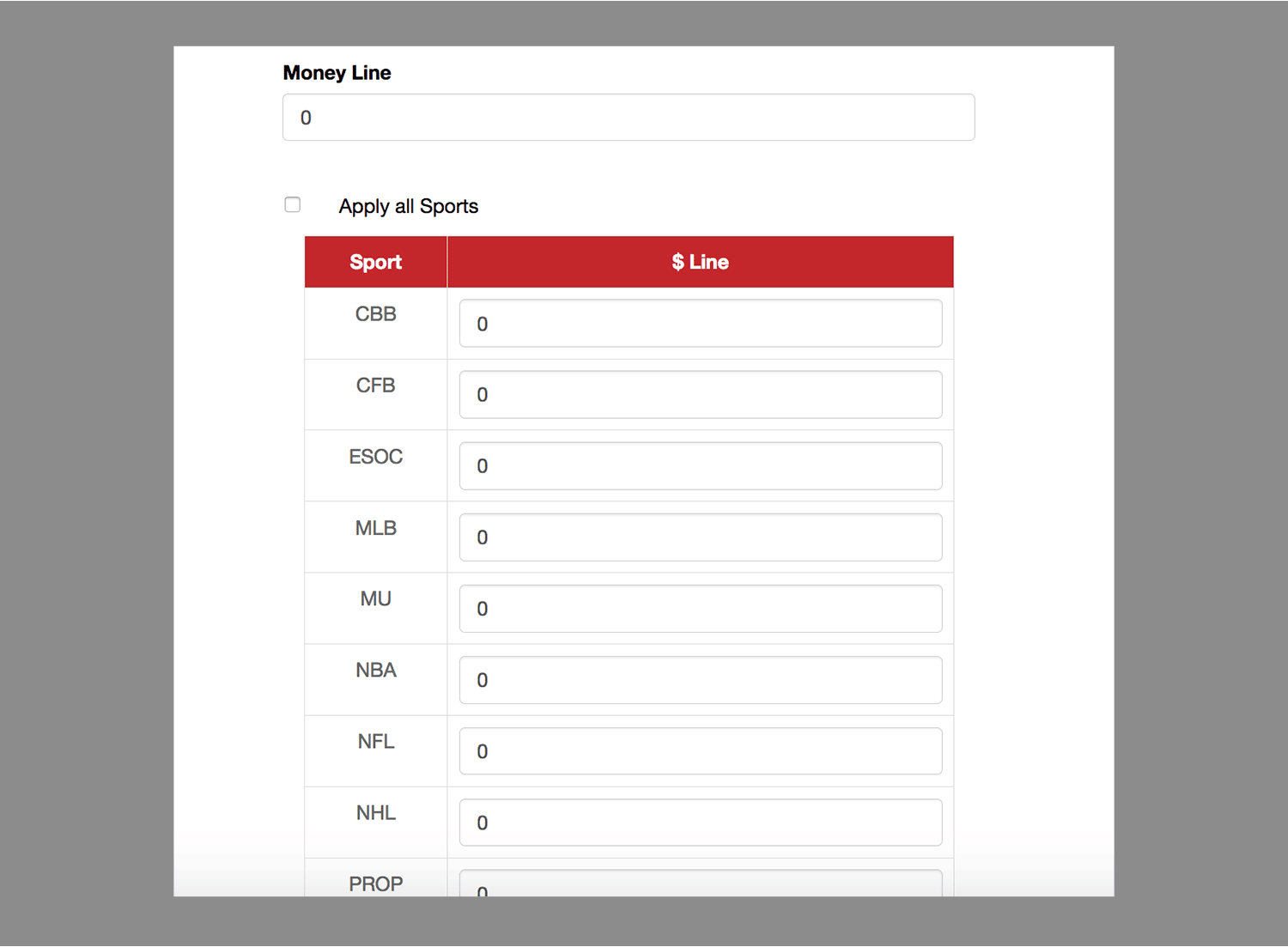 The issue with this implementation is that it doesn't allow the bookie to choose a specific max moneyline to be offered on a per league or per period basis. For example, you can set the max moneyline across all NFL, but not for NFL first halves, NFL game props, NFL alternate lines, etc. You get the idea. This may come up as a huge letdown since money lines on game lines are higher than those for halves and quarters.
So, for example, say you want to set the max NFL moneyline on the game to -/+500 and -/+300 on halves and -/+300 on quarters. With the current implementation by Realpriceperhead.com, you would not be able to apply such a setup.
Nevertheless, having at least some variation of the max moneyline option online and available for their customers is a plus, and we commend Realpriceperhead.com for it.
Idsca.com
Similar to other providers, IDSca allows you to select from a predefined set of line types, each of them with their corresponding juice.
We are guessing that, as with other providers, you can request any custom line by calling their customer support department.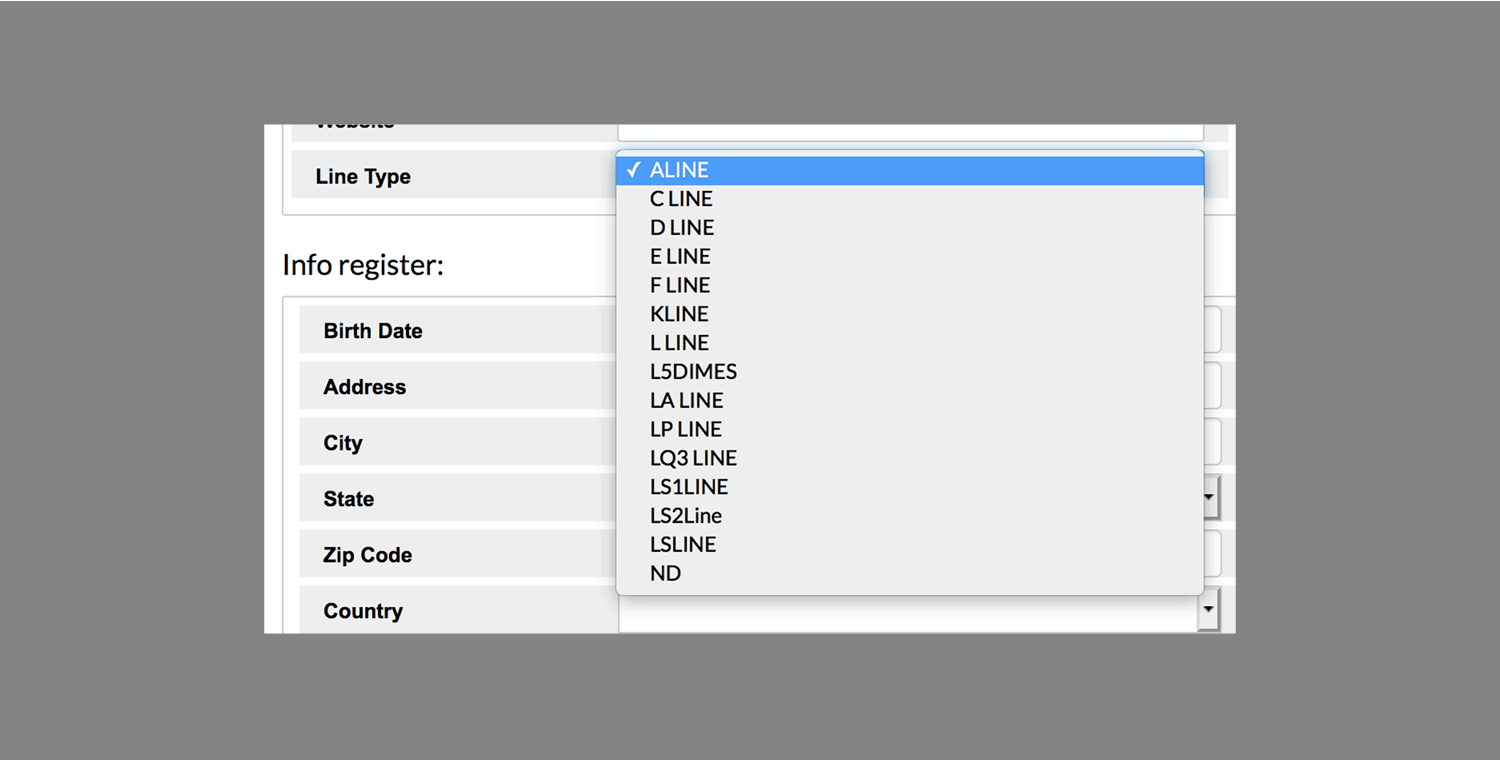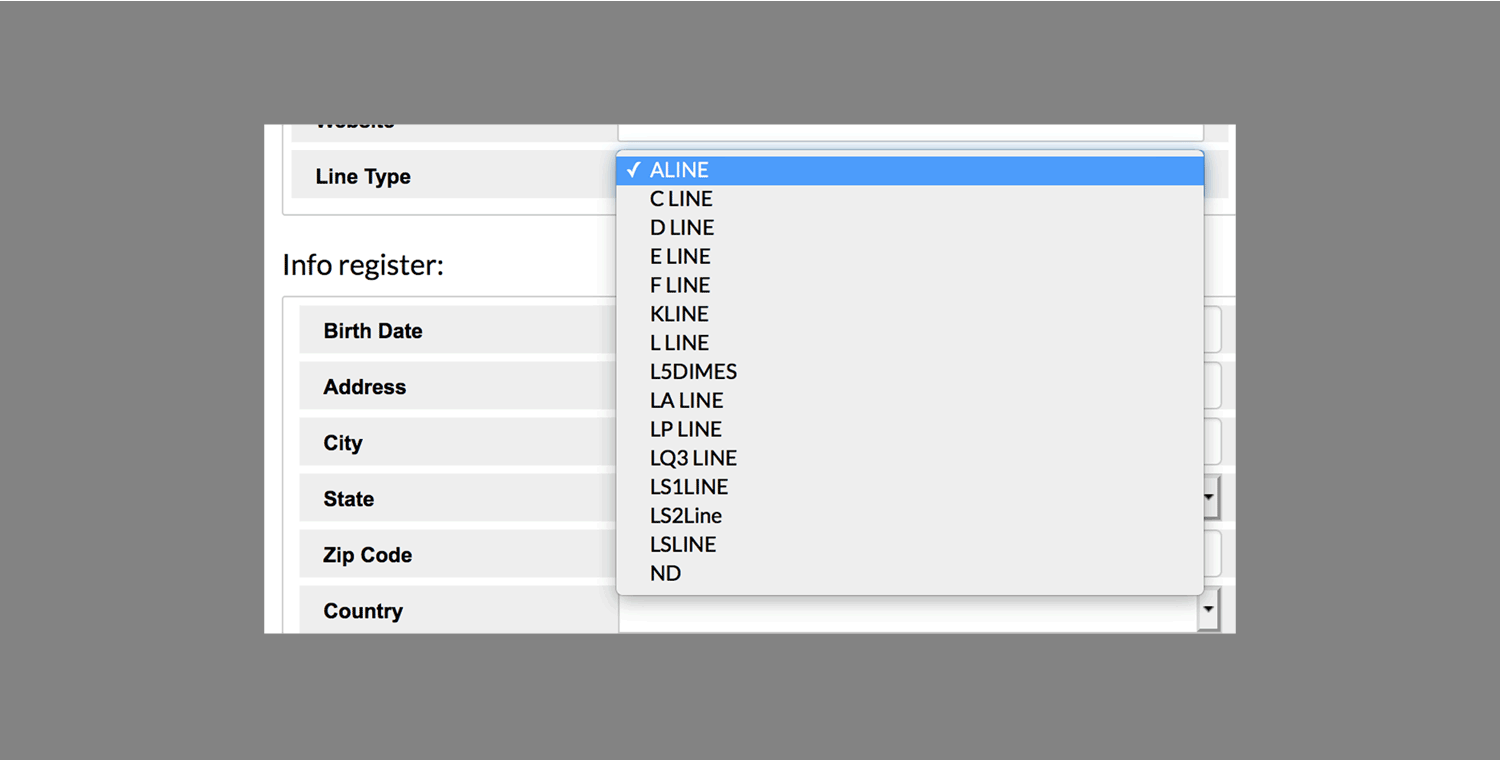 PPHSportsbook.net
PPHSportsbook.net has a dedicated screen to allow you to not only change the juice per sport+league+bet_type combination but also to decide what the maximum moneyline you want to be available in your book.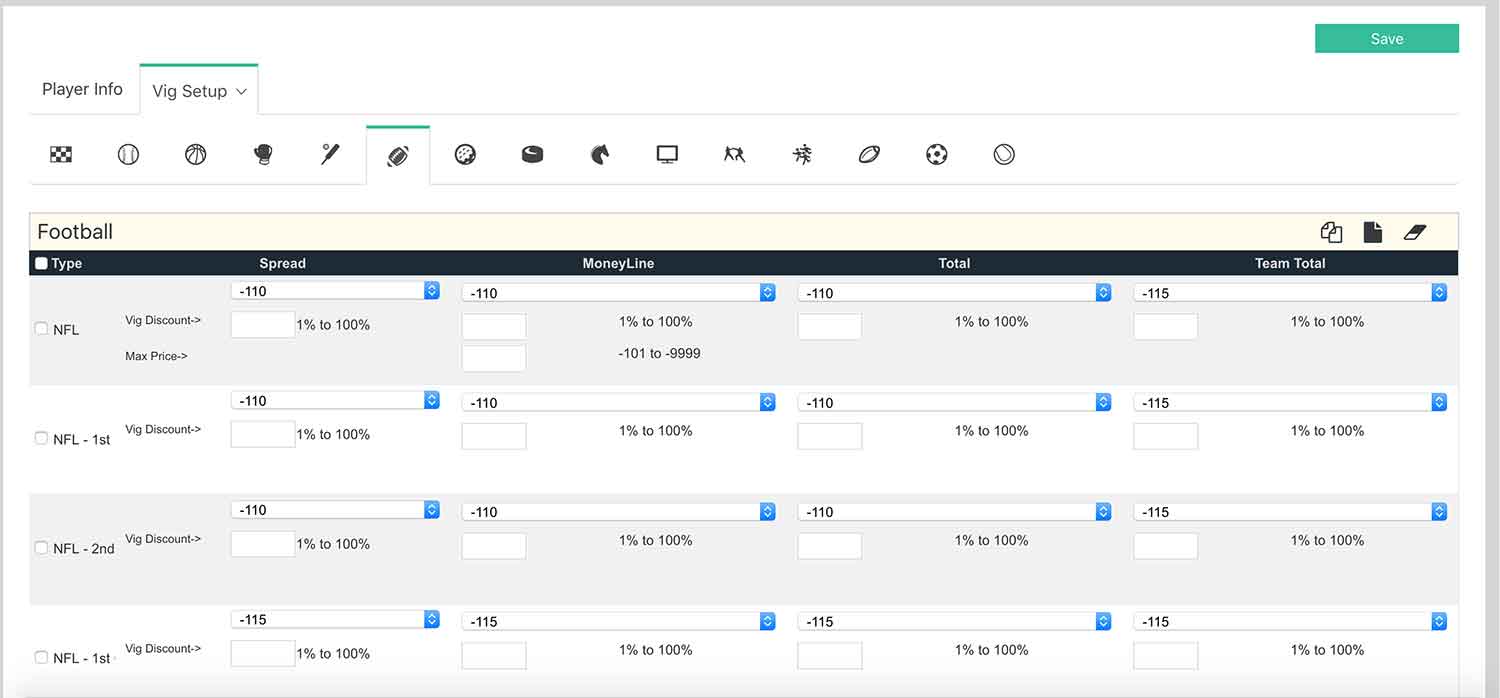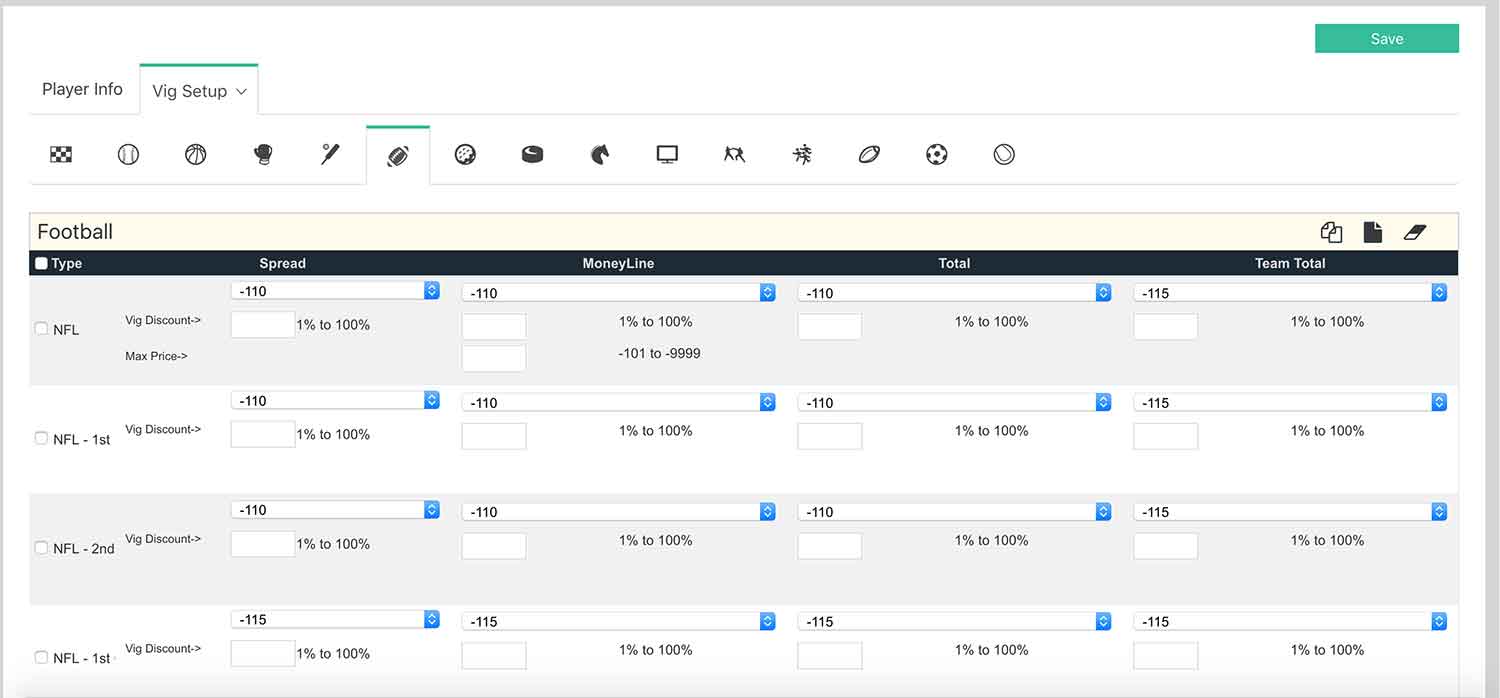 Simply select a sport from the top icons menu. Identify the league/period for which you want to set the max moneyline to be displayed. You can also use the copy/paste option to apply the same configuration to multiple leagues or periods quickly.
For example, let's say you don't want to allow moneylines over -400 on Martial Arts (UFC, Bellator, K1, etc.).


Back on the "Vig Setup" tool, simply select "Martial Arts," select the league or event (UFC 246 in this example), and set the max moneyline to -400. Click the "save" button."


As a result, all moneylines higher than the entered amount will not be shown.


Setting up the juice is very similar. You access the "vig setup" screen, select the sport, and identify the league/period you want to change juice for. (Optionally, you can use the copy/paste option to apply the same juice configuration for multiple leagues or periods.)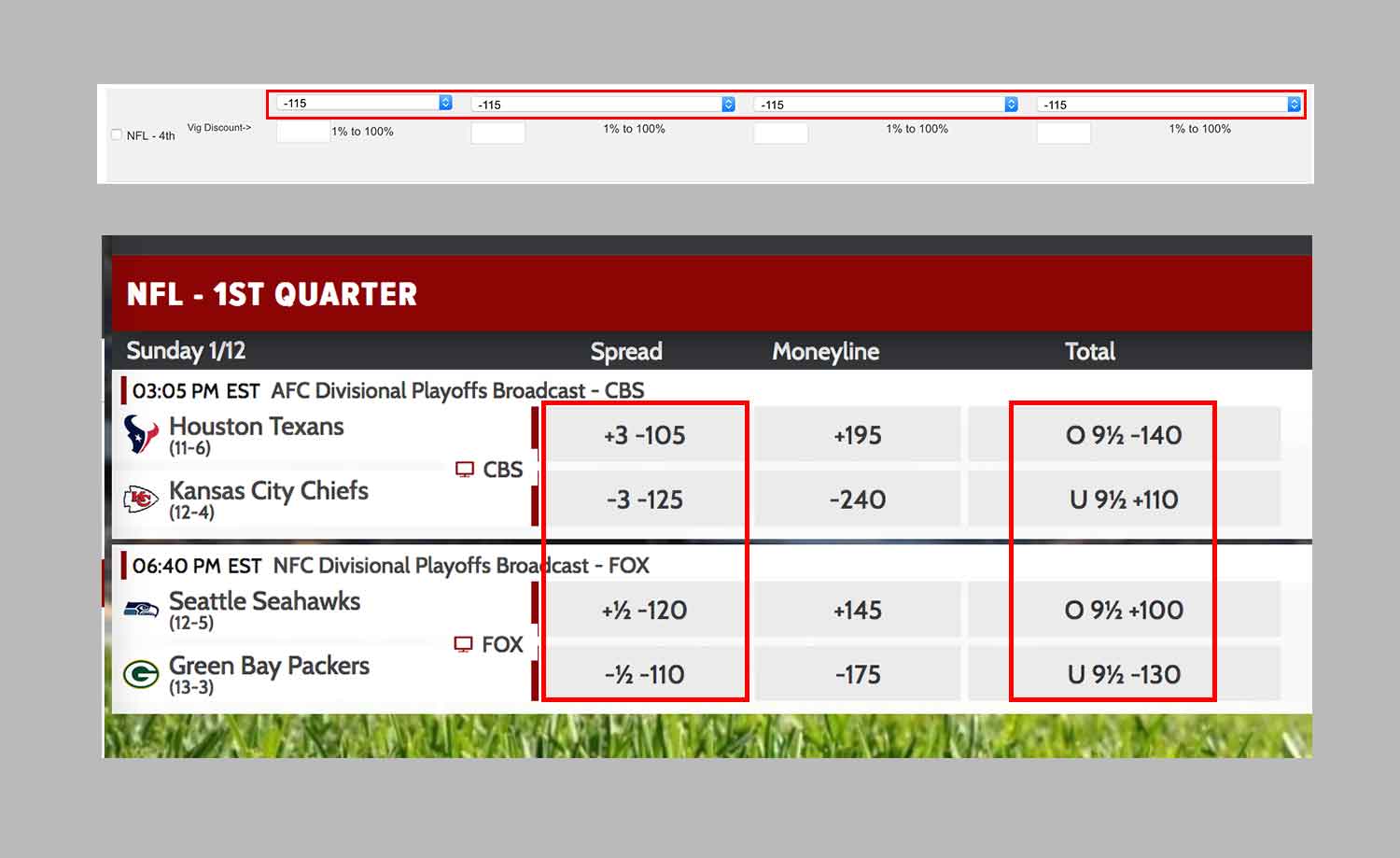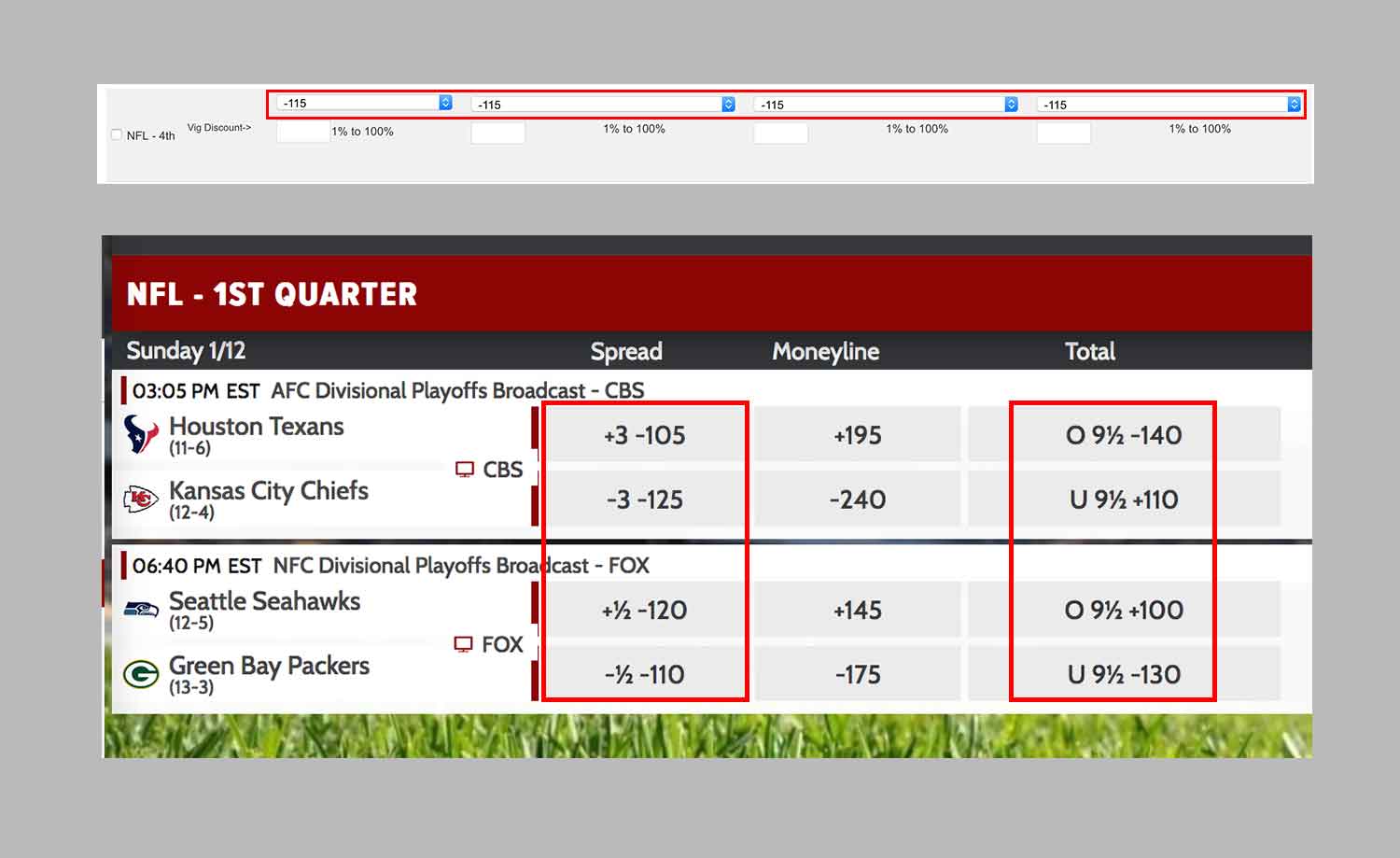 Performance reports
Understanding your player base is a must when you are trying to constantly improve your business profit margins. Identifying your best and worst players can provide you the information you need to apply the adjustments necessary to increase your bottom line.
Different PPH Sportsbook providers offer different levels of reporting. You at least want to know your top and worst players by hold percentage. But going deeper than that may pay off. Some bookies stick to taking action from players who continuously maintain a negative weekly balance. But that may be shooting yourself in the foot because you will soon realize players will stop referring other players if they continue to get cut after a few weeks of positive figures.
Instead, identifying in which sports, periods, wager (straights, parlays, teasers, etc.) and bet types (spread, total, moneyline) such player is most and least profitable and applying slight adjustments to your setup (e.g., max moneylines, juice setup, early lines limits, max parlay payout, parlay odds, etc.) can be just what's necessary to turn a player's "luck" around.
In this section, we will discuss how the different pay per head (PPH) sportsbook providers measure up when it comes to their sportsbook and player reporting capabilities.
Aceperhead.com
Aceperhead has some useful reports that allow you to dig deeper into your players' activity and patterns. Their "Player Analysis" report enables you to quickly identify in which sports, periods, or wager types your players are the most profitable. With this information, you can then decide to take action and apply changes such as increasing the juice or tidying up the limits.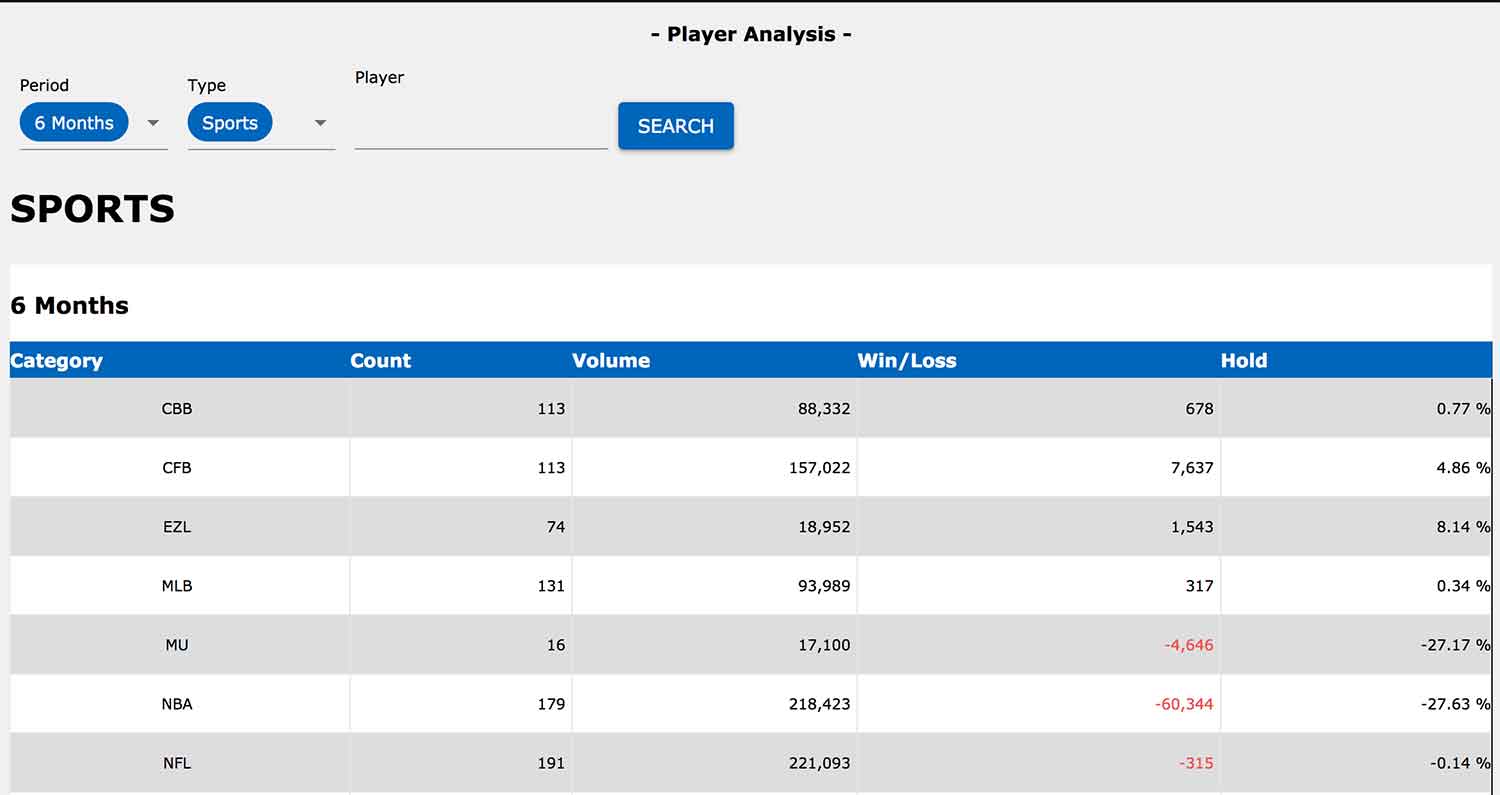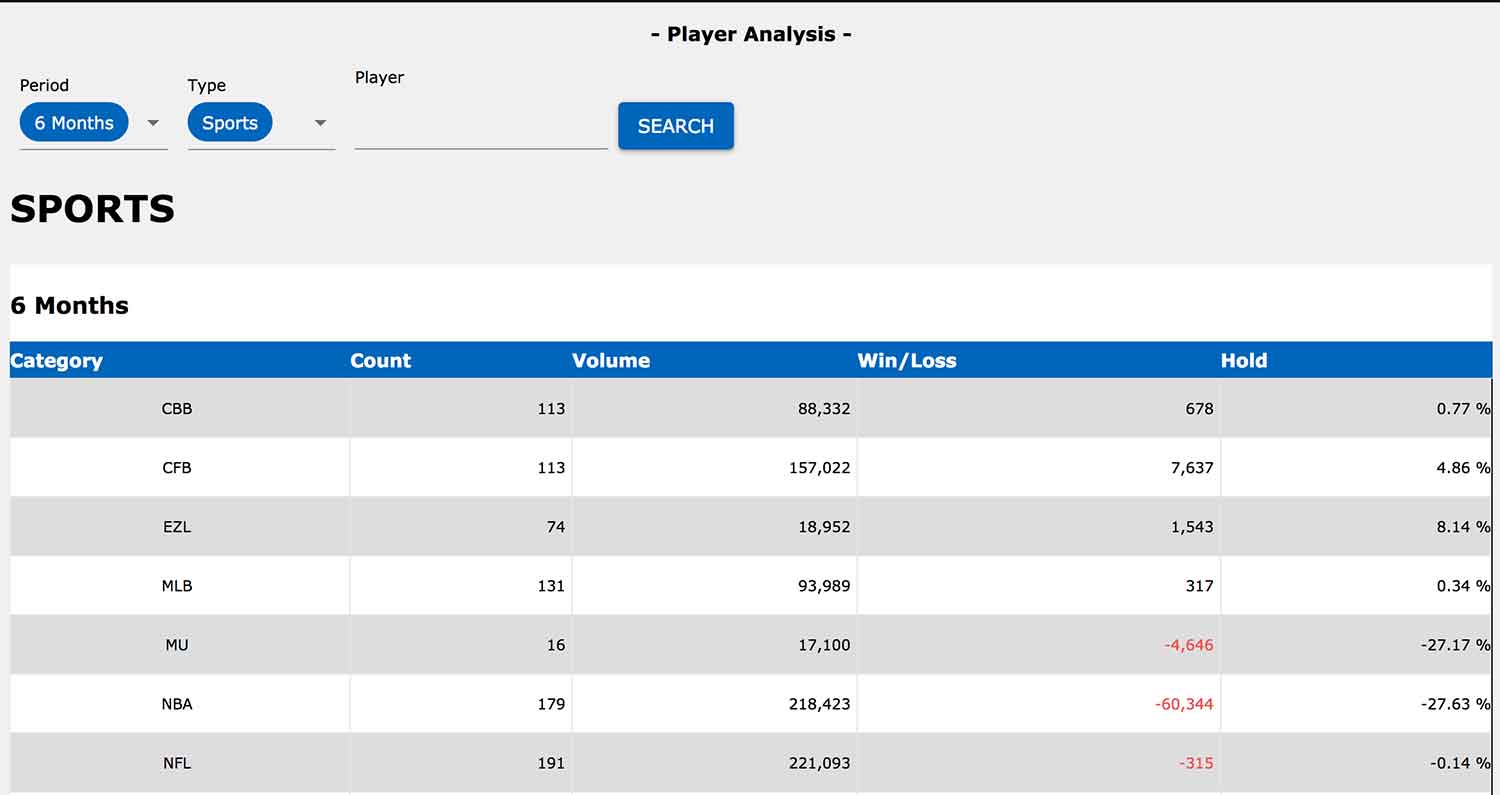 Furthermore, the "Player Totals" report allows you to view the performance of any player by a given date range.
The volume (quantity) of bets, total win, lose, Net (win-lose), and current balance will be displayed for all players listed.


The only downside with this report is that it doesn't break down the numbers by bet type (spread, moneyline, total, etc.). It would have been useful to be able to say: "Okay, PlayerX plays a lot of spreads and totals, he is pretty good at spreads and horrible at totals, so let me increase his juice on spreads so when he loses, he loses more, and when he wins, he wins less amount (since the juice is higher he needs to pay higher to bet). Unfortunately, the current Aceperhead "Player Analysis" report setup does not provide the possibility to research at the bet-type level.
Nevertheless, the Player Totals report is still a great resource to get a bird's eye view of your best and worst players and later take this newly gained knowledge and research individual player, using the "Player Analysis" report to identify in which sports, periods and wager types (straights, parlays, teasers, etc.) your player performs the best (and worst).
Payperhead.com
Payperhead.com various performance reports allow the bookie to see his book's numbers by time (day/week/month/ year), agent or player and see the total volume (number of wagers). Additionally, some of these reports breakdown the win/lose by business unit (sports, casino, horses, etc.).
Unfortunately the level of depth is not what we would've hoped to see. For example, the "Betting Statistics" report shows volume (amount of bets) per wager type (straight, parlay, teaser, etc.), but there is no way to see the win/lose ratio for these same wager type areas. In other words, with this report, you can answer the question of "which player plays more parlays?" But you cannot answer the question: "which is the worst parlay player and for how much?"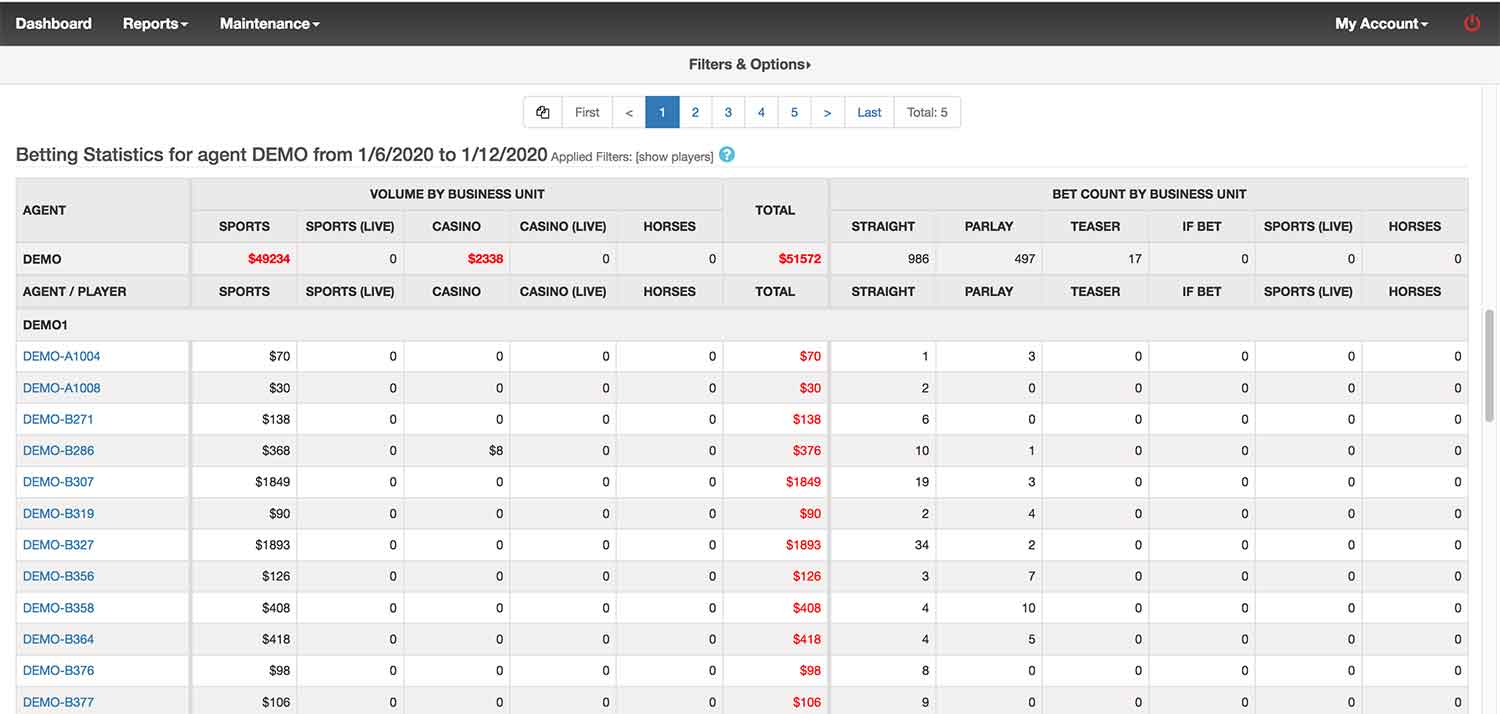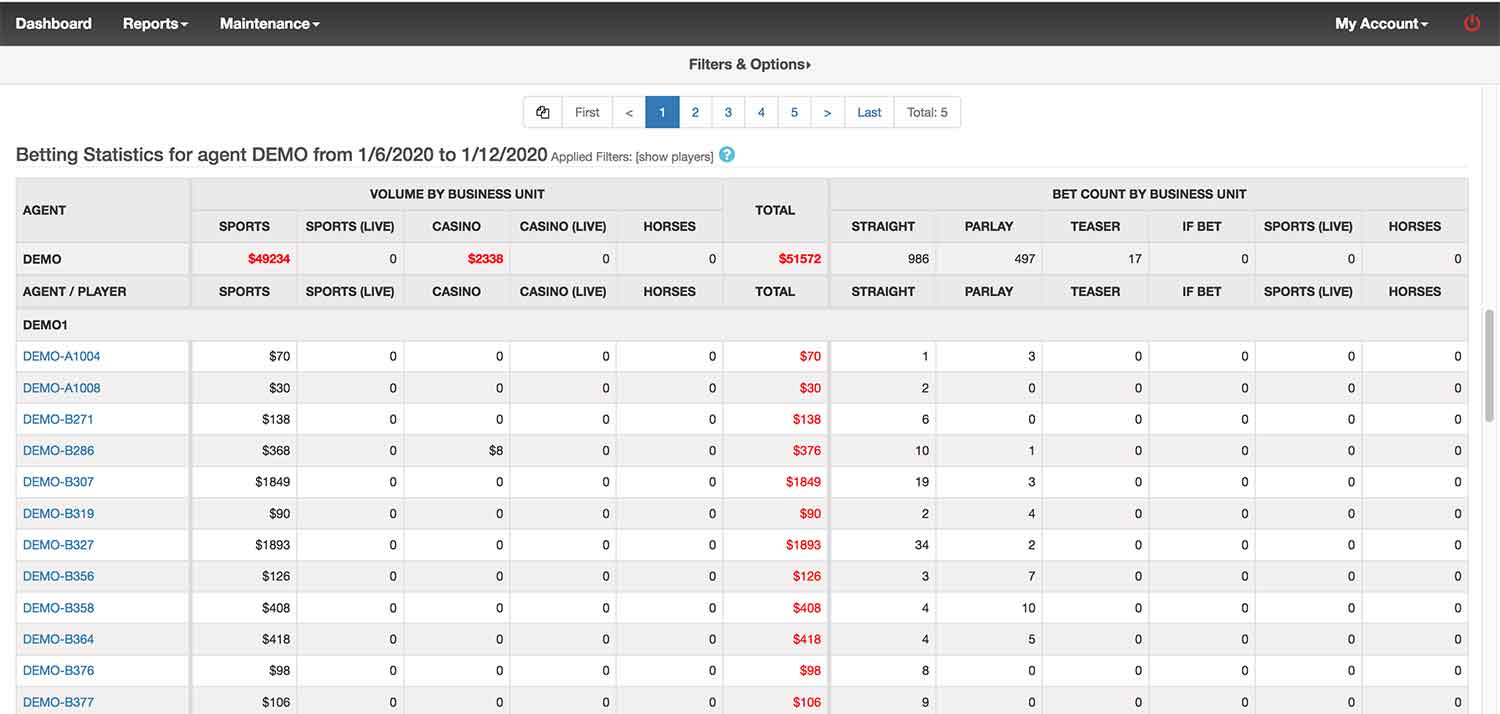 Another promising report is the "Summary & Lifetime" report. This shows the win/loss by "business unit" (sports, casino, horses, etc.). This is a helpful report to understand the overall book's performance in these areas. Unfortunately, it doesn't answer the question, "which sports/periods/ leagues, etc., are the most and least profitable ones." Again, the lack of depth is a setback. We couldn't find such a report within the Demo account accessed.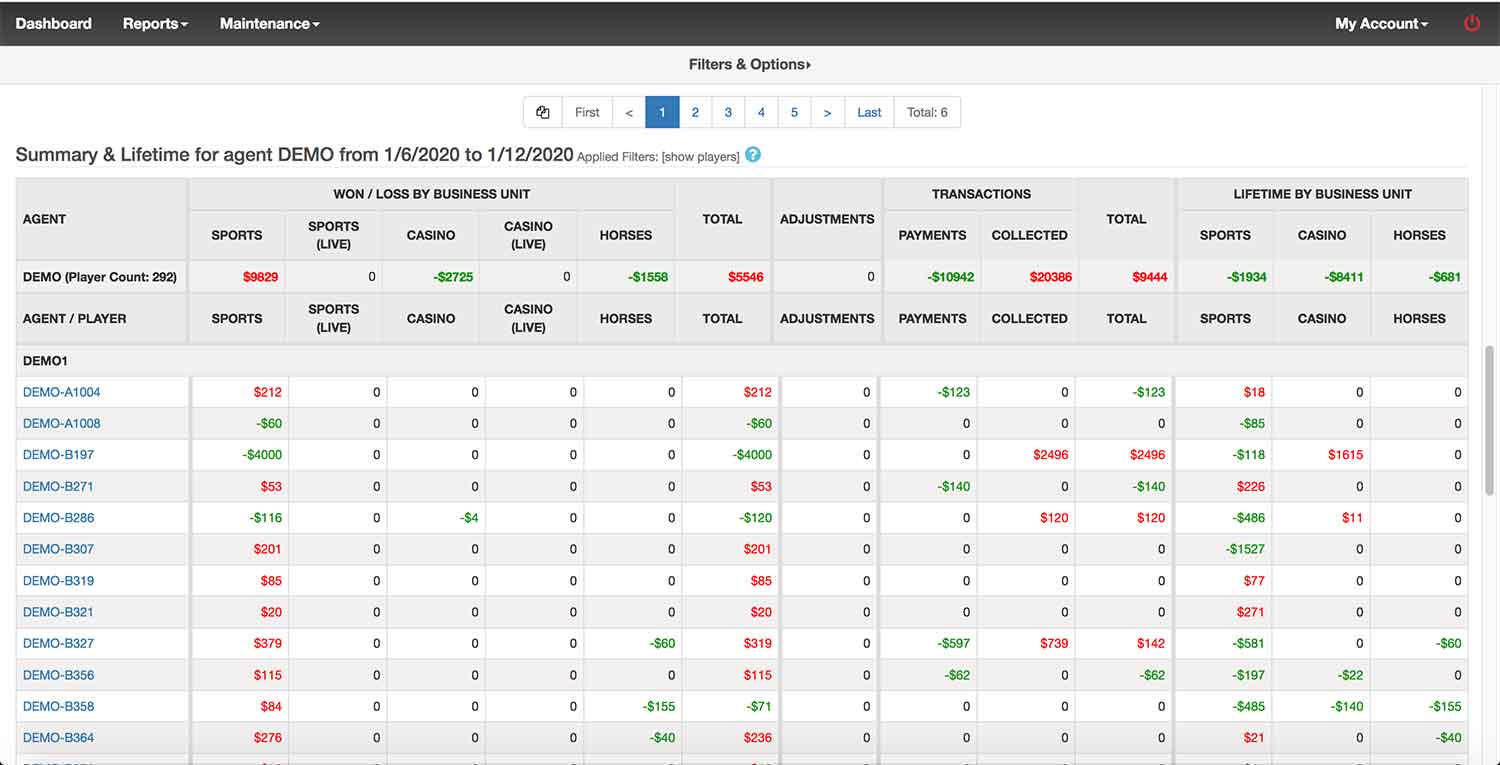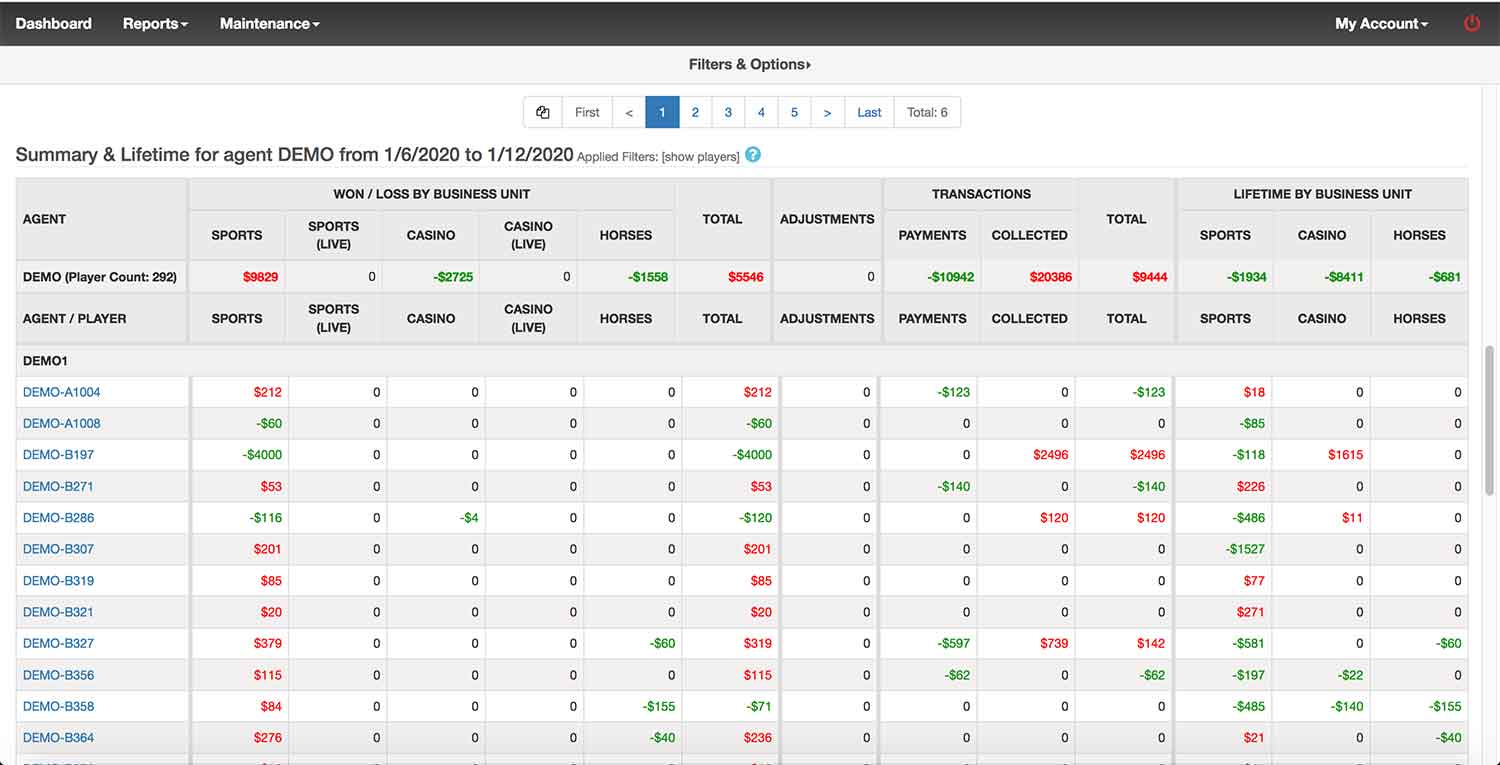 As far as our research goes, there is no way to find out which leagues and periods (NFL 1st half, NBA Game props, etc.), wager types, and bet types (spread, moneyline, total, etc.) tend to make you the most and least money.
Realbookies.com
The report called "Player analysis" functions similarly to Aceperhead's player analysis report (these two providers utilize the same DGS framework, after all. Therefore, they share some of the same strengths and weaknesses when it comes to this report).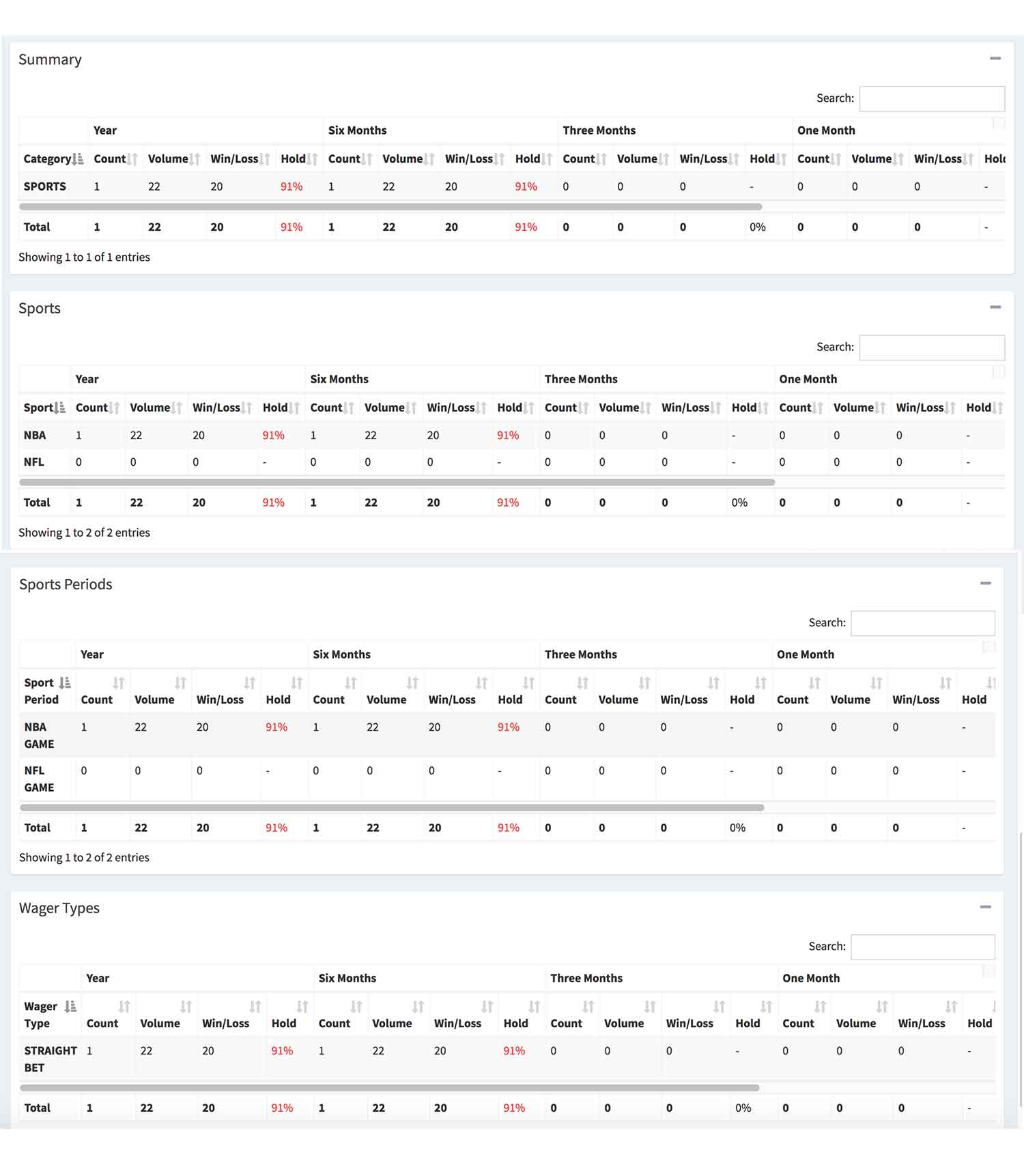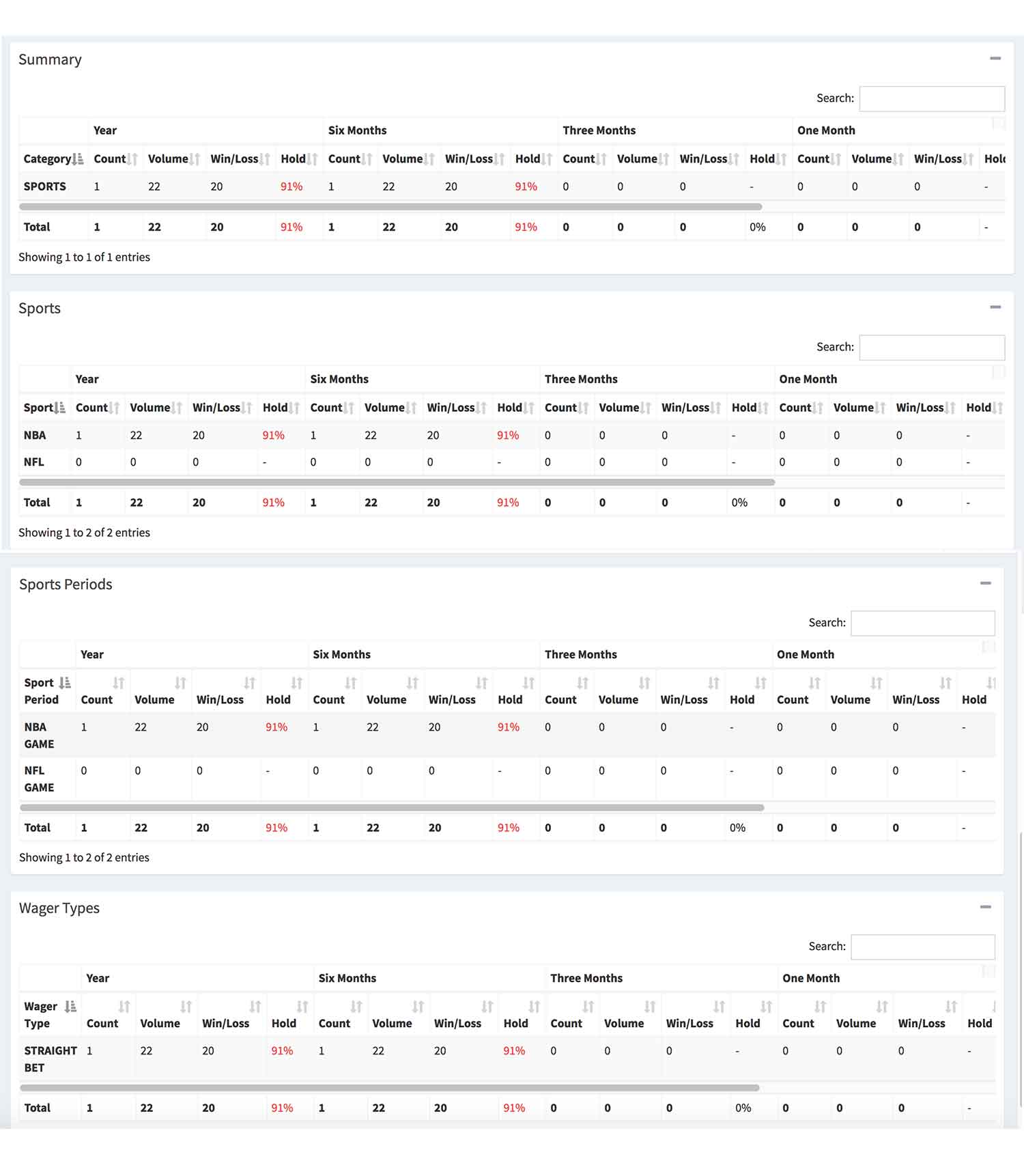 As mentioned earlier, with this report, you can select a player and view the break down of his performance by sport, period, and wager type. The limitation of this report is twofold:
You cannot see wager type performance per sport or period. For example, say you want to breakdown, by wager type (straight, parlay, teaser, etc.), how a particular player is doing on NFL. Because this report aggregates wager types regardless of sport and period, this is impossible to find out.

There is no breakdown by sport (much less by period) on the "wager types" table, nor is there any way to filter the report by sport or period.

Likewise, it's impossible to analyze player performance by bet type (spread, moneyline, total, etc.). As mentioned before, the 3 types of breakdown available are by sport, by period or league, and by wager type (aggregated).
Realpriceperhead.com
Realpriceperhead.com's "hold percentage" report is an excellent starting point on your research, since it shows, by "sport"+ "wager type" combination, the win/loss amount. Unfortunately, a major setback with this report is that it doesn't allow filter by player. You will be able to identify how your overall book is going on, say, NBA straights, but not how "PlayerX" is doing on the same combination.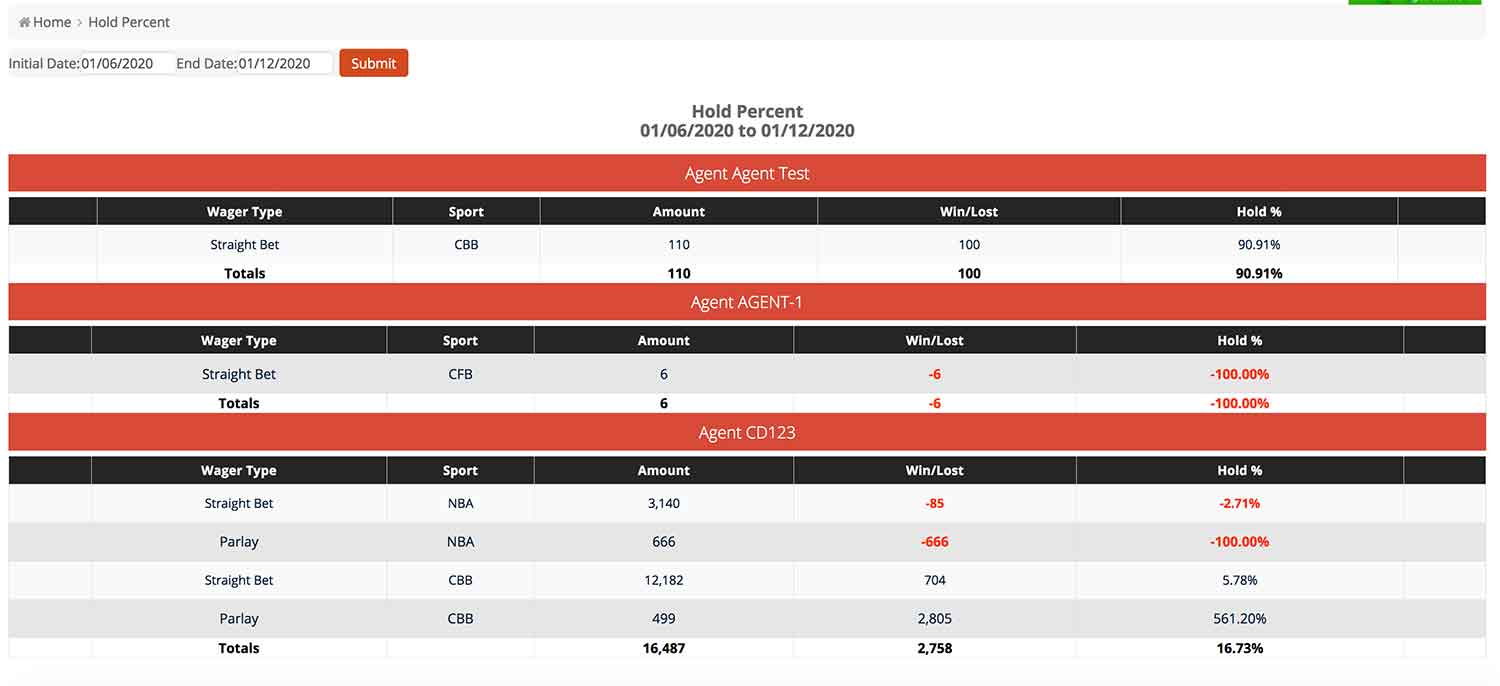 We were not able to identify any report within the Realpriceperhead.com demo account that breaks down player activity by sport + period. So it will not be possible for bookies to find out the performance of their players by period or league (only by sport).
Another useful report available is the "action by player" report. This breaks down the player win/loss amount by wager type (straight, parlay, teaser, reverse (as well as casino and horses). It's a pretty neat report to quickly identify how each player does on each of these categories. If a player is too good at parlays, you can, for example, request the parlay payouts to be decreased (e.g., Instead of a 2 team parlay paying the default of 2.6, you can make this, for example, 2.1).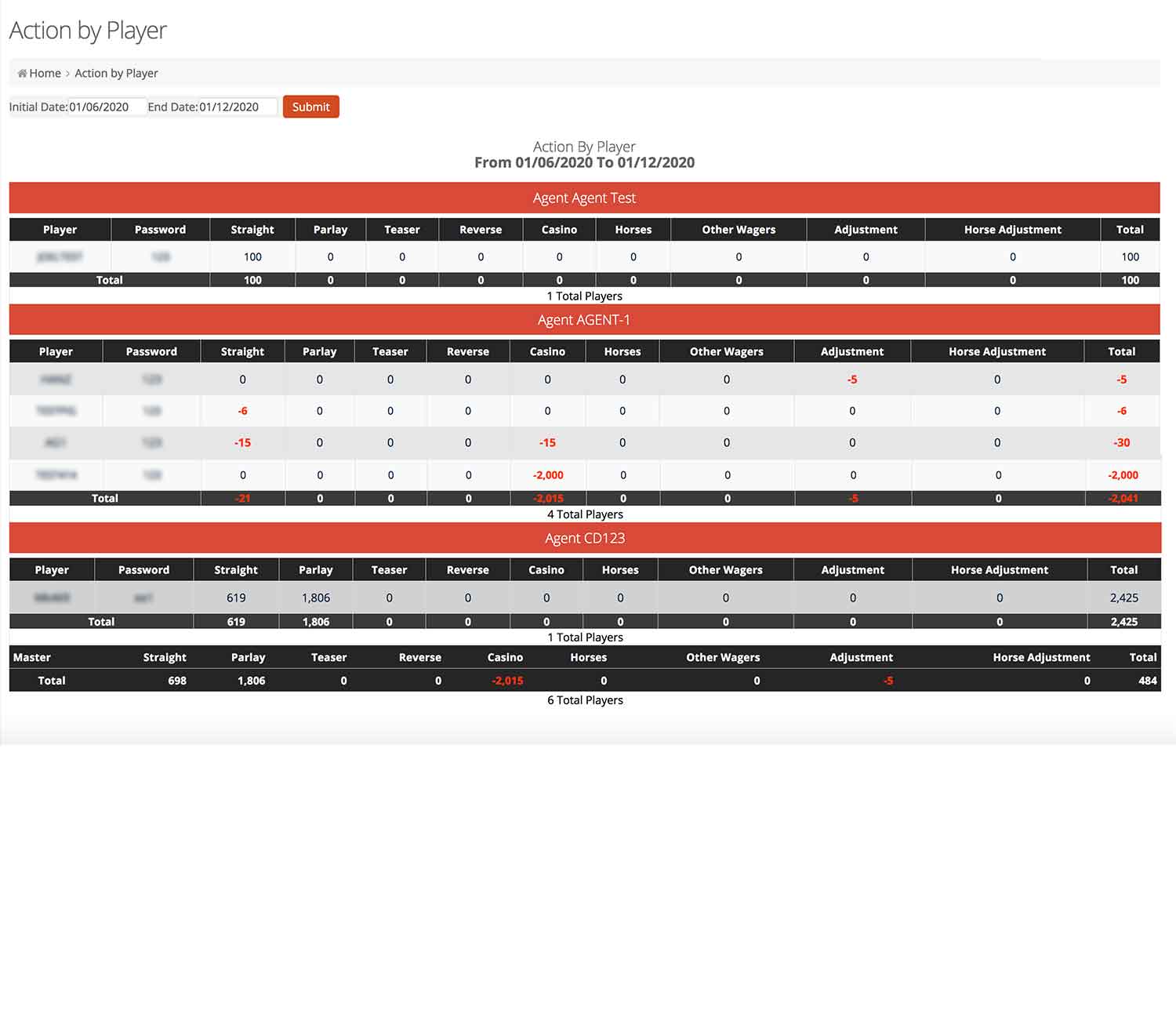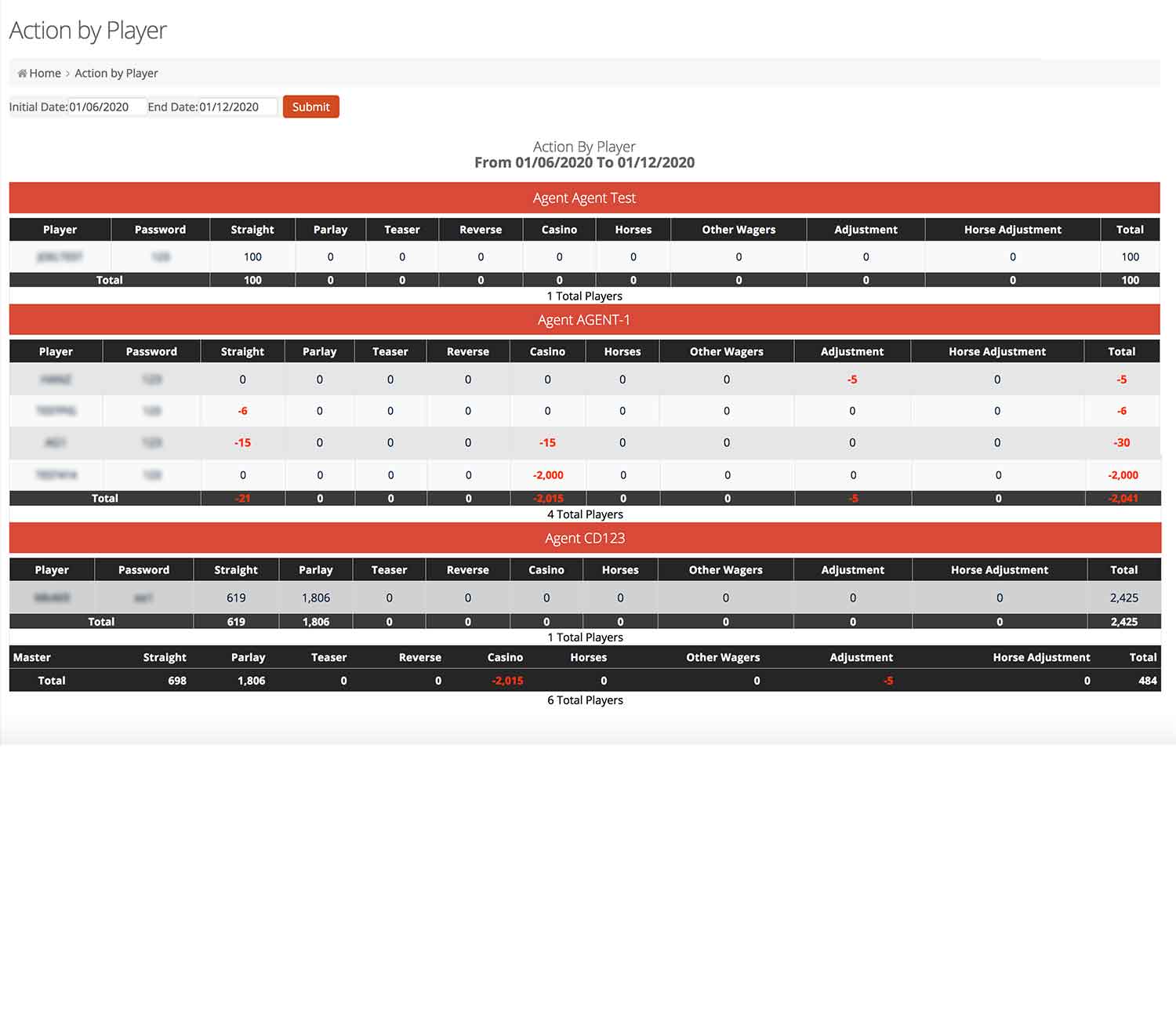 The problem with this report is that it shows the wager types in aggregates. In other words, you are not able to see the sports (much less periods or bet types (spread/moneyline/totals, etc)) these numbers correspond to. So this report it's useful to see how a given player is doing on spreads, parlays, etc., but not to see which sports, leagues, or bet types these numbers correspond to.
IDSca.com
Unfortunately, IDSca.com finds itself lacking a little bit when it comes to player analysis/performance reports. The only report we identified which provides player-level data was the previously covered "action by player" report.
This report is identical to that previously discussed in the realpriceperhead.com section. For each player, it breaks down his action by wager type (straight, parlay, teaser, etc.), and also his total (all wager types aggregated).

It's useful because it allows you to answer the question "in what wager type is X player more (and least) profitable, but there is no way to further breakdown these figures by sport, period or league, and bet type. The main reason why this is a setback is that besides making adjustments by wager type (straight, parlays, teasers, etc.), there is also a wide selection of changes you can make on a per-sport, per-league (or period) and per-bet type (spread, moneyline, etc.). You will leave all these possibilities out if you only focus on a per-wager type dimension.
PPHSportsbook.net
*The images shown for these reports are based on our classic interface. Our development team is currently working on implementing these breakdowns into the newest version of our sportsbook management backend. Depending on your needs, you can use the reports of the newest or classic version.
When it comes to analyzing your book and players' performance, the best way to get started is at the "Customer Performance" report level.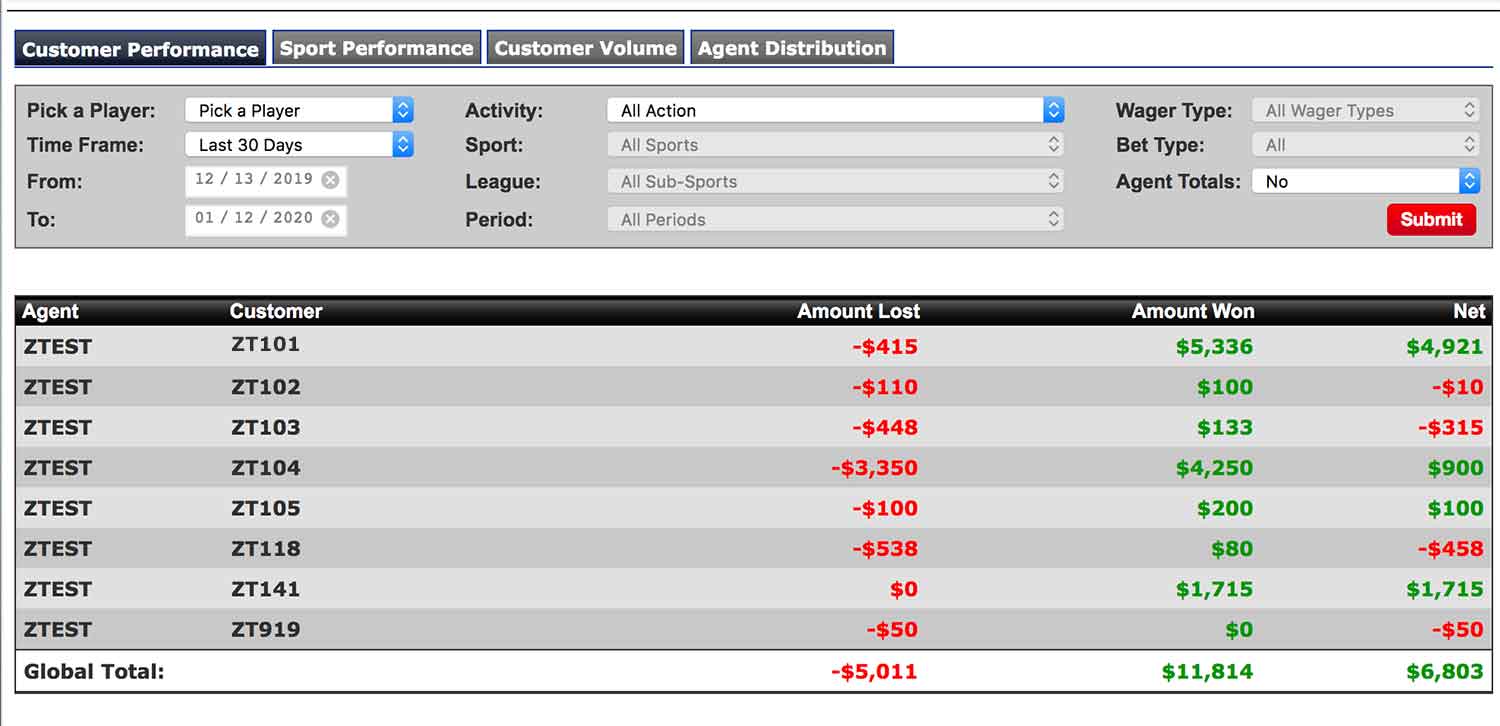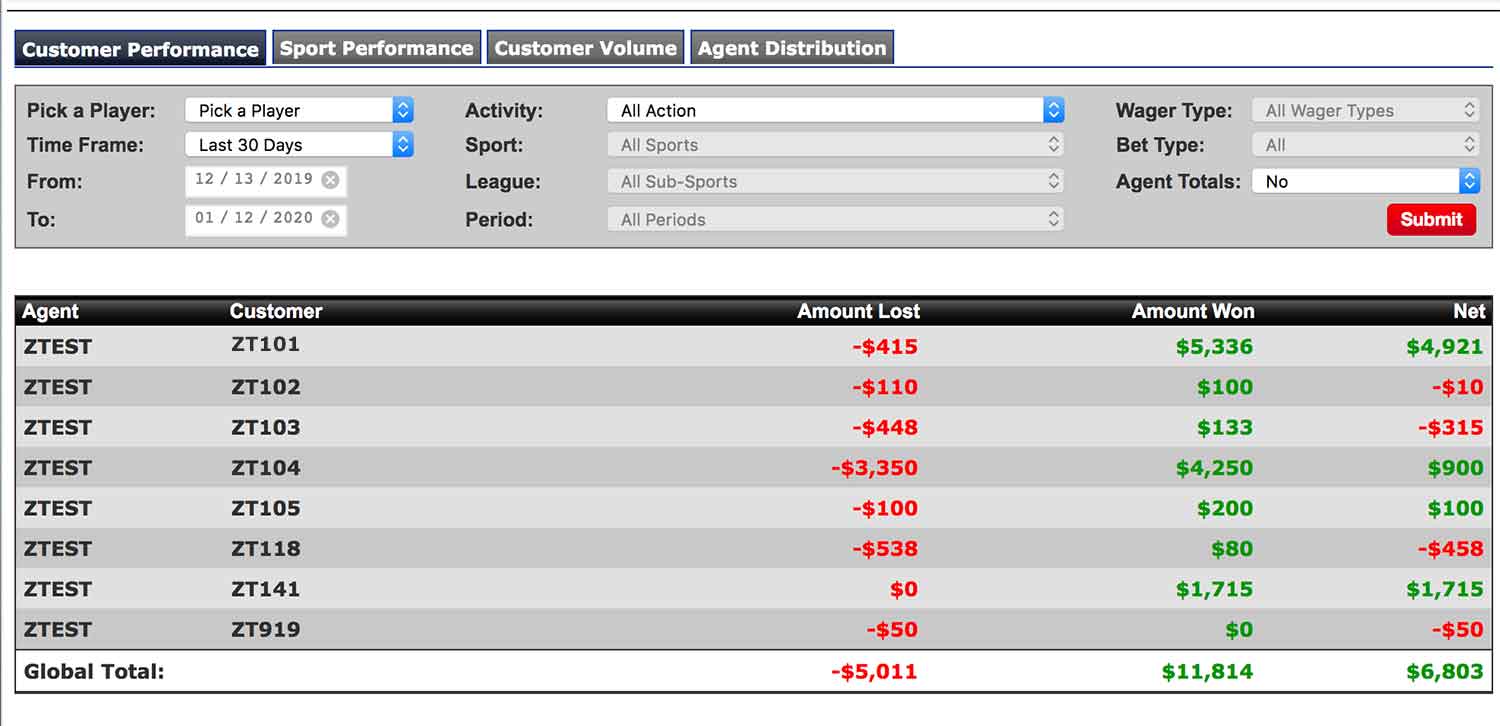 With this report, you can easily see which players are performing well or poorly. A red "net" means that they are negative, meaning they are losing more than what they are winning. A green number means they in the positive, meaning winning more than they are losing.
After you identify this information, then you can plug each of these players, (or as a group) into the "Sports Performance" report to really understand in which sports, leagues/periods, wager types, and bet types they are over and underperforming.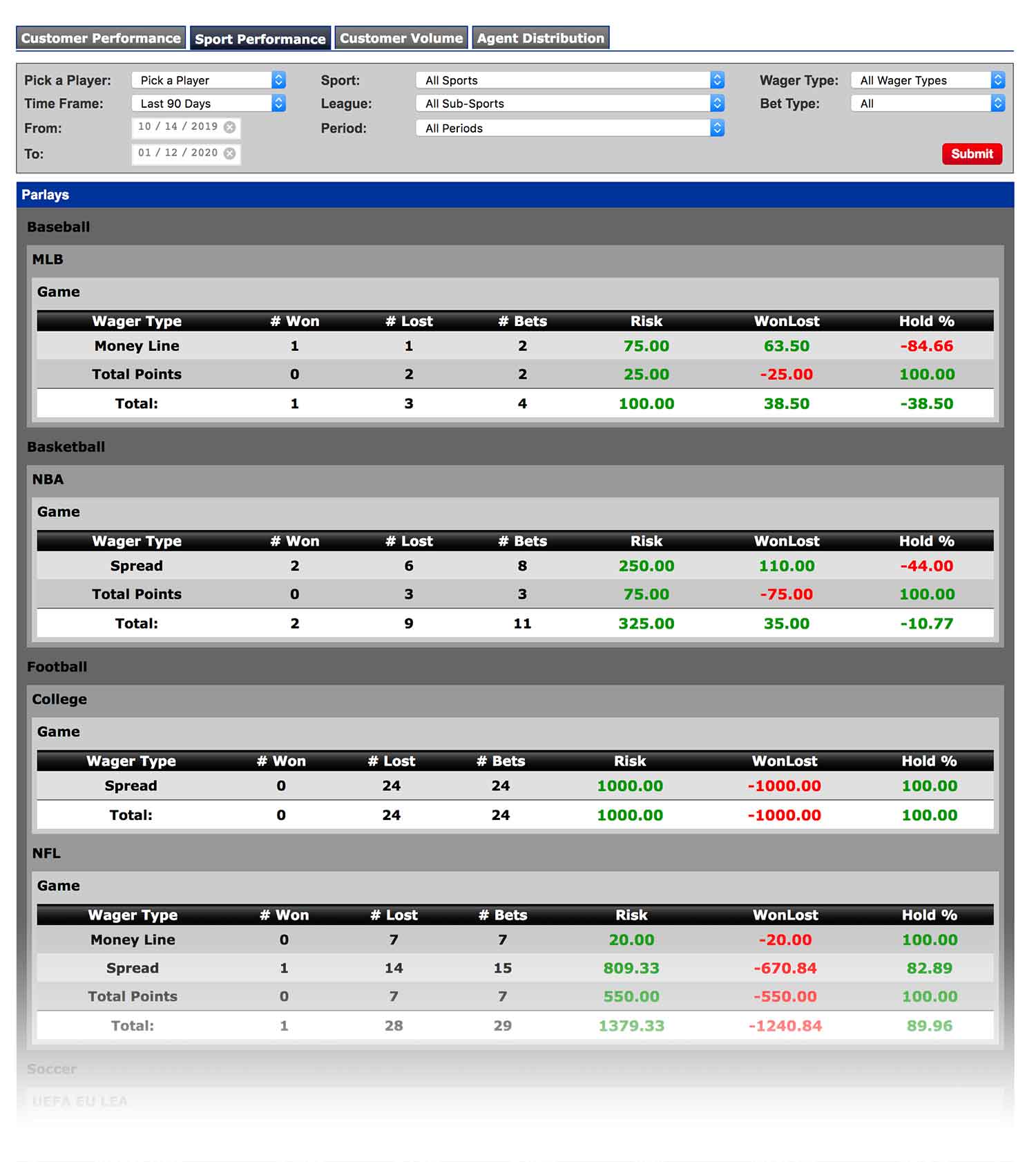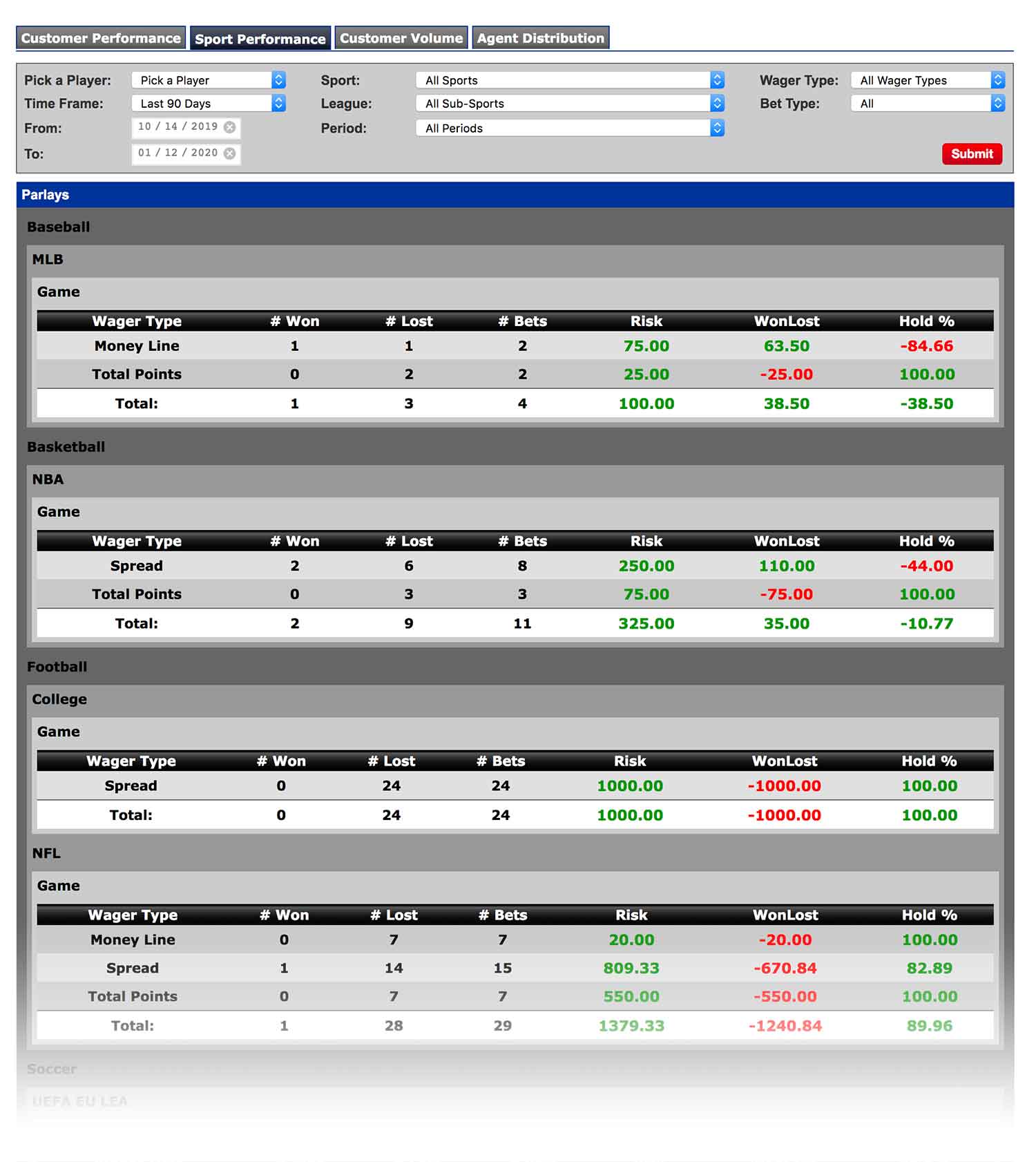 Generally, there are two ways to use this report:
See your entire book's performance. To do this, don't filter by any player. (Previous image).
Player-specific data. Use the "Pick a player" filter and choose any player you want to study further:
As you can see, an excellent breakdown by wager type (straight, parlay, teaser, etc.), Sport (Football, Basketball, Baseball, etc.), League (NFL, NBA, Italy Cup, etc.), Period (Game, 1st half, etc.), and bet type (spread, moneyline, total points, etc.), is shown.
Pricing
It would be best if you are not shopping around only based on price. Available tools, customer service, user experience, and performance are all critical in this business. Nevertheless, pricing is also a key factor to consider when making your final decision.
We have left this pricing section to the end of the article because of that reason. At this point, you should know how the different Pay per head (PPH) sportsbook providers differ from one another in terms of features. So now it's a great time to put the final nail in the coffin: Pricing.
This pricing section focuses on the cost for the base PPH Sportsbook + (Digital) Casino + Horsebook. The dynamic live betting feature is indeed a highly sought-after add-on, but not all of your players will likely be using it. Furthermore, the minimum "per-head" rate to pay will be for the services mentioned above, you can then, on top of that, choose to have the dynamic live betting service enabled for individual players.
Most pay-per-head providers charge a rate of +$5 for the dynamic live betting service, so in most cases, you only need to add this rate to the prices listed in this section.
*Please consider that this section is based on the pricing each provider has listed on their respective websites. Depending on the number of players you handle, it may be possible to get one or two dollars subtracted from this rate. So we recommend you always call the provider and ask them directly.
Aceperhead.com
This PPH Sportsbook provider starts with $10 per active player. Phone wagering is also included at no additional cost.
Payperhead.com
Payperhead.com starts with $11 per player. This includes online access only. They also offer a $13 rate which covers phone wagering and dynamic live. But we are not sure if paying a higher fee for something not all of your players will be using is a good idea.
Realbookies.com
Realbookie.com offers a rate of $10 (all customizations and leagues included). This rate only includes online access. Access to phone wagering will cost you an additional +$5 per player.
Realpriceperhead.com
Realpriceperhead.com starts with a $7 per head rate. Phone and online wagering are included at no extra cost.
IDSca.com
IDSca offers their classic interface at $10 per head or their modern (seen in this article) interface for $15. Phone and online access are included.
PPHSportsbook.net
At PPHSportsbook.net, you can get started for only $9 per head. You can enjoy the most feature-rich PPH sportsbook backend management software, the most insightful player and sportsbook reports, a fast and knowledgeable customer service, and a modern state-of-the-art front end sportsbook for your players.
Closing Comments
We hope you found useful the content written on the page. We worked hard to put together a truthful, unbiased comparison of the factors we consider most crucial when running a private sportsbook.
Based on powerful tools (juice setup, max moneylines, lines adjustment, and many more), a modern sportsbook front-end interface that your players find themselves comfortable with and it's easy to navigate through, insightful backend performance reports, and a fair and competitive pricing, it's easy to see PPHSportsbook.net is a great option.
If you are interested in getting started, simply request a free demo account today.