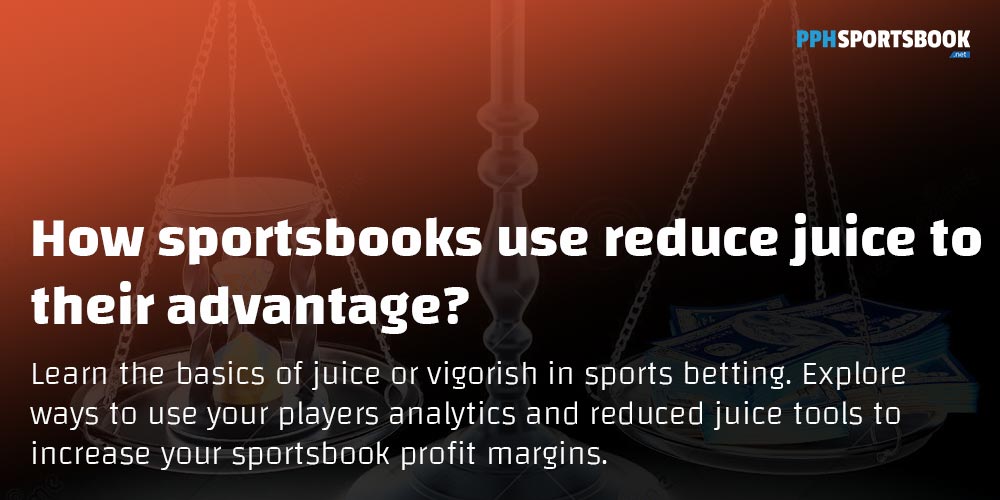 Increase your profit with smart use of reduce juice vig betting
Have you ever wondered what is juice in betting? It's a term you hear more from professional bettors and bookies, but it refers to the cost of placing a bet with a book. This article will explain exactly what the juice is, what reduced juice betting is, and why it matters to you as a bookie using a pay per head service.
(if you haven't compare top features between pay per head sportsbook providers, check out our detailed pay per head sportsbook review guide here which compares the most requested features among the best pay per head bookie services.)
What is Juice in Sports Betting?
In sports betting, the juice is the fee that bookies charge the bettor for placing a bet. You've probably heard of another term for this: the vig or vigorish. What it means is that anytime a bettor places a bet with you, you get to keep a portion of it whether the bet wins or loses. This is the advantage you have as the bookie.
When it comes to reduced juice betting, it means that you, as the bookie, receive a lower portion of the bet. Typically this is of benefit to the sports bettor, as a reduced juice bet returns a higher portion of their initial stake if it wins. As a bookie, you can change the juice for odds if you notice an uneven amount of bets coming in on a certain side of a game. Let's take a look at an example:
Example of Juice in Sports Betting
| Team | Juice | Risk | Win |
| --- | --- | --- | --- |
| Baltimore Ravens -3.0 | -110 | $11.00 | $10.00 |
| San Francisco 49ers +3.0 | -110 | $11.00 | $10.00 |
This is a fairly standard NFL line that you would provide to bettors. The odds of -110 are very much typical for a football game. This means that to win $10.00 you have to wager $11.00. Where does that $1.00 go? It goes into your pocket as a bookie. When you're taking that fee on every bet, it certainly begins to add up.
But not every game has odds set at -110. If you are offering the bettor reduced juice gambling then you would lower this to odds like -104 or -105. This means that to win $10.00, the bettor would only have to bet $10.40 or $10.50. The difference might seem small, but for a $100 bettor that is $5.00, and for a $1,000 bettor, it's a $50.00 difference. The vig in betting is your friend, and while reduced juice will certainly attract more bettors, keep in mind that you are making less with every bet.
Can You Change the Juice: When to Offer Reduced Juice
As a bookie, you can do anything, within reason. One reason why you would change the sports betting juice is that you are seeing a lot of one-way action on a certain side. Let's take a look now at what you could do if Baltimore was taking a lot of money from the example above.
| Team | Juice | Risk | Win |
| --- | --- | --- | --- |
| Baltimore Ravens -3.0 | -110 | $11.00 | $10.00 |
| San Francisco 49ers +3.0 | -110 | $11.00 | $10.00 |
| Baltimore Ravens -3.0 | -120 | $12.00 | $10.00 |
| San Francisco 49ers +3.0 | +100 | $10.00 | $10.00 |
Okay, so if a lot of the bets are coming in on Baltimore, then you can inflate the juice for betting on the Ravens. Smart bettors will see that and stay away since they know that you might be about to move the odds to -3.5. It also lures bettors to bet on the 49ers, since they are getting extremely reduced juice at even odds.
As a bookie, you can play with the betting vig to sway bettors in one direction or another. This works really well with casual bettors who don't really care about sports betting juice. If you can push them to bet on games at -120, then that's more money in your pocket as a bookie.
How is Sports Betting Juice Calculated?
If you want to see the true advantage you have as a bookie, remember this one calculation. This equation will provide the real odds in a percentage form, and shows the edge the bookies have.
When you have negative odds (-105, -110, -120, etc.) use this formula:
Odds / (Odds +100) x 100
So for the betting vig of -110, the formula would be:
110 (110 + 100) x 100 = 52.4%
What exactly does this mean? This means that for the juice in betting, you have a 2.4% advantage over the bettor in the long run. Again, these are thin margins but the vigorish in sports betting begins to add up in your favor.
Is There Reduced Juice on the Moneyline?
Absolutely! There is juice on nearly every bet including point spreads, money lines, and even futures. The difference between the two moneyline odds for each team is considered the reduced vig for that bet. Here's an example of the betting juice for money line odds:
| Team | Juice |
| --- | --- |
| San Diego Padres | -140 |
| New York Mets | +120 |
Using the formula from above, we can see that the Padres have a 58.33% chance of winning, while the Mets are at about 45.5%. When you add these two winning percentages together, you get a total of 103.8%. That's right, you have a 3.8% profit already from bets on this game.
What are the Pros of Reduced Juice Betting?
As a bookie, offering reduced betting juice is a double-edged sword. On one hand, you will attract a lot more bettors which will increase the total volume of bets at your book. But a lower sports betting juice means you make less from each bet. In addition to this, you will likely attract more professional bettors who typically win more bets than casual bettors who prefer long-shot parlays.
Even with reduced juice odds, you're still pocketing that juice from every bet. Ultimately, you do want high betting volume at your book so offering reduced odds is a great way to attract new bettors. Make no mistake about it, reduced vig in sports betting benefits the bettor in the short term but the book in the long term.
The Bottom Line: What is Juice in Betting and Why is it Important?
For a bookie, the betting juice is everything. It's going to form a large part of the money you make as a sportsbook. When you offer reduced juice, it means you take less of a hold from each game. At the same time, your book gains popularity amongst bettors.
It's a balancing act that you'll have to maneuver on a daily basis. As the bookie, you can use the juice to control the flow of bets to a particular side. You can offer reduced juice permanently, as a bonus, or just on certain games. Just keep in mind that the more you offer, the more bettors you will attract.
Take action today with our pay per head sportsbook software solution
Contact us today to learn about the juice in sports betting that you can provide to your players, the options you can use to limit your sportsbook's risk, and the support we can provide to you to make your book as profitable as possible!
Request a demo or check out our detailed pay per head bookie services review guide, which compares the top features among providers