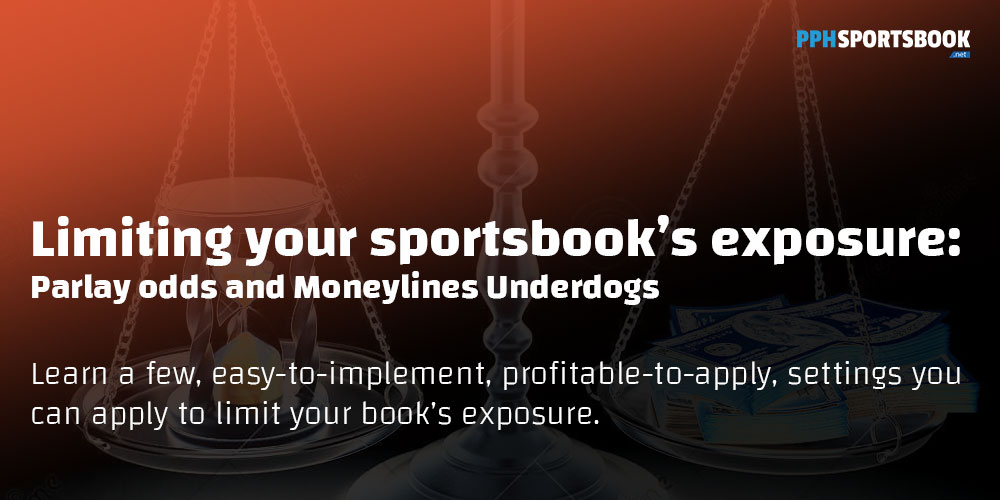 Limiting your sportsbook's exposure: Parlay odds and Moneylines Underdogs
Going over your bankroll as a pay per head bookie can be a nightmare for anybody that is considering  taking sports betting action from friends or relatives as an extra income source.
Because this fear is so common amongst bookies, our programmers and software engineers at pphsportsbook.net have paid special attention to implement features into our payperhead software in order to always give options to bookies to get into the business with the least risk possible. All this without mentioning our amazing customer support which is always at your side when you request some custom player analysis or configuration and limits suggestions.
In this entry post we will start talking about a general setting to control your sportsbook exposure (the "settle amount" limit), and then we will dig deeper into features that are applicable when the insights and data gathered from your players' behavior indicate they win more than desired on #1 parlays or/and #2 Moneylines.
You see, every player analysis starts, as with most things, from broader analysis to a more specific and in depth view.
The most general analytic of a player's performance is their overall net balance (usually broken down by week). That will show you the information on how much (on average) the player wins and loses per week. Based on this you can apply a "settle amount" (explained later down) to limit (or free) your book's exposure when it comes to this specific player's performance.
Once that is identified you can dig deeper into the player analysis by inspecting which wager types the player sees the best performance with.
How does your player perform when betting parlays?
How does your player perform when betting money lines?
Etc etc. But we will start from there in this post.
Start General: The Settle Amount
The simplest way to get started with running your book (either for fun or as a more serious source of extra income) is to set a "settle" amount to your players (or friends/relatives, etc) that you are planning to take action from.
The settle limit simply means:
"The amount at which the player must either pay or be paid."
Instead of working on a per-week credit for your players, you will work on a "per amount" limit. When the player either loses or wins a set amount, then you as the bookie will either pay him or be paid by him (in theory).
Of course, to guarantee that you actually get paid by the player it is important  that you actually know them personally and have some confidence that you can rely on that player. At the end of the day, this is a gentleman's business. If you don't have  a good relationship with the person that you are entering this business deal with (which, at the end of the day it is what this is), you are really wasting both parties' time (you and him).
That is the "settle amount".
This is much different from working on a "weekly credit" system. Some agents would rather that their players' balances be reset each week. In this way players will refill their balance to continue playing every week, and the bookie and the player will have already agreed upon paying/be paid within the first days of the week ( for example on every Monday). We will discuss this credit system in future entries, but both systems are possible using the payperhead software platform.
The settle amount system is great for bookies that are just starting out and want to keep things under control, as well as to keep a tight eye on their players' win/loss amounts. Keep in mind, with the settle system your players balances will not reset automatically at the beginning of the week. This is what is called "carry over" balances.
Players love'em parlays: The Parlay max payout odds table
We all know the standard vegas parlay odds table for fixed odds (as opposed to "true odds"). For reference we will show it again.
FIXED ODDS PARLAY TABLE
# of Teams
Las Vegas Payout
2
2.6
3
6/1
4
10/1
5
20/1
6
40/1
7
75/1
8
150/1
But you are not Vegas, nor are you the Greek, so why would you be offering the same payouts as them?
"But my players will complain".
Yes, we hear you. Let them complain. When they do, remind them that Vegas does not allow  them to play on credit every week. Nor is Vegas giving them those amazing free plays and promotions that you are (because you are, right?).
So, continuing with our discussion of standard parlay payouts, wouldn't it be great if you could payout slightly less odds than Vegas does? Well, you can! Take a look at this modified payout table:
| | |
| --- | --- |
| # of Teams | Payout |
| 2 | 2.21 To 1 |
| 3 | 5.1 To 1 |
| 4 | 8.4 To 1 |
| 5 | 17 To 1 |
| 6 | 33.5 To 1 |
With this modification a 2-team parlay will pay $220 on a $100 ticket, rather than the Vegas standard of $260.
You can modify this table as it better suits you, and best of all, it can be modified on a per-player basis. Meaning, for those pesky players that complain too much, you can leave the Vegas default payouts, and for those that are more "understanding" players, you can lower their payouts.
Let's keep it Real: Moneylines
As one of, if not the most popular type of bet, you will find a lot of action on moneyline bets at your sportsbook.. Let's talk about a couple of ways to control your exposure to big payouts using pphsportbook.net's payperhead service.
Max number of underdogs on parlays
Every parlay bet whose legs do not have odds of  -110 for their payout will not be calculated using the "fixed odds parlay table" (discussed above). Parlays that include moneylines will use what is called the "true odds" calculation.
Furthermore, parlays which include underdogs will pay much more than those parlays which are mostly composed of favorites. Wouldn't it be great if there was a way to limit the number of underdogs allowed in player-made parlays? Or even better, being able to limit the underdogs allowed on a per parlay-size basis? (We guess you already know where we are going with this)
If you want to keep it simple, limit the number of "max (under) dogs" for any parlay size you offer. This option can be found on the "customer admin" screen. Then click on the player for which you want to set this limit. Navigate to "Parlays" (settings), and change the "max dogs" number to the maximum number of underdogs you want to allow for a given parlay.
Max Moneyline Price
The last exposure setting we will discuss here is the "Max moneyline price".
What this does is it simply hides every moneyline which is over the entered amount.
What this should bring to your mind first of all are those risky NCAA Basketball Extra games. Yes, some of those matchups could very well be odds like this:
| | |
| --- | --- |
| Team | Odds |
| Lipscomb | +700 |
| Notre Dame | -1100 |
The "Max moneyline price" comes handy in exactly those situations. Say you don't want to offer action on the moneyline if the line is over -350. Simply navigate to the "vig setup" screen, and enter the desired limit in the "Max moneyline price" field. You are all set!
As with the previous settings you can also choose this on a per-player basis. This gives you full control to manage your player sheet and limit those players that you know are taking advantage of those big lines.
Conclusion:
We have only scratched the surface of the possibilities to customize your sportsbook. Our payperhead service, and especially our top-notch customer service team, have been put together to help you run your business as profitably as possible.
Having fun running your business is key to making the most money out of it (yes, we are serious). Nobody will know your players better than you do, but with us as your right-hand man, you can polish a healthy players sheet that will keep making you a juicy extra income every season. Because who doesn't love that feeling of watching the game on Sunday, with a beer in your hand, knowing you are banking big off of the game itself. You are no longer a spectator, you are a businessman. You know, even if you keep it as a secret to yourself (as you should), that the last second touchdown made half of your players lose and brought in a  good chunk of money directly into your pocket.
Final words. Be serious about this and don't let your players down. Make sure you can pay them back and don't make business with players that you don't know and are unsure if you can fully trust.
Compare the top price per head software providers with our in-dept pay per head review guide.