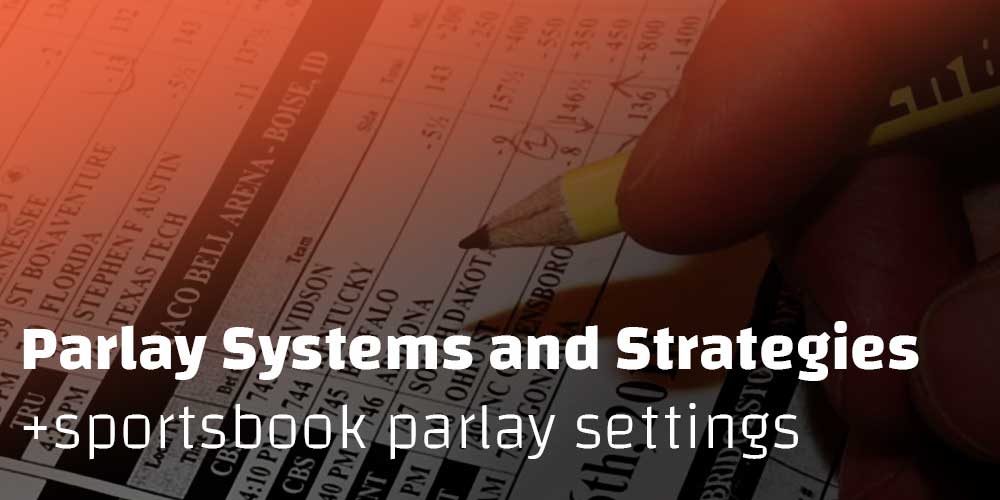 Winning parlay system and moneyline parlay strategy [EXPLAINED]
This article will lay out different parlay systems and winning bet ideas sports bettors use to place bets and how local bookies can use the setting offered by pay per head software to avoid some of them if they so choose.
As everything in sports betting, the "how to win sports betting parlays" comes down to careful study and patience.
Bookies should find the information helpful since it lays out common winning parlay systems used by their players. This will help make you more informed in the sports betting world and also how to limit or completely avoid some of thes types of parlay betting strategies using the available settings within the software.
Changes are possible but not always recommended. If a player finds themselves too limited or restricted  on their parlay betting strategies, they may choose to bet elsewhere and thus not place any action with the local bookie anymore. Of course, as a bookie, you need to have a solid bankroll to pay winners, but patience is key. With sports betting, it's expected that over time, most players will end up with a negative balance. Though, if you are dealing with a smart player who is wrecking your bottom line, you will now know which settings you can apply to handle most of this type of parlay strategy.
Keep in mind, our customer service department is available at all times to apply any settings changes for you, if you prefer to have it done for you.
Winning Parlay System
There are many different winning parlay systems smart sports bettors use to get the most out of parlay bets (including football parlay betting strategies). Here we will briefly discuss some of them and also show you how you can offset or completely remove some of them by using the tools provided on your bookie software panel.
Some of the sports betting parlay strategies we will be covering include:
Stay away from the points spread
Make the best use of free bets
Pay attention to the home underdog
Combine two favorites
Use the 'Double Dog' parlay
Actively search for bookmakers promotions
The commonly used "Favorites" parlay
Utilize the "Favorites +1" parlay
Stay Away From the Point Spread
This is one of the most common parlay betting tips we hear often. Just about the worst thing bettors do is hop into a parlay that groups together points spread (handicap) wagers. Sure, this may sound like a great way to bet with favorable odds since three bets ATS (against the spread) equal to about 7-1 odds. Sounds like a great bet? Not exactly.
True odds for this 3 leg parlay are 8-1 since each leg has a 50/50 shot of landing. This is one of the reasons why sportsbooks are always actively promoting points spread parlays.
In regards to this strategy, among all the other parlay betting tips, perhaps the only benefit to the low value of the point spread parlay strategy is if a bettor believes they have found some games where a sportsbook has the handicap wrong. This situation may occur, but for the most part, players know they are dealing with pros, and an undervalue line will rarely happen. In this case, it is better to bet on each individual outcome instead of the parlay.
When using pphsportsbook.net as your pay per head software provider, you can set the maximum number of moneylines and underdogs allowed in parlays by parlay size. (check out our previous article about how parlay betting works, moneyline parlay, true Odds and payouts; as well as different parlay configuration settings you can apply when using the pphsportsbook.net platform)
As you can see on our previous article discussing parlay (linked above), on the "true odds" section, the better the odds, the more a parlay pays out. Not to mention the odds on underdogs are set much higher than on a favorite (see parlay payout calculator here). You can also set a max number or favorites and max totals.
Using the parlay configuration table you can control the following:
Wager Limit: You can limit the max wager on a parlay by number of selections.
Open Spots: You can limit the maximum number of open spots by number of selections.
Max Totals: You can limit the maximum number of totals in a parlay by number of selections.
Max Dogs: You can limit the maximum number of positive price selections in a parlay by number of selections.
Max MLs: You can limit the maximum number of moneylines that can be in a parlay by number of selections.
Max DC: You can limit the maximum number of underdog spread lines that can be in a parlay by number of selections.
Max Fav: You can limit the maximum number of moneyline favorites (negative price MLs) that can be in a parlay by number of selections.
Max Payout: You can limit the maximum payout on a parlay by number of selections.
Make the Best Use of Free Bets
Another often seen winning parlay system is using when players use sportsbooks rewards and bonuses. Most online sportsbooks offer clients rewards for loyalty, making deposits, regular betting and for betting on promotional markets with bonuses or free bets. The problem for players with this parlay sports betting strategy is that they are only receiving profits from their free bet and nothing from the original stake.
For example, with a $10 free bet, if they wagered on a -110 moneyline favorite and they win, they only get a payout of $9.20. The $10 free bet acts as the original stake and is not returned. Not real exciting is it?
One solution for them is to use their free bets on parlays. By doing this, they can take a shot at a combination of bets that offer final odds that are much more enticing than an uninspiring favorite.
For example, a $10 bet on a parlay offering odds of 9-1 will make their eventual payout $80. This is the outcome of $90 minus the free bet stake of $10, which leaves them with $80.
When using pphsportsbook.net as a payperhead provider, local bookies can limit "free bets" to only be applied on straight bets and not on parlays. This allows you to prevent players from using the free bets strategy above.
Pay Attention to the Home Underdog
This next sports betting parlay strategy and winning bet idea is based on the fact that home field advantage goes a long way in the sports world. Teams with home field advantage play much better when they get to play in front of their families and the supportive home crowd.
Sometimes there are additional factors such as preferred weather situations, stadium layouts, good home cooking and the opportunity to sleep in their own homes all helps motivate athletes to be at their best in front of the home fans. This may lead to that overconfident team of all stars visiting to find themselves in a tough spot.
Those are just some of the reasons why the home underdogs parlay betting strategy (pick and choose responsibly) is worthy of consideration in a parlay. Underdogs carry a powerful odds multiplying effect. Which is what every well-played parlay needs. It is not uncommon for a home underdog to be paying well above 2-1 odds, which essentially doubles the parlay total odds.
This is also a common football parlay betting strategy. Local bookies can restrict this parlay system by denying parlays on a per-game basis. You can select the correct option from within the "game admin" screen (see image below). When using this option, (even though it requires more manual work from the bookie) you can disable certain parlays on games where the underdog is the home team.
Combine Two Favorites
Let's discuss another example of a 2 team parlay system.
I know it can be tempting to bet on a heavy favorite. Who doesn't want a quick bet to bank some quick profit? The drawback is that usually the bettor has to wager a larger stake for a significant return. This is not an ideal way for long term success. One bad run of losses and their account balance suffers.
In this case, the 2 team parlay system known as the "favorite parlay double" is helpful. Bettors will find two carefully chosen favorites, package them together into a parlay and let their stake and profit from their first win lead them into the second leg. Their end result is a much smaller stake, but still an excellent return.
As you saw in the table above, bookies can control with precision how many favorites are allowed on a per-parlay-size basis. Using this feature, you can for example, set a max of one favorite for each parlay size entry.
Use the 'Double Dog' Parlay
One powerful winning parlay system is the underdog double. This parlay betting tip falls into the category of a 2 team parlay system. Once they have carefully scanned available markets, they can choose two value underdogs and work them into a double with odds of +400 (Decimal odds 5.00) or better without much trouble. This is a common 2 team parlay system used by players.
Many gamblers have stories of a 4 or 5 leg parlay on strong favorites offering combined odds of about 3 to 1. The first four legs win easily, only to have the last one have "one of those days" and gets beaten by a heavy underdog. Then they are left asking the question, what if I wagered on the underdog?
Oftentimes a double underdog 2 team parlay system represents considerably more value than a bundle of favorites. Major League Baseball and the NBA offer double underdog winners on almost a daily basis.
Bookies can also set a maximum number of underdogs allowed "across the board" (no matter the parlay size, sport, quarter or period, etc) by selecting the option under the "parlay controls" section of their admin panel. (see image below). This is a great way to limit this type of 2 team parlay system.
Actively Search For Bookmaker Promotions
Sportsbooks are constantly offering great promotions on parlay betting. They know poorly selected parlays are loaded in their favor and they do their best to encourage more betting action on these bets. This parlay sports betting strategy offers a great opportunity for bettors, and it is advised to go after it!
Some classic promotions to look out for:
Free Bet matching the stake if the parlay loses by one option. (usually capped at a certain figure eg $25)
Percentage of your stake returned on losing parlays (eg 20%) if certain conditions are met. (eg 4+ legs all on Major League Baseball)
Previously, we have detailed our other sportsbook promotions and bonuses local bookies can use to get more players onboard via referral from your current player base. You can also use one of these promotions or free plays to help encourage current players to refer new players.
Moneyline Parlay Strategy
The commonly used "Favorites" parlay
One of the most common types of moneyline parlay strategy and parlay betting tips is the "moneyline favorites".
This is when bettors make a parlay based strictly off moneyline favorites.
This moneyline parlay strategy is a go-to for many sports bettors. It allows bettors to make predictable results much more profitable than they would be individually.
| | | |
| --- | --- | --- |
| 10/15/2011 @ 7:15 PM | CFB | [144] OREGON -550 |
| 10/15/2011 @ 12:30 PM | CFB | [150] WASHINGTON U -600 |
| 10/15/2011 @ 9:00 AM | CFB | [158] CINCINNATI -550 |
The table above shows an example of a typical 3-team parlay relying on heavy favorites.
Bookies can set moneylines on heavy favorites to be automatically removed by the system.
Utilize the "Favorites + one" parlay
Another common moneyline parlay strategy is the "Favorites + one" technique.
This is possible by stacking a number of moneyline favorites into a parlay and adding an underdog to boost the odds.
This method can turn a usually low-paying parlay into a large payout.
Two main aspects go into a successful "Favorites + one" parlay.
#1 is a solid list of favorites.
These can be heavy favorites, but the picks should stack up to 1/1 odds.
The next key to this moneyline parlay strategy is having a reliable underdog for the "+ one"
This ends up being the most challenging, but also rewarding part, as the underdog odds are what make this moneyline parlay strategy so profitable.
As a bookie, you can use the parlay configuration table to limit the amount of favorites players can choose, per parlay size. For example, to prevent the player from picking too many favorites on a 5-team parlay, he can set this to "3", which will cause the parlay to not accept more than 3 favorites picked on a 5 teamer.
Conclusion
Hopefully by now you have a greater understanding of common winning parlay systems and the settings you can use to keep your bottom line strong.
See for yourself how our settings can help you control your profits. Request your demo account today to begin testing the tools yourself.